Queer people raised Christian grapple with that background in myriad ways. Some of us become atheists, and some of us become pastors. Some queer Christians go to church twice a week, and others stick our rosaries in the bottom of our sock drawer. When faith, spirituality, and cultural practice feel complicated and contradictory, it can help to have a physical object to hold onto and reflect upon. These items can root us to our histories of faith — or they may simply be a symbol of old memories. In an A-Camp panel on queer Christianity called Thank You Lesbian Jesus, we talked about some of the items that connect us to our faith and spiritual journeys. Share yours in the comments!
---
Audrey — My Dad's Bible
My dad's death in 2001 sparked my first major faith crisis. It was the first time I seriously questioned the nature of God and interrogated Them beyond what I had learned in Sunday School. So it's fitting, or perhaps ironic, that my favorite Bible is his, the one my mother snagged from his house to keep for me. His mother, for whom I have my middle name, gave it to him in 1972. I know this from the inscription on the inside cover. It is a very early copy of The Living Bible, which is paraphrase of the American Standard Version. A paraphrase! Because of that, it is pleasant to read and not very useful for actual theological study.
The book is also gorgeous — the cover is a deep green embossed with gold, and the pages are lightly worn and smell like the 70s. It's the Bible I read when I don't want to stare at the pages and pray rather than think too hard. And it's the Bible I read when I want to connect to my dad. Our faith was something we shared and connected over when I was too little to understand it. My ongoing practice is one way that I connect with him and celebrate our relationship.
---
Carolyn W — Prayer Hands Tambourine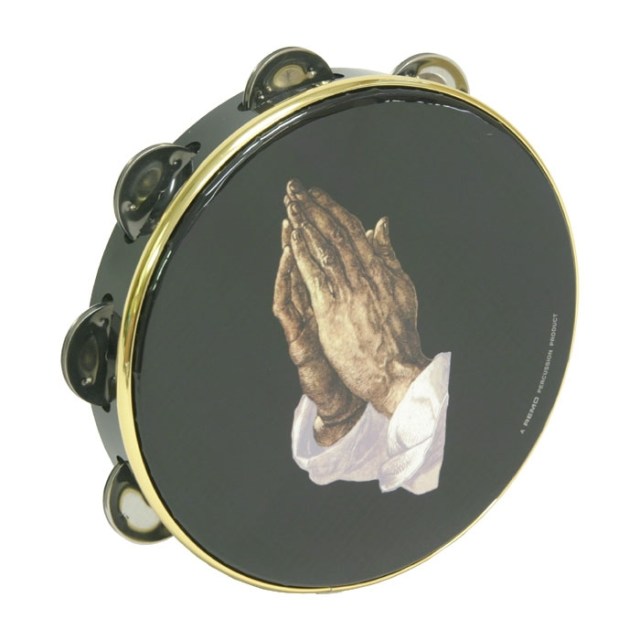 In theory the tambourine is not a piece of religious imagery. There is nothing sacred or holy about it. HOWEVER, if you were raised in a black church it is very sacred. One does not just play a tambourine. You beat that tambourine. Notice this tambourine has a percussion middle. This is important! Don't you dare roll up in church with one of those rock & roll tambourines with no middle! What are you gonna do with that besides bruise your entire hand trying to play fast enough to keep the beat. Don't you dare pick up a tambourine if you are not good at playing it. You don't know you are good at playing a tambourine until you hear someone say "she sho can beat that tambourine.wp_postsIf no one has ever said that to you then you better be very confident in your playing skills or you will receive the side-eye of death. There is always that one person that can't play the tambourine who no one ever passes a tambourine to when the spirit gets high. One day they show up with their own tambourine that they bought and no one can take away from them and they ruin service for everybody with their sorry tambourine playing. And the tambourine battles? They are legendary. If someone challenges your tambourine skills, you better be ready for war!
All of this is funny but I do have a point in bringing up the tambourine. It represents the important cultural things that black folks attach to church. I once heard a black atheist friend say "I don't believe in church but I will fight you if you try and take Jesus away from my granny and aunties that have been in church all of their lives.wp_postsChurch is not always the religious or sacred imagery. For some it is an innate part of their cultural that they love.
---
Mey 
— Santa Muerte Statue
I've written many times before about how my faith is rooted in Mexican Catholicism and traditional witchcraft, and this is a perfect example of that. When I pray and when I do spells, I often go to La Virgen, but other times, I go to Santa Muerte, the Holy Death. She watches over and protects queer people, homeless people, sex workers, and everyone else. Just as everyone, no matter who or what they are, will die, everyone can come to Santa Muerte for protection and healing and help. When so many faiths and religions reject people like me, I find a lot of comfort in knowing that The Bony Lady will never abandon me.
Furthermore, she helps me connect to my Mexican roots. When I'm praying at my altar or doing candle magic or giving offerings to La Santa Muerte after she's helped me, I can feel myself drawing closer to my family and my ancestors and my people. I feel affirmed as a trans woman, as a lesbian and as a Chicana. La Santa Muerte is a great protector, an understanding saint and a reminder that I'm never alone, and this statue helps me to remember and feel all of that no matter where I am.
---
Heather — Research Journals
I loved the Bible and I loved the singing. That's why I stayed in church so long. And when I say I loved the Bible, I mean I loved to study it. Has there ever been a more fascinating book in the history of the world? The way it was written, compiled, translated, censored, distributed, interpreted, reinterpreted, misinterpreted. Long before the Bible even existed as the Bible, the Apostle Paul called it a sword, and he was right. It's been used as a weapon of destruction all over the world, for centuries now. I studied the Bible like it was my job, hours a day, every day. The Greek, the Hebrew, the Arabic, the translation of passages through time and the deep theology holding it all together. I left my Southern Baptist church and never looked back when it became clear to me that Evangelical Christianity had become a Fox News outpost, an unwitting herd of Republican party pawns. (My former Pastor is an Republican Congressman now; last time I was home in Georgia, I heard a dozen radio ads of him blasting President Obama's godless liberal values.)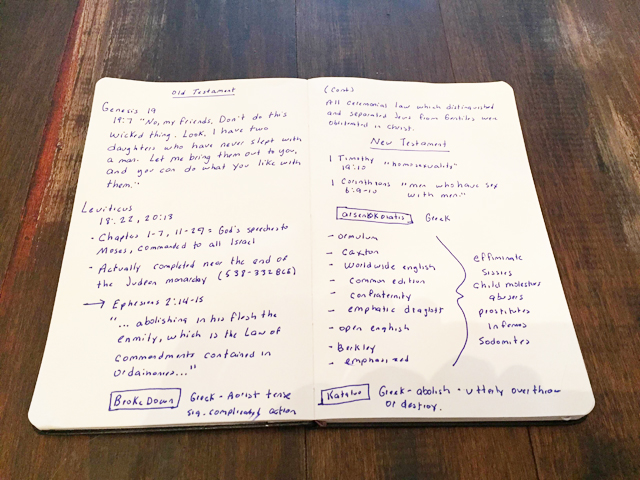 I've since parted ways with most of my faith, and nearly every physical thing that connected me to it. I have, however, kept my research journals. 27 full Moleskines in all. I'll probably never know as much about anything (even lesbians on TV!) as I do about the Bible. But I also know I'll never stop molding my life around the very first thing Jesus read out loud in the temple, the words of the Prophet Isaiah:
The Spirit of the Sovereign Lord is on me, because the Lord has anointed me to proclaim good news to the poor. He has sent me to bind up the brokenhearted, to proclaim freedom for the captives and release from darkness for the prisoners … to comfort all who mourn, and provide for those who grieve in Zion—to bestow on them a crown of beauty instead of ashes, the oil of joy instead of mourning, and a garment of praise instead of a spirit of despair.
I don't believe in church anymore, but I do believe in my purpose on this earth.
---
Like a good lifelong protestant Christian, I don't have many icons or physical things that connect me to my religion. But part of my journey in queering Christianity has been incorporating small things into my personal daily worship. I finally have an altar where I sit every morning to read my daily devotional, meditate, pull a tarot card, and write a bit. My favorite part of this morning ritual has been lighting sage to cleanse the air. Smell has already been powerful for me. The smell of sage quiets my mind and ushers me toward a more contemplative way of being. It puts a fresh start on each morning and helps me hone in on how I want my religion to guide each day. When I find myself straying from living intentionally as a Christian, I remember the smell of burning sage and am able to refocus my energy back towards living more Christlike.