By Elicia and Mey
When you're fat, people don't really like it when you look like you're enjoying yourself, especially when you're enjoying yourself while eating. When that food is something that's considered "not good for you" it gets even worse. But here's the trick, sometimes, you just gotta stop caring and start eating delicious food in public whenever you want. Sometimes you just have to be unapologetically fat. Elicia and I both have to deal with this on the reg, and she's a genius and the funniest person I know, and she came up with the idea for this list.
1. Mey: Pretty Much Any Fried Food From a State Fair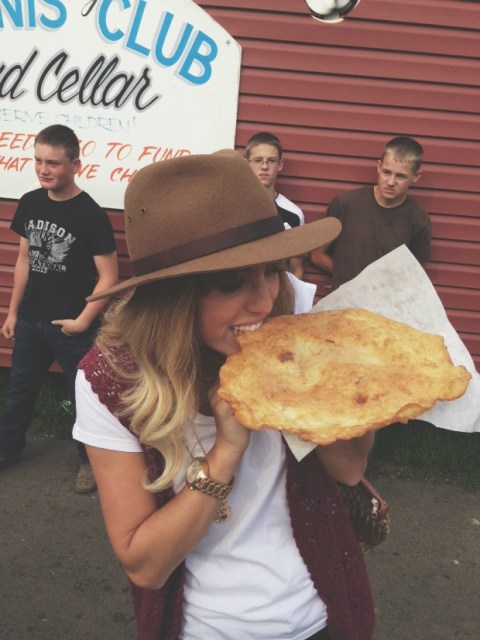 Growing up, the annual Southeast Idaho State Fair was one of my favorite traditions and my favorite part of it was the food. Foot long corn dogs, five different kinds of french fries (this was an Idaho state fair, after all) and Tiger Ears (pieces of fried dough slathered in honey butter that are the size of a pizza but made to be eaten by one person, which isn't really different from a pizza) were some of my favorites. Few things make me feel more like the cowgirl I always wished I would grow up to be than walking around a state fair, looking at all the 4-H crafts, checking out the livestock and eating a ton of fried dough.
---
2. Elicia: Totchos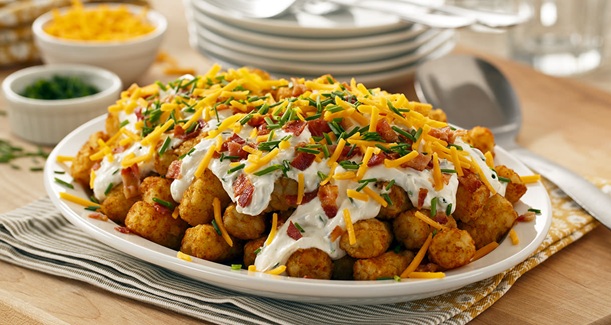 If you've never heard of totchos, here is a really important life lesson I'm about to share with you. There are these things called totchos and what they are is nachos, BUT WITH TATER TOTS. For real. Where you would normally be marginally enjoying the crisp, mediocrely satisfying crunch of a lightly salted tortilla chip acting as a lifeless, uninspired vessel to what you're actually excited to put in your mouth (i.e. cheese, sour cream, jalapeños, guacamole, etc), instead is a texturally perfect, crunchy on the outside, soft on the inside, potato nugget of pure caloric goodness. I often order these at bars. They do a great job of soaking up beer and any still-hanging sad thoughts I managed to have that day.
---
3. Mey: Waffle Sundae
Waffles are just so freaking good. They're the Frosted Flakes of breakfast foods (they're grrrrreat!). I've eaten waffles for dinner every day for a week multiple times before. And whipped cream? Well, that's just amazing. Pero like, a big, fluffy waffle covered in ice cream, whipped cream and chocolate syrup? That's heaven right there. Really, just a waffle covered in whipped cream and honey is like, ultimately delicious. Does that count as a sundae? Either way, while you're shoving a giant piece of whipped-cream-covered-waffle into your mouth, you can pretend to be Leslie Knope, and really, is there anything better than that?
---
4. Elicia: Doritos Nachos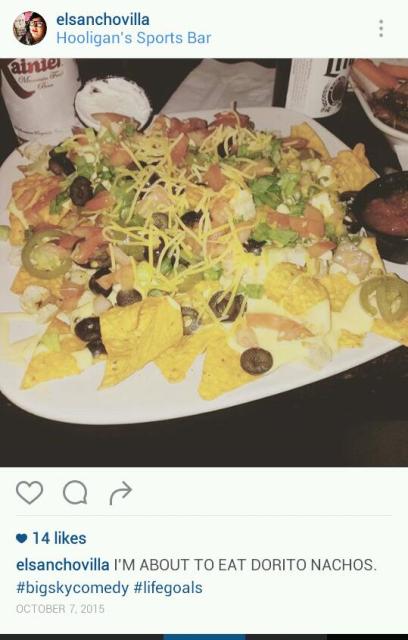 There was a time in my adulthood in which I traveled to Billings, Montana. Surprisingly not to ride bareback on a wild horse while spending the remainder of my trust fund on a foolish quest for Curly's gold (ONLY because I don't have a trust fund), but to participate in a local comedy festival/competition. While there I was treated to many inspiring and colorful local traditions such as watching someone getting arrested in a bar mid karaoke song for carrying an unconcealed weapon, being shouted at by white drunk girls on the street who were concerned my "Mexican passport" was not up to date and most importantly, being introduced to the city's famous local bar cuisine known as Dorito nachos. Not only Dorito nachos, but Dorito taco salad, Dorito tacos (which you can obviously also get in a more crude form at Taco Bell) and Doritos and salsa. I don't know why more places that serve food have not adopted the practice of replacing all conventional fried tortilla items with various flavors of Doritos. After Instagramming a picture of these, I received many concerned text messages about my state of mind. Since coming back to Seattle, I miss a lot of things about Billings, Montana and all of them are just each Nacho Cheese Dorito I ate off this plate.
---
5. Mey: Bacon Egg and Cheese Biscuit, Sausage Egg and Cheese Biscuit and a Hashbrown
Seriously, I feel like McDonald's breakfast is severely underrated. Like, honestly, it's the best reason to get up in the morning before 10:30. These biscuits are made every morning fresh in McDonalds and the combo of American cheese, bacon or sausage and egg has the perfect amount of grease for a breakfast sandwich (meaning a lot) and it all comes together for a perfect bite. In high school and college I would always get the bacon version of one of these sandwiches when I had a big test, and hey, I was a pretty good student. When I heard that McDonald's was doing all day breakfast I was so excited, but they only serve freaking McMuffins all day, and I hate English Muffins. I love biscuits. I could eat a biscuit breakfast sandwich every day of the week. But I have a problem, I love both of these sandwiches so I never know which one to get. So I get both. Problem solved.
---
6. Elicia: Little Caeser's Bacon Crust Pizza
There are people in this world that will tell you bacon makes everything better. Those people are half right. Bacon can also make things awkward and by awkward I mean the silence that inevitably befalls my date after I order this pizza at Little Caesars and proceed to eat it crust first, only occasionally wiping away the copious amounts of grease on my mouth before asking if they want to come back to my place after we leave. I'm sure the silence has less to do with a fat person eating bacon wrapped pizza and more to do with the fact "my place" is actually my friend Sarah's couch in her front living room.
---
7. Mey: An Entire Bucket of Movie Theater Popcorn with Raisinets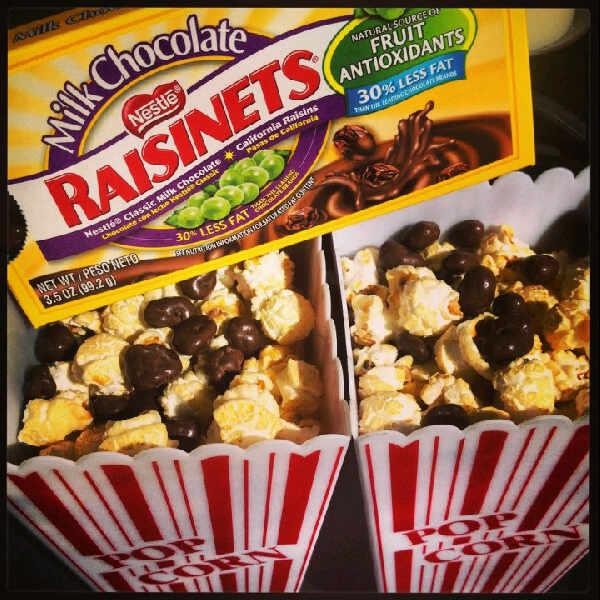 Going to movies is like, my favorite thing in the world, and one of my favorite parts of going to the movies is eating popcorn.  I usually get it with less butter and more salt and then dump the box of Raisonettes right in there. Popcorn is just so freaking good you guys. Once in college I ate popcorn for seven straight meals. It was terrible, but also amazing. Oh man, or sometimes, the movie theater will put a scoop or two of kettle korn in there and it's even better. Sure, it's weird chowing down on popcorn when you're watching Room or Freeheld, but you've got to power through those tears so you can enjoy your snacks. And sure, it's awkward when people stare at you because you're eating popcorn during the sex scenes in Carol, but it's worth it you guys, believe me.
---
8. Elicia: Aioli (Like just licking it out of a container)
I am not necessarily an advocate for mayonnaise. I like it in things for sure, but on its own, the look and taste of it sort of makes me nauseous. That is until you mix it with any other ingredient in which it can now be titled aioli. I will lick that shit out of any allegedly "empty" sauce container of aioli regardless of its size in comparison to my tongue and how many people watch in horror or confusion when I refuse to let its gelatinous goodness remain clinging to the sides of its serving dish where it would otherwise remain unused, unwanted and unappreciated. I think my tendency to lick clean the sauce containers of aioli when I order fries at the bar I work at grosses out some of co-workers, but meh. WORTH IT EVERY TIME.
---
9. Mey: Like, eight tacos from the taco guy catering all my Mexican family's get-togethers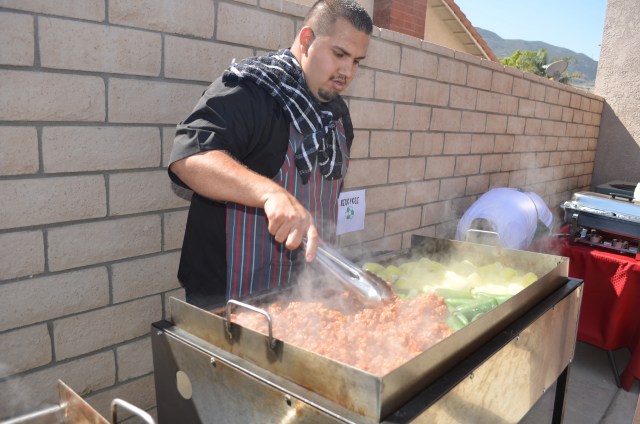 Legit, every time we have a family reunion or birthday party or really any other big party there's a taco cart with amazing tacos. Since I'm weird and often awkward in public, and especially around my family, I spend a lot of time at these reunions and birthday parties sitting and eating, and I'm ridiculously thankful for this taco guy who's there with his carne asada, pollo and carnitas tacos, plus rice and beans. As long as you've got a delicious taco stuffed in your mouth, you don't have to talk to that great uncle once removed that you've never met before. I love my family more than anything, but I also love eating tacos and I love avoiding awkward situations.
---
10. Elicia: The X-Men: Apocalypse themed Beserker Burger Currently Available at Red Robin
I love X-men. I love Red Robin. I love fried onion straws. This is why I display zero shame when consuming this burger with great fervor in Red Robin public. Not only am I enjoying a delicious and nutritious meal that will give my body energy to walk a few yards into the adjacent mall and pick up the Uncharted 4 game I have on hold at Game Stop, but I can also know my money went towards helping those adorable gifted youngsters at Charles Xavier's private school for gifted youngsters. Just listen to the description of this thing: "The Berserker X Burger comes loaded with Sriracha onion straws, spicy pickles, zesty aioli, a fire-grilled, all-natural beef patty, lettuce, tomatoes and melted cheddar on a special "X" edition brioche bun." THERE'S AN X ON THE BURGER BUN. HOW FUN IS THAT??? I often enjoy this burger with one of Red Robin's signature "can-crafted cocktails." Oh, what's a can-crafted cocktail you might have just asked yourself in your head? It's a beer, mixed with some flavored liquor served in a chilled beer can. Yeah, I know. I too am glad I don't have Wolverine's healing factor otherwise I wouldn't have been able to die and go to this Red Robin heaven!