Hailing from Wexford in the sunny south-east of Ireland, Wallis Bird released her debut album Spoons to critical acclaim back in 2007 and has been on the rise ever since.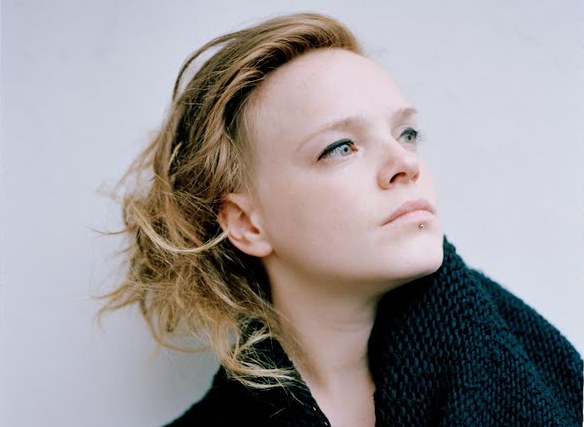 I first encountered Wallis Bird at an open-mic night in a bar called The Mezz in Dublin's fair city, which I frequented weekly with some college friends – standard practice, individuals take to the stage and perform 3 songs, the audience either like it or talk over it. Wallis used to regularly appear late-on in the evening, and absolutely raise the roof of the place. She stopped showing up and it subsequently  emerged that she had moved to Germany to pursue her music career, and next thing  she was releasing EPs, much to my delight. Here's her earliest single and one of her most famous songs,'Blossoms in the Street':
Wallis bird – blossoms in the street by ladiosi
What is initially striking about Wallis Bird is the manner in which she plays the guitar. Born left-handed and receiving her very first guitar at the tender age of six months, as a child she lost some of the fingers of her left hand in an accident with a lawnmower, and had them sewn back on. From then on she took to playing a right-handed guitar quite literally upside-down – an unconventional style of playing indeed, but one which very much works for her and makes her a truly unique performer.
Wallis Bird has always been an enigmatic artist – her well-known persona is that of the quirky happy-go-lucky troubadour, who seems to churn out radio-friendly sprightly folk singalong songs with ease – the most famous of all to date being the instant mood-lift that is 'To My Bones', the lead single of Wallis' 2009 sophomore album New Boots:
But on the flip-side there's the brilliantly deep songwriter whose ability to convey matters of the heart is astounding. From the extreme highs of being in love, to the depths of heartbreak, she never minces her words with her confessional style of writing. "All For You" and "Your Morning Dream" are both masterpieces of hers in that ilk, but "Measuring Cities" is one of her finest relationship analysis pieces to date. Here she is performing it acoustically in a second-hand record store in Vienna:
Where Wallis Bird really reaches the peak of her abilities is in a live setting, as her impossibly charismatic on-stage persona and energetic zest for performing leads to mass sing-alongs from the audience, and many many broken strings for her poor guitar! She really knows how to make an evening in her company extra-memorable, too. Earlier this year, on the release day of her third studio album Wallis Bird, she played a sold-out show in Dublin and finished it off with a stunning rendition of long-time live favourite and now new single "In Dictum". No microphones, no amplifiers – just a lone acoustic guitar for accompaniment as Wallis clambered in amongst the audience to belt it out from the middle of the floor with the capacity crowd joining in on backing vocals for the refrains.  It was a truly special moment, and thankfully, someone captured it all on video:
You can visit Wallis Bird's official website here, and keep up with her adventures on Facebook  and Twitter. Her back-catalogue to date is available to purchase on iTunes and also via Amazon.