Welcome to NSFW Lesbosexy Sunday!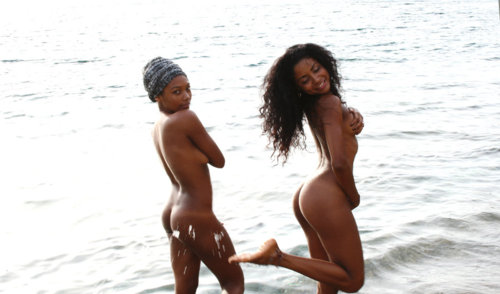 + People want to have the most sex in the summer, along with December and January, according to a study at Villanova University based on Google searches.
"Researchers analyzed the keywords that people in the U.S. used in Google searches over four years, and found that every year, searches for keywords related to finding dates, prostitutes and pornography showed distinct peaks during June and July, and again during the winter.
"Wherever we looked within these three different areas — whether it was searches for 'eHarmony,' or for 'brothel' — there was this exact same pattern," said study researcher Patrick Markey, an associate professor of psychology at Villanova University in Pennsylvania. The timing of the peaks was remarkably consistent from year to year, he said.
Exactly why these two peaks in sexual interest occur isn't completely clear, Markey said, but the findings suggest they are linked to a general increase in the amount of time that people spend being around other people."
+ FleshStarter, an adult-project-oriented crowd sourcing site, will launch August 10:
"The website will provide the all-or-nothing funding technique used by Kickstarter, will host pitch videos produced by project creators, and will deliver features expected of a modern commercial crowdfunding platform.
'Entrepreneurs in the adult, LGBT, and other marginalized categories presently shut out of existing crowdfunding opportunities can find an enthusiastic home for those same projects on FleshStarter,' Jack Campbell, Ntimate CEO, said."
+ The Lesbrary reviewed Patrick Califia's Macho Sluts, and it's a good read:
Its role making lesbian BDSM visible is important enough, but it became even more pivotal when the book was imported into Canada. Little Sister's Bookstore, a gay and lesbian bookstore still in business today, kept ordering the book and kept having it stopped at the border for being obscene. This meant that any shipment with Macho Sluts in it was delayed or even destroyed. But the thing that makes it interesting is that Little Sister's kept defending Macho Sluts by saying it had literary value. And after long arguments with Customs, they had to agree and release the shipment–if it hadn't been destroyed. Except that every time Little Sister's tried to get the book again, it was stopped at the border again, and they had to go through the same argument. They couldn't just refer to their last decision; they had to start all over. Meanwhile, non-queer bookstores that ordered Macho Sluts would be able to get the book just fine. Other books were given the same treatment. (If you've ever seen the movie Better Than Chocolate, Ten Percent Books is based on Little Sister's.) Little Sister's took Customs to court for discrimination, and it went all the way to the Supreme Court of Canada. Little Sister's won. It was a landmark decision and has a big place in queer history, especially Canadian queer history. Macho Sluts played a big role because it showed that porn could be literary, and that complicated things. It's not a big surprise that Little Sister's decided to republish it as a Little Sister's classic with that background. 
+ On not enjoying receiving oral sex:
"Unfortunately, many women aren't comfortable with their partner going down on them. Whether they're worried they'll smell or taste bad, are uncomfortable with how their vulva looks or don't like all the attention to be focused on them, there are quite a few reasons for women not being okay with receiving oral sex.
And yes, there's a minority of women who simply don't enjoy the sensations of it."
+ Being in a long-distance relationship can really suck. There are a few things to make it suck less, including video chat, not being too demanding about how much time you spend online together, Skype sex, respecting when someone doesn't want to have Skype sex, movie nights, and not thinking about time too much:
"Don't get jealous. This is a common trope for TV shows, but for a reason. The idea of a loved one and sexual partner living hundreds, perhaps thousands of miles away is terrifying. However there's little that can be done that won't make things worse, except trust.
Trust that they love you, that they won't cheat, that they're adults capable of "just" friendships with potential sexual partners and then reciprocate that trust. Trying to control your partner from miles away will only drive them away, or perhaps into the arms of someone who, until the attempts at control, they only considered a friend.
Finally, the biggest don't: Don't get into a LDR, just don't. Best case is that it's a relationship's painfully long intermission. Worst case, it's the excruciating finale."
+ Kegels! They are a thing you can do with your pelvic muscles. Em and Lo talk about how:
"If you've never kegled before, start slow. First, make sure your bladder is empty. Then, squeeze the pelvic muscles, hold for two or three seconds, and release. Do it again, four or five more times. Repeat three times daily. (If it ever starts to hurt, back off and build up more slowly, as you would with any work-out.) When that starts to feel like a cinch, up your reps and the count you hold for: Increase both gradually until you can hold the squeeze for about ten seconds, ten to twenty times in a row. Do that three times daily and you're more than half way to paradise. If you want to get fancy (and who doesn't?) combine those long, loving squeezes with short, rapid-fire kegel bursts — three or four quickie clenches at the end of each long one. And just like in yoga class, work on keeping your breathing in sync with your squeezing: Try inhaling as you contract, holding your breath while you hold the muscles, and exhaling as you relax. Or inhale one deep breath while you punch out the quickies."
+ "The Desire Project" is a new online series featuring women talking about what they want from sex and from life. According to producer Kate Rose:
"What don't women desire? Desire means different things to each woman. It's anything that makes you yearn. One woman told us desire is about pleasure, like food and sex. Another tied desire to jealousy—what someone else is doing or what they look like. Some women are up in a cost-benefit analysis, weighing the consequences—while others love the drama of longing for something untouchable."
+ How do you recognize feminist porn?: real pleasure and orgasms, consensual objectification, non-gendered submission, diverse bodies and identities, and enthusiasm:
"Feminist porn is full of fun and exploration. Performers sometimes giggle on camera, whisper sweet nothings in each other's ears, and just generally don't view sex with solemnity the way mainstream porn actors might.
Better yet, they really seem to enjoy it, even when they're supposed to be in pain or turmoil as part of the scene. Feminist pornographers often encourage their performers to do scenes with real-life partners (see, for example, Ned and Maggie Mayhem's website Meet the Mayhems, or Dylan Ryan's scenes with her partner Trucker Cash on Crash Pad). This results in a fiery chemistry that translates to the screen and can definitely be felt in the pants of the viewer."
+ There are 19 photos that are definitely not about hot beach volleyball players.

Autostraddle Anonymous Sex Toy Review #20:
It's our twentieth Autostraddle Anonymous Sex Toy Review! Over the last few years, we've been propositioned frequently by sex toy companies wondering if we'd like to review their toy in exchange for, you know, their toys. In 2011, in addition to "saying yes to the dress" we started saying YES to the sex toys!
Today's item of choice is Velvet Nest's strap-on harness.
+ Size: XS to XXL (or custom)
+ Material: 100% cotton with metal D rings
+ Price: $68 to $76, depending on style
Velvet Nest's strap-on harnesses take part of the basic idea of the RodeOH harness — a harness that is comfortable and easy to use — and femmes it up. Three of the possible harnesses have black lace with either purple, nude, or black material, and the other two have red and white stripes or black with white polka dots. Mine matches my favourite bra, which is a nice selling point, especially since it's comfortable enough to wear as (crotchless) panties under your clothes.
Let's talk a little more about how comfortable it feels, because: damn. My other harness, the Aslan Jaguar (which sidenote I still love, but for different reasons), is leather, and so the straps are thicker, the buckles are bulkier, and while the leather does feel sexy, it is not all that absorbent. The Velvet Nest, on the other hand, is cotton. Wearing it feels like having sex with your panties on, if your panties were slightly thicker than usual and had a dildo attached. It also means that if you get sweaty, you don't feel instantly uncomfortable. And it's machine washable.
Unlike the RodeOH, with a Velvet Nest harness, you are still strapping something on — there are D rings that make the waist and legs adjustable, though they are much less of a pain than with a traditional harness because you just pull them to tighten instead of fastening buckles. A dildo attaches via a series of velcro flaps at the front, which I was skeptical about but which held everything very securely. The instructions suggest attaching a dildo with the harness on a hard surface — I did not do this, and it was fine, though I suspect you'd have to return to a leather harness for anything biggish. The straps also mean that I won't worry about the harness stretching with age, because I'll still be able to adjust it, and that my partner can wear it too.
On the receiving end, it felt like my partner and I were much physically closer than with a leather harness, both because it was a lot harder to notice the harness and because the lack of buckles and O ring meant less wasted space around the base of the dildo. At least one of the buckles on the leather harness usually hits me in exactly the wrong spot unless we adjust a few times, a problem that did not exist with the Velvet Nest harness.
From a purely aesthetic perspective, the Velvet Nest harness feels femme-ier than either a leather harness or the RodeOH, which, as a mostly femme person, I really appreciate. Speaking only for me, the difference is this: wearing a leather harness feels badass, but still a little like dressing up and wearing something, while wearing the Velvet Nest harness just feels like being myself. Which is really great.
(If you need a dildo, check out our complete guide.)
Disclaimer: All of the photographs on NSFW Sundays are taken from various tumblrs and do not belong to us. All are linked and credited to the best of our abilities in hopes of attracting more traffic to the tumblrs and photographers who have blessed us with this imagery. The inclusion of a photograph here should not be interpreted as an assertion of the model's gender identity or sexual orientation. If there is a photo included here that belongs to you and you want it removed, please email our tech director at cee [at] autostraddle dot com and it will be removed promptly, no questions asked.