It's already Channukah and Christmas is coming up so this is an excellent opportunity to slaughter two birds with one giant (cock) rockstone and give your special someone or occasional friend-with-benefits or your ex-girlfriend something sex-related. This way she thinks she's getting a gift, but really YOU'RE getting a gift. And ideally it'll be the gift that keeps on giving, as I believe they say in the 'business.'
So we have some advice for your "erotic" shopping experience. You know, "erotic"? It's like "sensual."
If you're interested in being a good person, you will do your holiday shopping via these Amazon/shopstyle affiliate links, so that a portion of your purchase benefits our continued existence. However, if you don't do that, please support the best sex store ever, Babeland, which has heaps of gift guides and informative situations. Also it's owned by two lesbians.

STRAP-ONS:
Generally people prefer to buy their own strap-ons. But in this economy — sometimes the holidays are the only time anyone can get treated to a giant penis-shaped object and intricate strappage system which adheres said object to your vagina. You know? Right, totes. Ask your partner what they want if you think you can get away with it. Or replace the one you broke in May.
Harness:
A good harness will be between $60 and $120 minimum. You don't want to feel like you're wearing something that could be purchased in a combination tanning salon/adult video store.
The basic factors you'll be considering are materials, comfort, design, durability, size and functionality. Unlike dildos, which some lesbians prefer to trash between partners, you or your special friend might keep this harness literally until it breaks, so it's an important investment.
$96.99 – SpareParts Joque Harness
+ Nylon/spandex, designed with comfort in mind
+ Fits many different body sizes from hips 20″ to 50″
+ Stretchable O-Rings to use different size dildos
+ Vegan-friendly
+ Waterproof
+ Accommodates double-headed dildos and is good for packing!
$95 – Aslan Jaguar Harness
+ Available in vegan faux-leather
+ Easy adjustment D-Rings to use different kinds of dildos.
+ Comes in different colors
+ If you're not used to wearing a harness, this is a good one to start with.
$70 – Terra Firma Harness:
+ Great design, easy to adjust
+ O-Rings allow for a variety of dildo sizes, also accommodates double dildo
+ Easy to clean
Dildos:
Silicone is the preferred material. There's also Cyberskin, which is a lot like real skin and feels the bestest, but keeping it clean is a giant pain in the ass. There is upkeep and cornstarch involved but also is well worth it.
$55. Funfactory Share Dildo, Black
+ Silicone
+ 6.5 inches, insertable portion 4.5 inches
+ If you are a Kegels Master, you can hold onto this sucker with your vadge but if not it will fit within a harness.
$59.95: Leo
+From Vixen, designers of "quality silicone dildos" (ideal for allergies/sensitive skin).
+ Longer than most dildos
+ Self-standing, harness compatible with a concave bottom that will self-adhere to any flat, non-porous surface.
$104.95: Vixen Creations "Maverick VixSkin" Dildo
+ VixSkin has the realistic look/feel of cyberskin but without the hassle.
+ 100% Platinum Grade Silicone – Phthalates free, Hypo-allergenic
+ Non-toxic, Non-irritating
+ Boilable, Bleachable (10% solution)
$65: Mr. Bendy
+ Made of softskin with a semi-realistic feeling but is silicone so you can wash it easier
+ Works for sex and for packing
+ It's even endorsed by sugarbutch, so you know this thing means business: "My infamous Silky/Mr. Bendy (named differently depending on where you buy it), my very favorite cock – because you can pack with it, and play with it, and it actually works – unfortunately, that's incredibly rare in the world of cocks."
+

Celebrity Lezbian Fists:
I know what you're thinking — "those strap-ons seem like a TON of fun, but I'd really prefer to get fucked by a replica of Jack Halberstam's fist." Well, you're in luck. Because the fine Canadians over at Come As You Are have anticipated your need and consequently fulfilled your desires.
Did you read Inferno for the Autostraddle Book Club, which contains an entire chapter we refer to lovingly as the "vagina chapter" 'cause that's what every word in it is about?
Meet the Celebrity Lezbian Fist!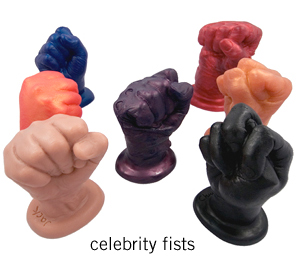 Celebrity Lezbian Fist is a limited edition series of silicone fists cast from the actual hands of famed and favourite queer cultural icons. The series includes fists by Harmony Hammond, GB Jones, Eileen Myles, Cheryl Dunye, Cathy Opie, Jack Halberstam, and Savoy Kapow Howe. Inspired by the infamous cock-castings by rock groupie Cynthia Plaster Caster, the fists come in a range of punchy colours personally selected by each participant. Each "model" was made in a limited edition of 25. These celebrity fists are mostly art, but are made of 100% silicone and technically useable. Made with love in Canada by Happy Valley and Paige Gratland. Find out more about the celebrities behind the fists! (6 3/4″ x 4″)
Also, if last week's Effing Dykes post scared the living shit out of you, you're probably in the market for some Rubber Gloves. While you're at it, try Flavored Dental Dams.

Other 'Sexy' Gift Ideas: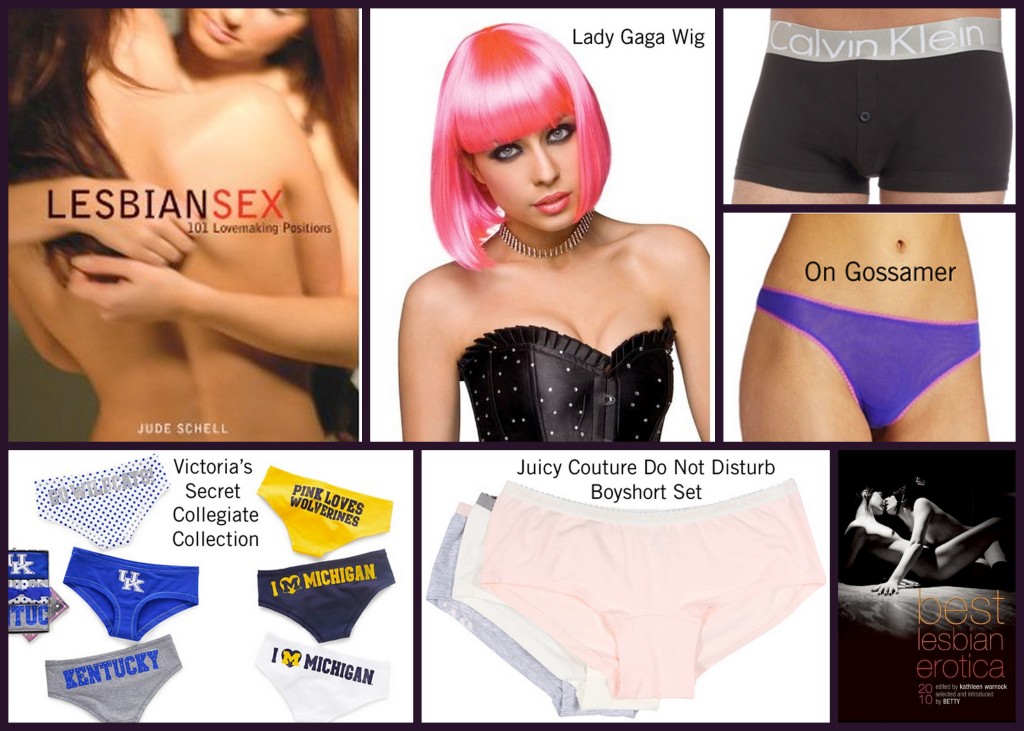 Pleasure Wigs Gaga Wig, Hot Pink [update: sold out]: Sorry we had to. Why is this categorized with "sexual toys" on Amazon? Why is it called a "Lady Gaga wig"? Weird, right. Is it because of Natalie Portman in Closer.
"These wigs are great for dress-up, fantasy, Halloween, just about anything! Made from human-like fibers they feel real and look real. One size fits all as they are fully adjustable for your comfort. Re-usable and re-wearable!"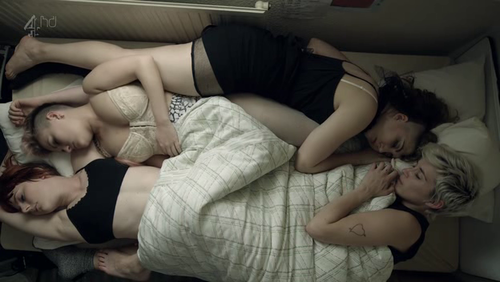 Underthings:
It's only $12 for the world's bestest, most comfortable, sexiest thong: On Gossamer Women's Mesh Hip G-Strings. Or get fancy with Juicy Couture's Do Not Disturb Boyshort Set [update: sold out] or some men's Calvin Klein boxer-briefs. OR OR OR Victoria's Secret has customized boyshort/panties sets [update: sold out] representing all the fine Universities of America, which is appropriate if you go to a Big Ten School. Or just check out Boyshorts 101.

Books:
+ Sometimes She Lets Me: Best Butch/Femme Erotica, edited by Tristan Taormino.
+ Best Lesbian Erotica 2010, edited by Kathleen Warnock
+ The super-famous… The Whole Lesbian Sex Book: A Passionate Guide for All of Us, by Felice Newman
+ The New Lesbian Sex Book, 3rd Edition, by Wendy Castor

INFOGRAPHIC:
This is a very interesting Sexual Revolution Infographic!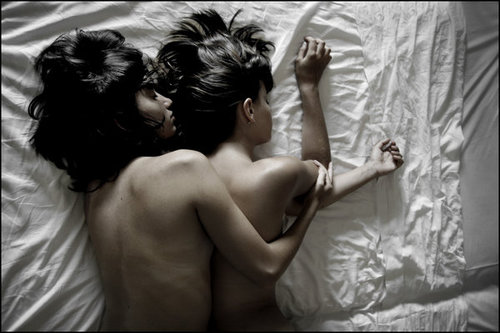 VIDEO:
I know you've probably been wondering "what happened behind the scenes of the Perelli calendar?" Well luckily there's a video of that, and nobody has a shirt on:
Sexy Tumblr Alert:
Queer.Visuals: This is just like all the stuff. You know, the hipsters cuddling with alternative lifestyle haircuts. All of the things. It's like a library of lesbian tumblrs.
---