I spent half of last year in Georgia-the-country, in a tiny village half an hour from the Black Sea, surrounded by chickens and cows and abandoned tea plantations. It's the land of Colchis, where Jason found the Golden Fleece, and Prometheus is said to be chained to either Mt Kazbek or Mt Elbrus. As any Georgian loves to tell you, they invented wine, and the Georgian Orthodox church is one of the oldest in the world. Most Georgians avoid mentioning that Tbilisi has been destroyed over twenty times in its 1500 year history, and that Stalin was a Georgian. In more modern times, Georgia has been a land of nationalism and political instability. The recent election last October was the first time since its independence in 1991 that Georgia changed government without a revolution.
This makes Georgia a fascinating place to visit, but living in a rural village I felt like I'd gone back in time. It's very conservative, for one thing, but also remnants of Georgian history turn up in the most unexpected of places. My host-mother's childhood home had a lovingly executed fresco of Stalin on the living room wall. Walking through the streets of Tbilisi I came across a pile of Soviet propaganda posters builders had piled up in the street during a renovation. I explained my home town to villagers using USSR world maps, and my friends hiked for two weeks in the Caucasus mountains using military topographical maps from the seventies. Even visually it looks like a vestige of a former world, because the country's economy crumbled so completely after becoming independent, and the old Soviet infrastructure falls apart more and more every year but the government can't always afford to replace what is falling or long fallen apart (except in the major cities, which have some very fancy architecture).
I loved living in Georgia, but the people I met, particularly in my village, seemed so old-fashioned I was always too scared to come out and lose the love and affection I'd gained. After leaving I was curious about the experience of gay people in Georgia outside of my tiny village. The legislation isn't openly homophobic; homosexuality was decriminalised in 2000, and since 2006, the Labor Code says that a Georgian cannot be fired for their sexual orientation. In March 2012 the Criminal Code was amended to include sexual orientation as aggravating circumstances for criminal assault. However, legislation about gay marriage, civil partnership, adoption or trans* issues is completely absent, and probably a long way away.
Yet the people of Georgia more than make up for a lack of homophobia in the legislation. An estimated 90 percent of Georgians think that homosexuality can never be justified according to 2009 & 2011 studies by The Caucasus Research Resource Centers. This is partly because of Georgia's Soviet heritage, as official Soviet doctrine described homosexuality as a sickness. Georgia's homeboy Stalin himself was the original creator of the infamous Article 121.1 in the Soviet Union criminal code, which made myzhelozhestvo, or male homosexuality, a crime punishable by up to five years imprisonment. Sadly, many Georgians believe that homosexuality should be recriminalised (however, almost every Georgian in my village also believed wholeheartedly in the likelihood of the Mayan apocalypse late last year, to keep it all in perspective).
Add to this the power of the Georgian Orthodox Church, a conservative institution passionately against any LGBTI rights. The church in Georgia is inextricably intertwined with the Georgian sense of self. The Soviet Union was an atheist state, and regaining national identity on independence was linked to reconnecting to traditional Georgian Christian ways and values. This means that for many Georgians the identities of being Georgian and Orthodox Christian are connected.
Last year Identoba, an LGBTI organisation founded in 2010, organised a peaceful march for the International Day Against Homophobia and Transphobia in the capital Tbilisi. The Orthodox Parents Union turned up to counter-protest the relatively small event (participants were actually outnumbered by journalists). The situation rapidly escalated into violence, and one of the activists was later diagnosed with a brain concussion. Although police were present at the march, they failed to intervene. Natia Gvianishvili of Identoba says of the experience: "It was the first time that I looked into somebody's eyes and realized that this person I've never met before, and hopefully never will again, hates me for my sexuality and for supporting this cause. It was really stressful, and we were really scared, and in shock."
However, the media response to the event was relatively neutral. Many of the major Georgian TV channels reported the event without significant bias. This was surprising to Natia and other LGBTI community members, because even two or three years ago LGBTI issues weren't in the public discourse at all, or only negatively. Through the work of organisations like Identoba, Women's Initiative Supporting Group which works specifically with lesbian, bisexual and trans* women, and LGBT Georgia which collaborates with healthcare organisations, these issues have been brought to the attention of Georgians. In the lead-up to the election late last year, candidates were asked about their stance on LGBTI rights, a first for Georgia.
Yet outside of the capital, Tbilisi (which has 1.5 million of the total 4.5 million population of the country), and some of the other smaller cities, the situation for LGBTI people is mostly dire. Tbilisi is where most of the organisations are located, so it's hard to access LGBTI resources in other regions. This is partly because many people in Georgia live in some degree of poverty, but also because of the dismal state of the roads in rural areas (from my village, it took approximately the same amount of time to walk into a nearby town as taking the marshrutka, or local bus, because the roads were so terrible).
This means that organisations like Identoba have trouble accessing people in regions outside of Tbilisi, which is a problem because it's the people in these areas who need the most help. Whilst many Georgians in Tbilisi are modern and metropolitan, most in rural areas are not. The gender rules in my rural village were right out of the fifties, but a hyperversion of the fifties that I don't think even my own grandparents experienced in the actual fifties. Men didn't cook or clean, and married women were simultaneously the breadwinner of the family and responsible for all domestic work. Chastity in young girls was of vital importance, yet I often saw home-delivery prostitute vans openly visit the houses of married men. Rural areas in Georgia seem very disconnected from Tbilisi, let alone the rest of the world.
It's a huge challenge for organisations like Identoba to reach anybody outside of the capital.
None of these groups really know how to start working in the regions in a way that will be effective, because mindsets in these regions are so entrenched. "It's a hazard, it's very conservative, so we're both concerned for our own safety, and for the safety of the cause and the work itself, because you don't really want things to go wrong," says Natia. Most of the contact that groups like Identoba have with the regions is from people who move to the capital from the regions, or go back and forth between the two, rather than programs run in the regions themselves.
In both the major cities and rural areas, family expectations have a huge impact on the lives of gay Georgians. Natia is involved in a study of the obstacles to coming out for Georgians on the LGBT spectrum. The results of the two-part survey are not yet public, but one of the main obstacles reported in the sample of lesbian, bisexual and trans* women surveyed was the fear of losing loved ones. Family is extraordinarily important in Georgia, and many families are more close, and often more overbearing than my experience in anglophone countries. Independence from family is not valued as highly in Georgian culture as, say, American, and traditionally most young men continue to live with their family even after marriage (like my host father). The fear of rejection from family and friends is a significant obstacle to most gay Georgians, usually more so than the threat of physical violence.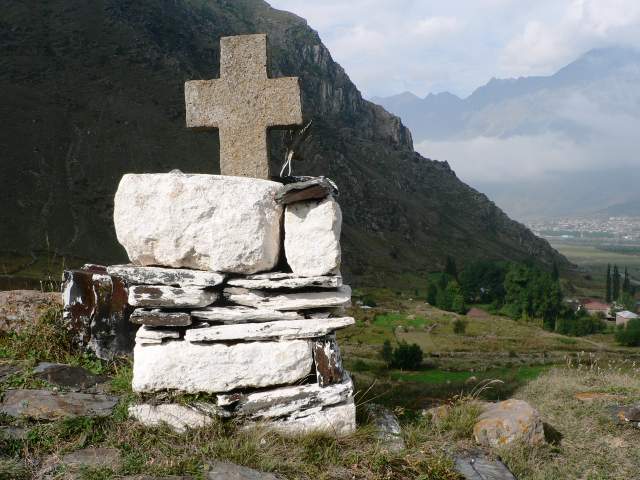 Organisations like Identoba work hard to change this. Identoba is vocal about reprimanding homophobic slurs in the media to try and raise awareness for the hurt that it causes to gay Georgians. They're also holding the Georgian government to task for the lack of protection during the peaceful march last year, charging them with violations of 3, 5, 8, 10, 11 and 13 articles of the European Convention on Human Rights. A new organisation is being created to respond to the community's need for a space dedicated to trans* issues, as trans* people have a particularly difficult time in Georgia.
Identoba, and the other organisations working in Georgia are hopeful examples of the sorts of change happening right now. Identoba's educational programs for university students on homophobia, and education within the LGB community on trans* specific issues have had positive results. Lesbian, gay and bisexual issues have gained awareness in the Georgian media. Natia and I talked about young gay and lesbian Georgians, and how the next generation seems to be much more confident and aware. For Georgians in their twenties and older, there were no books or films with gay people available, but now young Georgians have the internet, and seem freer and more comfortable with their sexual identities than the generations before. The climate in Georgia is improving.
LGBTI organisations in Georgia:
Women's Initatives Supporting Group