Okay guys, it's time to get our collective heads in the game. I know there's been a lot of interest in getting a WoW Auto guild going, so let's try to get this shit set up so we'll be ready for the earth-rending expansion come Tuesday. We scraped a loose guild together before, and I managed get us set up with a tabard and a bank before getting sucked out of the game do to those pesky IRL concerns. But expansion time is perfect for starting fresh, so we're at a crossroads. Here are some questions/concerns for us to discuss in the comments if you guys want to do this thing, which I think/hope you do! The screenshot below proves I did not make this up. Just look at your former selves!
1. Our guild is currently called the "Flannel Confederacy" and it's on the Proudmoore server. Do we want to stay on Proudmoore or start fresh on some other agreed upon realm?
Factors to think about with our brainses:
Proudmoore is a pretty high population server. That means it's been around a while so has a developed community, economy, etc., but it can also mean queues when too many people are clamoring to play at once (ahem, Tuesday).
I picked Proudmoore initially because it's full of teh gay. There are a ton of well-established queer guilds there, so I suspected it'd be good for anyone who might want to dabble in queer-friendly raiding on the side of our quaint little casual Autostraddle guild.
I won't have a chance to renew my WoW account til the weekend, so I won't be able to check out Proudmoore to see if it's had a massive population boom that might keep us from playing there til then. Who wants to do a little research, eh?
If we want to start fresh, we can pick a newer, lower-population realm to strike up our mighty Autoguild on. The downside of this is that low-pop realms can be lonely and might not offer good progression options for anyone looking to switch their main characters over to our Auto guild realm, which could be sad if we lose folks that way.
Also I picked a non PVP, non RP realm and figured we should probably keep with one of those since it's the most neutral, newcomer-friendly realm type. I know everyone would ideally love for their home realm to be where we play, but it wouldn't be fair for us to decide like that. Part of the fun will probably be that we'll all have brand new characters and won't have a gazillion gold and one thousand shiny gryphons to swoop around on.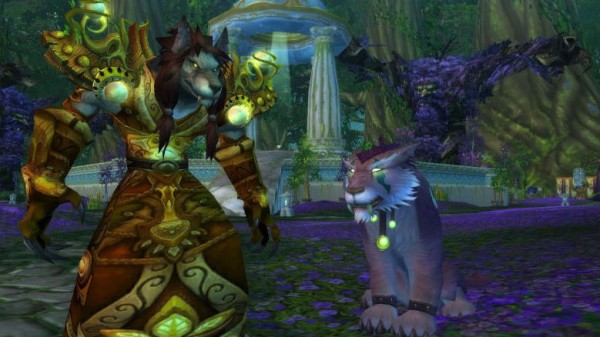 2. We're going to need lovely, friendly officers who know what's up. Since I probably won't be able to play as much as I'd like, it would be AMAZING if you guys would like to take a lot of this into your own hands once we get going.
3. We'll probably need a non-Autostraddle site to function as a forum of some kind, if we're pretty serious about this. That way, we can help people join and organize whatever events and what-have-you without weirding out/clogging up the rest of Auto too much. A Twitter account could be good too, so once we see where we'd like this, I can set it up and pass on the reins. My suggestion for this is Livejournal, as that's how my last guild went about things. I know LJ is super weird, but it's easy to navigate and has message boards. I'm very, very open to other suggestions, with an eye for simplicity (we want to attract new Autostraddle readers to play, amirite?)
4. Like I said, I won't be in charge of any of this once it gets going (if it gets going! we don't have to make a guild at all, but I think that you guys want too, so that rocks!). I will help make some initial decisions, play with you all of course, and then hand off all of the intoxicating, intoxicating power to you guys!
5. Horde or Alliance? Why not both! Our Proudmoore-side guild is Alliance, but I suggest if we start a new guild we pick one or the other to throw most of our initial efforts into and then make an opposite-faction guild so everyone stays happy!
Okay, that's it, I think?
p.s. I'm really excited, this could be really, really funmazing! I hope you're excited too! And enterprising!