Hey Autostraddlers! Do you play WoW like it's your job? Have you heard of WoW but you felt like a total weirdo runnin' around as an elf all by your lonesome? Well, your moment has come. Seriously, it has. I finally, finally got around to making us a guild! We're Alliance-side for now, though we can make a Horde guild later too, cause everyone knows lady orcs are the dykiest things ever. Here's the skinny: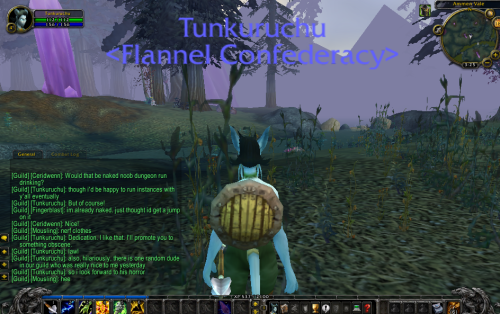 What: The Autostraddle WoW Guild!
Who: Casual players, Non-gamers, People With Elf fantasies, Hardcore l33t Raiders, People Who Need to Sublimate Their Anger
When: Add/whisper me any time- I'll try to be around pretty frequently. If you don't know what that means, respond to this thread and we can walk ya through it! Noobs are welcome!
Where: US- Proudmoore, Alliance. Proudmoore is home to a bajillion other gay guilds, so I figured we'd have less a chance of getting hate-crimed there. People have been super nice so far!
Why: Because sometimes you just want to relax with a beer, pretend you're an elf and f*ck around in Azeroth with your gaymo pals from Auto!
How: We're <Flannel Confederacy> on Proudmoore. Whisper me at Sionnach/Tunkuruchu. Or look in the comments on this post and pst another guildie- everyone can invite! If you're havin' mad problems you can always tweet @technostraddle!