Judy Gold is pretty much your typical New York City Jewish mother of two, but funnier: she's a comedian with 20 years in show business behind her, she dreams of creating her own sitcom, and oh yeah, she's gay.
You know Judy, right? Judy Gold! For twenty years I'm telling you; twenty years she's been performing stand-up all over the country! She won two Emmys for writing & producing The Rosie O'Donnell Show. She was a series regular in Margaret Cho's 90s sitcom, All American Girl and she's been in all kinds of other shows, like Sex and the City, The View, The Joy Behar Show and The Tonight Show. Plus she's got her very own Off-Broadway one woman show, 25 Questions for a Jewish Mother, based on interviews she did with Jewish moms all over the United States, all mixed up with commentary about her own life as a lesbian mom of two sons. Two! This month, Judy's back Off-Broadway appearing in the Vagina Monologues-esque love letter to clothing: Love, Loss and What I Wore, written by Nora & Delia Ephron.
So, I sat down with Judy to chat about her niche as a Jewish lesbian, working on The Rosie O'Donnell Show, meeting her girlfriend through a Time Out New York singles ad, making it in the notorious boys club of comedy, starring Off Broadway in Love, Loss & What I Wore and her brand new one-woman show.
---
+
Jess: Your act is both very gay & very Jewish themed. Do you ever sense any discomfort from the audience trying to mesh the two worlds? Does it get awkward at the Jewish Community Center gigs?
Judy Gold: Well, here's the deal. I do have this eclectic group of places I perform. I do a lot of gay gigs and I do a lot of Jew gigs. I've often done standup at a JCC or a Jewish country club, and you know what? I always say that I'm gay. Just like when I first started doing standup in all these random places around the country where they'd never seen a Jew before, I'd always say that I'm Jewish. Yea, there are people that are like, "why does she have to discuss it?" and I'm like – this is who I am. Every other comic talks about their family, their relationship, why can't I talk about mine? And I don't care how old you are. 99% of them have a gay grandson, daughter, niece, nephew, etc. Often I have people coming up to me after a show and they're so excited – "my granddaughter and her partner…" To me, it's really destructive to be silent about it because they can see me and say "God, I really like her, she's making me laugh, and she happens to be gay." If I can change one person's mind or make one person when they go to vote and think of me and think "why shouldn't she be able to get married?" then I've accomplished something.
"Comedy is so subjective. It's a sense, your own sense of humor."
People also say that I stereotype Jewish women by talking about my mother who I'm really just repeating what she says and how she says it. Comedy is so subjective. It's a sense, your own sense of humor. But, I do have a microphone and I have people's ears, and I could actually do something positive. And, humor is the most palatable way to talk about something controversial.
Jess: Were you out from the very beginning of your career?
Judy Gold: No. I was out, like everyone knew I was gay, but not in my act. I was told by my manager, "straighten your hair, dye it blonde, don't talk about being Jewish and never tell anyone you're gay." Which, ya know… I should've just fucking killed myself right then.
Jess: Did you ever listen to the manager?
Judy Gold: I did dye my hair blonde and I did straighten it. That's actually the headshot they have up here for [Love, Loss and What I Wore] and it really pisses me off! [laughing] This was in the late 90s. At that time I just didn't talk about my sexuality on stage or while performing. I was in a relationship and it was pretty boring so there wasn't much to talk about with regard to my family. It wasn't until I had a child that I thought — I want my child to think of our family as just like everyone else's family. How can I go on stage and act like I don't have a partner and kids? It's completely the wrong message and I flew out of that fucking closet [on stage] as fast as I could.
+
Jess: You were a producer on The Rosie O'Donnell Show. What was that experience like?
Judy Gold: Yes! I loved that…I had so much fun. We had to be there at 7am, we had to have jokes written by 7:30am, and I had one kid at the time and I would have to leave by like 5:30pm and that was early. That was leaving early…it was grueling. I did the first two seasons and eventually left because I really missed performing.
Jess: What's your favorite moment from your two seasons on the show?

Judy Gold: There were a bunch. First of all, my favorite thing was when I said to Rosie, for the holidays, let's do a big production number with the staff, like they do on The Today Show. So that became a tradition and every year they did a big singing and dancing production number with the staff, which was really fun because we were all completely uncoordinated. But, I think my favorite day was when Barbra Streisand came on. That was such a huge moment in so many ways cause, to me, being an unpopular, awkward Jewish kid who idolized Barbra Streisand and knowing Ro, and how much she couldn't wait to meet her it was sort of like I was living vicariously through her. Here she was, having her own talk show and Barbra Streisand is her guest. I don't know how many times I re-lived that moment in my bathroom, in my bedroom, ya know? There wasn't a dry eye in the house and it was incredible. But I didn't want to meet her cause you know how you meet someone you idolize and it'll shatter the whole image you've built up?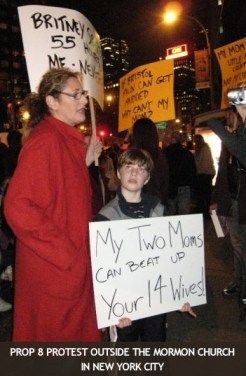 Jess: Your family was featured in the HBO Rosie cruise documentary (R Family Vacations) and I know you live in Provincetown for a few weeks out of the summer doing gigs there. What do you love and hate about these all-gay vacation spots?
Judy Gold: The only thing that annoys me in P-town are the straight people. [laughing]  No! The only thing that annoys me is, ya know, the guys fuckin' walk around in their underpants, no shirt on, that stuff really gets on my nerves. That kind of bothers me. My kids are running around seeing these guys walking around with their dicks hanging out – that I find annoying. I do think it's the most beautiful place on earth. I've traveled all over the country, I've been on vacation with the kids, and it's really uncomfortable when you're in these straight places. The R Family cruises are like magic. They're magical. There are so many different kinds of families. Multicultural families. Families that live in the middle of America, who are gay, but are only openly gay for that one week of their lives. And these kids get to see other families like theirs.  It's really the most unbelievable, most nonjudgmental experience and every night is like the most unbelievable Broadway show on the ship.
Pages: 1 2See entire article on one page