This week's episode of Pretty Little Liars is the episode before the mid-season summer finale! The fact that abcFamily managed to make that an exciting event for me is really only a deep credit to their advertising team. Some intern over there deserves a pay raise.
We open on the lovely village of Rosewood on what can only be a Wednesday because Hanna and Spencer are desperately trying to find Hanna something pink to wear that doesn't clash with the gaping flesh wound on her leg. You may remember from last week's episode that Hanna chose Elaborate Cover-up Scheme over Simple Lie with regard to cutting her leg.
Speaking of Elaborate Cover-up Scheme, Spencer busts the High Tea Healer of Rosewood giving Hanna a call. Maybe Wren just wants to see if Hanna's stitches are getting infected. Or maybe he wants to get a piece of that age-inappropriate ass. It's unclear. Either way Spencer is no dummy and knows something is up.
As the two go to leave for what I can only imagine is for a 4:30am yoga class and crime busting session, they overhear Ashley Marin speaking with her new Church Hubby Father Ted. In the most amazing moment of continuity ever presented on this show, Ted has found a flash drive in the pews. Remember? That flash drive? The one with the N.A.T club's adolescent girls changing videos? And Jenna blackmailing Toby into sleeping with her? Well, Spencer threw it in the church during the first season finale to get away from Ian. Oh yeah, Ted found that and wants to take it to the police.
Ashley confronts Hanna about the flash drive and, instead of saying "I don't know anything about that, why would someone want to film me" or "We think Ian was filming us in high school" Hanna goes with a good old fashioned lie and claims Mona was filming them. Well Mona probably was also, but that's neither here nor there. Ashley takes the flash drive and says she'll take it to the police later in the day.
A lot of anticipatory anxiety is mustered up about this flash drive, but in the end Ashley throws it down the garbage disposal after seeing that it contained footage of herself with Wilden. Oops.
Aria shows up at Ezra's place first thing in the morning, once again, and SURPRISE it's his birthday!
But Ezra's a grumpy bunny because he's still all upset about Maggie. Ezra really wants to see that's she's doing okay, but is worried that it's unfair of him to insert himself in Maggie's life and tussle everything up after all these years. I think Ezra is probably right. Who's to say that his high school girlfriend needs or wants anything from him. There's a good chance she put the past in the past around age 20 and moved on with her life.
This conversation launches a non-intersecting plot line in which Aria poses as a college undergrad interested in teaching in order to get the dirt on Maggie. Let's just sum it up now so we can get to the gay shit faster.
Aria shows up to Maggie's elementary school only to discover that one of Maggie's students is her son, a first grade boy named Malcolm.
Aria, in shock from the news, stumbles back to Ezra's place to bake him a "Happy Birthday and By the Way You Have a Son" cake when she runs into Ezra's werewolf brother. Aria stupidly tells Wesley about the baby situation.
This leads to tons of awkwardness but plenty of cake when Ezra comes home and announces that he called Maggie and she said everything was fine and that she lives alone. Aria decides not to tell Ezra about The Baby Situation assuming that Mommy Dearest is probably paying for this kid's college and first Mercedes. Clearly that's more important than Ezra finding out about his child.
First of all, I'd like to say I fucking called it. Second of all, this finally nails down Ezra's age at 25.
+Ezra turned 18 in September/October after Labor Day his senior year of high school (because it's that time now)
+Maggie got pregnant the summer after senior year, in either June, July or August
+So the baby was born in March, April or May (when Ezra was 19)
+To be in first grade with a spring birthday, the kid must now be six (Aria wrongly refers to him as a seven-year-old)
+Which means Ezra is 25. So now we know.
Also if you're wondering why Maggie looks so familiar, it's probably because you're waiting for the moment when she turns in to a puddle of silver goo because, yes, that is Larisa Oleynik aka Alex Mack!
Moving on, Emily, Paige and Paige's bike enjoy a little pre-class coffee. Emily is clearly distracted in that "Fucckkkk I have to tell my girlfriend I kissed someone else" way and Paige is stone cold in that "Girl, I know you kissed someone else" way.
So things are a bit tense. Luckily, Emily just comes right out and says it.
Emily: A couple of nights ago, when I was comforting Nate, things got a little intense. We kissed.
Paige: Why do you think that happened?
Emily: In the moment it felt right.
Paige: And now?
Emily: I don't know. I'm just as confused by this as you.
What I appreciate most about this conversation, is that Emily said "We kissed." If Emily were worried Paige knew already, she certainly could have spun this like he kissed her and she didn't know what to do. Or he came on to her. Or anything like that. But Emily's phrasing signifies that she's not trying to defend a mistake or convince Paige not to dump her. She's really just confused about what happened and wants to talk about it with her girlfriend.
So here's the thing, people are going to jump on that word "confused." They just are. People are going to say, "Emily is confused about her sexuality," and while it would be okay if she were, I don't think that's what she meant. The creator/writers have stated that Emily is gay, so I think Emily meant she's confused as to why she and Nate kissed at all.
Paige's response is lovely too. Even though she delivers it with a hint of crazy eye, her explanation reveals none of the overt anger from when she gave that trashcan a beating. So either Paige calmed down and was able to see the situation as rationally as the rest of us, or she so badly wants to be with Emily that she's willing to make excuses for her partner's transgressions. I have no idea which option is more likely as I've never had a relationship conversation this mature in my entire life.
Over by Rosewood High, where the school day is finally starting, Spencer runs in to Cece. Apparently Spencer said she'd help out with some trunk sale and forgot about it. More importantly, Cece spots Emily walking by with Paige (and Paige's bike, duh) and freaks the fuck out.
Cece explains that Ali had a serious vendetta against Paige and, of course, Spencer triggers a pastel flashback to Freshman Year. The girls are all getting ready for some party when Hanna (who the director has eating an enormous bowl of popcorn) notices a huge bruise on Ali's back. Ali says she fell during soccer and "Pig Skin" kicked her.
I think it was in just exactly that moment that I realized that I Fucking Hate Alison. Something about that nickname, Pig Skin, brought back everything I'd ever wanted to forget about elementary school. I certainly wasn't the most bullied kid in the state, but I had my fair share of heinous nicknames, including but not limited to Lizard Breath and Ugly Monkey. Pig Skin is just exactly the kind of horrific nickname that only the most manipulative and horrendous girls can come up with. It has the "Pig" part which, while a reference to classically gross considered animal, also has the popping "P" sound at the beginning. And then the "Skin" part which not only references basically the most humiliating part of the adolescent body, but also has the hissing "Sk" sound. Basically Pig Skin is the perfect mean name to be hurled at someone.
Back over in Gayland, Emily, Nate and Paige's bike are meeting up for a little chat. Nate has basically decided that he and Emily are going to go steady and be in love forever and get married and have a dozen babies together in the sunshine in a pasture of golden fields. Unfortunately, that won't be the Emily Fields because Emily is so not interested. And Nate is just not picking up Emily's body language at all so she literally has to tell him she just wants to be friends.
Nate: What about the other night?
Emily: I don't regret it but it doesn't change things.
While I feel like "kissing your dead girlfriend's "cousin" while you have a girlfriend and are gay" is one of those things you're allowed to regret, I appreciate Emily's commitment to accepting one's past actions as though they happened in some third party space bubble.
Nate then goes on to hulk out in to Scary Nate and go on about how Emily and Maya are just alike and that Maya used to claim spontaneity to be reckless with other people's hearts. He goes on to claim he's heard Maya "giving the same speech about 20 other guys."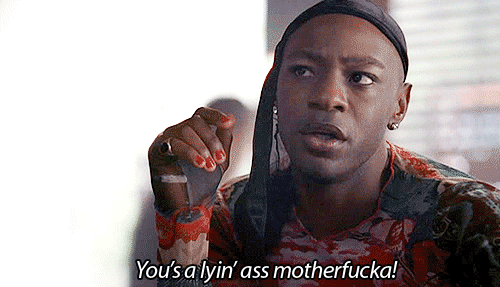 How does Emily not see that Maya dumped this guy's ass?! Either way, Emily knows when it's time to get the fuck out and bikes off in to the sunset, hair flowing in the breeze.
Back at school, Emily tries to talk to Spencer about the whole Nate situation. Unfortunately Spencer is not hearing it.
Spencer wants to know what the fuck is up with Paige and Ali. Emily explains that Paige has never mentioned Ali and reminds Spencer that Ali had totally horrendous names for everyone in the class. Plus, if Cece is just like Ali, then it sounds about right that she would want to pit them against each other. Spencer is unfazed as her favorite game is jumping on every new person convinced they're A. Just like everyone on the internet, Spencer points out that Paige has a bit of a dark side and tried to drown Emily a little bit that one time.
Regardless, Emily sticks up for her girl and it's awesome.
The other Liars are so obsessed with the intensity and importance of their relationships. No one would dream of trying to tell Aria, Spencer or Hanna that Ezra, Toby or Caleb was A. So why is it constantly okay for the Liars to question the motives, history and behavior of Maya and Paige?
I'm not saying that the girls are questioning Emily's relationships because she's gay. I think it's because, for a long time, Emily let herself get pushed around. But I don't think the solution is to take Emily's partners more seriously– I think it's to take all of their relationships less seriously! They find videos taken of teenage girls undressing and no one thinks to question Wren or Ezra? Actual older guys who are into high school girls? A has seemingly unlimited access to every computer and database in town and no one questions Caleb. Toby leaves town on mysterious jobs and isn't seen for weeks and yet no one questions his whereabouts. Someone out there knows their intimate secrets and yet they haven't considered their intimate partners.
Outside, Hanna confronts Jenna. She lets her know that the flash drive has been found and not to blame them. Jenna is unimpressed. She then runs in to Nate who whines like a child that both Jenna and Emily led him on and then blew him off. Now Hanna is the one who's unimpressed.

Is there any way that line wasn't written specifically for Tumblr? Yeah. It was a good moment.
Unfortunately Hanna follows that one up with a "Jenna could see" slip-up that results in Nate angrily hollering at Jenna from across the school yard. He really is the fetching worst.
Starsweep to The Trunk Sale where Spencer and Cece again talk about Paige. According to Cece, the two were fighting over/about Emily. Sort of unclear but I'm going to assume they were fighting over her so as to legitimize my secret fanfic.
Apparently Alison pulled tons of mean bullshit on Paige including but not limited to FAKING LOVE LETTERS FROM EMILY. That's right, Alison somehow managed to zoom in on Paige's gayness and writer her faux declarations of love from Emily. She goes as far as to ask for a response to be put in a secret location. Alison shows up when Paige is scheduled to deliver her love letter and snatches it from it's hiding place. She threatens to expose Paige to her dad. Yeah. Ali was one mean fucking girl.
What's so weird about this entire pastel flashback is how out of control Alison seems. Yes, she has her usual cool facade, but she also seems edgy. Even a bit scared. Like I get the sense something else was going on. Part of me wants to believe this is all from self-hated same-sex feelings on Ali's part, but that seems a little inconsistent with her character. I would imagine if Alison wanted to scissor a girl she would just go ahead and do it. The great thing about Pretty Little Liars is there could be something seriously bizarre and sinister going on. For all we know Ali is being threatened into doing mean shit by A. Or Jason. Or Cece. Or Mona. Or honestly anyone. This is Rosewood, no one's actions have to make any sense as long as they can be explained three seasons later.
Flash forward back to modern day where Paige and Emily are studying together in blackmail-free bliss. Emily inquires about how Paige and Ali knew each other and Paige goes on the defensive.
Paige points out that everyone was boozing That Night but only Emily got doped with Roofatoxamyocinalase. Maybe her friends were involved. But Paige doesn't get it. Emily has to trust her friends, because if she can't trust them she literally has no one.
If A could be anyone (except the magnificent unquestionable manfriends in their lives) then trusting each other is all they have. But since Paige and Emily are noobs who haven't yet learned how to properly have a fight with your girlfriend they both roll over their points and play dead.
Back over at the trunk sale, Spencer gets locked in a dressing room with a gigantic python! It was actually scary. I jumped. Don't judge me.
The snake was about to wrap its creepy scaley gross body around Spencer's perfect skin and gobble up her whole Big Bad Wolf style when Captain Cece came to the rescue and hit it with a spare mannequin leg. That last part is actually true. I couldn't make this shit up if I tried.
Back over at the Marin residence, Hanna and Spencer rehash the whole snake-attack thing. Spencer thinks that it was probably because she used the word "snake" when she was talking about Paige. Spencer is convinced that Paige is absolutely, no questions asked, certainly, they-couldn't-be-wrong-again, definitely A. Spencer points out that Paige has been "obsessed" with Emily for a long time and probably hated Maya and Ali for that reason and killed them.
I'd like to point out that Samara appears to still be alive, and you would think since Emily basically dumped Paige for Samara that would have been a more sensible murder-route. Regardless, Hanna induces the aforementioned "people who love us can't be A" clause and that includes Paige. Have I mentioned that Hanna is like the Ultimate Ally to Emily?
Speaking of Emily, she calls Hanna to let her know that Maya's L.J. knife is missing. Even though it's obvious to everyone with half a brain cell that Nate took it, Spencer is convinced it was Paige.
Spencer and Hanna return to Cece's (assumed that the Big Bad Snake won't kill them). Hanna and Caleb make out for a minute in a dressing room. Yawn. But then Emily shows up with Paige in tow. Drama drama drama.
Emily goes to try on something hot leaving Paige and Spencer to chat. Paige puts on a huge (and actually pretty hideous) display ring and points out that though it is cute, if she wore it she would look like she's trying to be something she's not. That her style is sort of "by default" to fly "under the radar." Remember when I said last week that Paige was one of us? This is the kind of shit I'm talking about. She says all this, of course, while wearing a perfectly cultivated soft butch androgynous look.
Paige tells Spencer she'd like to have a fresh start, and as sincere as she sounds, Spencer doesn't buy it. Yeah, Spencer has officially gone off the paranoid deep end.
Hanna and Spencer muse that Paige is probably just trying to kill them with kindness to bide her time until she actually just kills them. Hanna gives Paige a lesbosexy-super-corset-magic-vest thing to give to Emily to try on.
While she's gone, Hanna and Spencer go all Scooby-Doo on her bag. Just as Spencer sees something that induces a knee shaking gasp, Emily comes back out just in time to see her friends looking through her girlfriend's shit. This does not look good.
Emily grabs the bag and Paige and declares that they're leaving. Although I should take a moment to point out what a smokin' hot babe Shay Mitchell is in that dress. Ouch.
Back at the ranch, Emily brings Paige some milk and cookies on the doorstep. Now, it's been a long time since I was in high school, but I certainly don't recall spending that much time on the stoop.
Emily tries to explain her friend's behavior but Paige interrupts her with the real deal on Alison. She admits Ali bullied the shit out of her because Alison was the goddamn worst. Paige is vague on the details, and it's hard to extrapolate if Paige became suicidal or developed a cutting problem or what. Either way, Paige essentially admits that Ali's tormenting created within her a deep sense of self-loathing. But Paige, in the end, didn't give in to self-loathing if only because she didn't want to let Alison win.
Yes, the Gay Kid Gets Bullied trope has been done to death, but I like it as it applies to Paige. Bullying isn't always a circle of kids around one little nerd. When they show us flash-back Paige, she isn't all glasses and grease like flash-back Mona. All sorts of kids get relentlessly teased, it's not always the classically dorky girl or flamboyant gay boy. But what Paige reminds us most of all is that it only takes one person to make one other person's life miserable. And if we've learned anything about Alison, it has a lot more to do with what's wrong with the bully than what's wrong with the victim. So yeah, I'll allow the gay kid gets bullied trope again.
Especially if the result is lesbosexy cuddling.
Paige pops inside for a minute and abra kadabra Jenna shows up to warn Emily "about her friend." Seeing the two coffee mugs Jenna freaks out a bit, but she tells Emily that she should be careful who she shares body fluids with. VERY CAREFUL.
Obviously Jenna is talking about Nate but because Emily is incapable of reading between the lines it looks like Jenna is warning her about Paige. Not to be completely absolved, while Emily is distracted by Jenna, Paige notices Spencer calling. She goes ahead and declines the call.
Okay, not Paige's best move. In her defense, Paige and Emily wouldn't be the first girl-girl couple to go through some tension merging the "girlfriend" with "the straight best friends." Although, I am suddenly wondering who Paige's friends are.
So why was Spencer calling? Well, meanwhile next door, Spencer meets up with Aria. Remember Aria? She was the one dealing with her old-man boyfriend's secret son all episode. Spencer reveals to Aria what she found in Paige's bag — the other earring Aria put in Ali's grave.
God it's not like A has never planted a faux clue in someone's things before. That would be totally unlike A.
Or should I say the A-Team. This week's creepy cut scene: a black gloved figure passing keys to another black gloved figure.
Predictions for The BetrAyal
You've probably already marked your calendar for next week's mid-season finale which promises someone will betrAy the Liars. I think it's safe to say it won't be any of the four Liars or their parents because that makes about as much sense as a bag of rocks. Though abcFamily is setting it up just right, I feel pretty strongly that it won't be Paige either.
So let's count down my Top Five Contenders for A.
5. Alison
Yup. It could just be Alison. I don't know how or why, but it always could be.
4. Caleb
Once Mona was locked up, A needed a way to break in to everyone's files. Suspicious that Caleb knows how to do just that — not to mention he knew how to unlock Maya's website. Plus, he could be easily working for A under threat in order to protect his new found mother.
3. Toby
I fucking hate Toby. Besides, all Spencer does is harp on how honest Toby is — he's gotta be a liar.
2. Nate
We already know Nate is a creep and probably the guy Maya was dating at True North. Maybe he's not the mastermind behind the whole A operation, but there's no reason he wouldn't want to jump in on their action just to mess with all the girls he thinks are leading him on. Is it just me or does Nate seriously hate women?
1. Wren
Why am I suspicious of Wren? I told you earlier! Someone likes filming high school girls and Wren is the perfect market for those videos. Plus, he's already been entangled with Melissa and Ian. Remember, he was the one prescribing pain killers to Ian back when he fell in the church. I think prescribing drugs to a wanted criminal merits a reason greater than just "owing Melissa." Plus, Wren has unlimited access to Mona. Most importantly, Wren is close to the Liars, but not too close. The plotline can go on without him.
If any of these guys are the betrAyer — and even if they aren't– I'll be here to say I told you so next week.