This week we have critically important gay stuff need to talk about ASAP. Because of said critically important gay shit, I will do my best to rush through the straight stuff that we only marginally care about. Except the parts where Spencer looks hot because obviously we care about that A Lot.
We open on Hanna moving around some plants and stuff. The reason doesn't make any sense and also doesn't matter because the important thing here is that Hanna finds a letter under a planter that Maya wrote to Emily.
Now, why the fuck would Maya leave a letter for Emily? We don't know. But if I had to guess it would be because queer women love a good letter. Seriously, we fucking love them. My best queer friend from Boston wrote me a letter last week just to say good luck in med school and all about how we're like family and stuff. It was really cute and I'm totally tearing up thinking about it. It was a seriously long letter.
Where were we? Oh right! Maya's letter! Maya writes that she has something she wants to show Emily but not to text/call her because someone stole her phone. Well that explains all that phone shit from last season. Maya also wants Emily to meet her somewhere but the location of that place has, obviously, been washed out by the rain. Actually Maya's whole leave a note outside plan was pretty fucking dumb.
How Maya Could Have Made Her Plan Less Dumb
1. Put the letter in the mailbox
2. Put the letter in large envelope/box so it would be seen
3. Tape the letter to the door
4. Email Emily
5. Hired someone to skywrite the letter
Unfortunately Maya didn't have my cunning problem-solving skills and the Liars are left with half a note that doesn't give them much info.
The Liars do, however, realize that the letter was dated the day Maya died. Emily seemed upset, but you know, not that upset. In reality it probably takes someone years to get over the death of their first girlfriend, but we only get about three months of TV Land time and 16 hours of realtime per season. So we gotta get this recovery going to get more scissoring action.
Flash forward to Ezra's apartment where, as usual, he and Aria are having breakfast. I want to make a joke here about how all these two do is hang out in Ezra's apartment, except I think that's probably actually really realistic for a mid-twenties guy who's dating a high school senior.
Either way, remember how mature Aria was last episode? Well apparently that was all a farse and she actually pissed as shit about the whole high school girlfriend Maggie got paid to have an abortion and disappear thing. Well mostly she's upset that Ezra didn't tell her. As if those things come up in conversation casually.
Anyways so Aria's a brat about it but then later in the episode they reconcile and stuff. Then Ezra drops the bomb that he found the high school sweetie. My money's on she secretly kept the baby and the baby is Alison's secret twin. The baby is A.
Starsweep to the Life Cafe where Hanna is obsessing over Maya's website. While Emily definitely already looked at every single minute of every single video on that site, Hanna is just giving it a double check.
The Life Cafe is the only coffee shop in town, so in walks our favorite doctor who is board certified in everything. He's just swung by to tell Hanna he loves her always and forever or at least that he really enjoyed their kiss and would kind of maybe like to do it again some time.
Okay. Murder, secret texts, dating the English teacher are all things I can suspend my disbelief for. But not Wren. First of all, Wren did a seriously weird time travel thing. First of all, "last year" he was a med student and now he's like an attending at Rosewood International Hospital. Secondly, at the very youngest (and if he had done medical school in the UK) Wren would be like 25. However, he could very easily be 27 if he had done medical school in the US and not taken any time off. What 27 year-old doctor has the desire to date a 17-year-old? Ezra I can believe because he's in his early twenties and hooked up with Aria thinking she was a college student. But Wren knowingly pursuing Hanna? This I do not buy. Sorry.
Hanna, shockingly, is the one who blows Wren off because clearly this shit doesn't make any sense to her either. And because of Caleb and Spencer. Wah wah wah.
Starsweep to Rosewood where Spencer and Emily are apparently the only ones still in school. Emily's been reading Maya's letter over and over again without any real results. "Dead girlfriend" is all fine and good, but we know who has the real problems — Spencer. She laments her recent failure, i.e. getting a B.
And Toby left! What will we ever do?
More importantly Spencer leaves when our favorite neighborhood future soft butch heads over.
That's right, it's Paige and she's wearing a black t-shirt with an American flag and bald eagle on the front With The Sleeves Cut Off.
Also, literally the second Paige starts talking soft guitar music starts to play in the background and it's kind of hilarious but also the best thing ever. The love-birds were supposed to have lunch but Paige has to go see the swim coach about something or other. Emily speculates that Paige is probably going to be asked to anchor the five-hundred meter breast stroke (get it?) relay. And then Paige said "I'll let you know" (using a voice most lesbians don't use until their six months in with girlfriend three) and gives Emily a reassuring shoulder pat thing instead of a kiss.
Starsweep inside the school where Aria walks in on her mom having a lunch date with Bakery Boy in her classroom.
Now, I feel like this is wildly inappropriate on Ella's part as as school teacher but maybe I'm just uptight. And when I say walk in on, I mean they are making out with their mouths.
Just in case you've forgotten how young and hot Bakery Boy is, he's wearing a leather jacket. Obviously age isn't a big deal to Ella since Piper was married to Leo and he was technically like 82 I think.
Anyways Aria and Ella's conversation is brief because Aria has to go change her panties after seeing Bakery Boy, but Ella promises to explain everything later. Later comes over by Aria's locker. Basically Ella says she's trying to get her groove on with three different guys. Heyyyy.
Emily strolls on over to Hanna's house. Even though Emily's mom moved home, I feel like these two living together was really good for the flow of the show because they don't have to contrive reasons to just hang around at Hanna's house. Like Emily could just be at Hanna's because it feels like home still.
Either way Hanna took a whole bunch of those Caffeine Pills from Saved by the Bell and printed out and organized all fo Maya's photographs. She is searching them for clues. If only Hanna put this much effort into school she could probably give Spencer a run for her money.
Looking through the photos, Emily finds one of the last pictures Maya posted — an oh-so-sexy picture of Maya in PJs. Surprisingly, Maya's posing in front of a sign that says "Kahn." Leaving aside the question of why Maya takes so many self portraits, this places her at Noel's lake house during the day just before her death.
The two call Spencer, who is at school, to inform her just before she runs in to Noel. Convenient!
Spencer has some curt words for Noel about Maya and his party. She delivers them with her usual completely hot timing. Why is good timing so hot?
Spencer lets him know that she knows something is up with him and Maya. Noel says he sometimes sold Maya weed and says "weed" in a way that makes him seem even seedier. I'm really really trying not to hate every male character on this show, but Noel gives some serious crazy eyes.
We skip through time and space where suddenly Noel and Jenna are canoodling at the Life Cafe. Nate stops by to see Emily because he's obsessed with her or something and sees the lovely couple.
Jenna gives Nate the cold shoulder because she thinks he has a girlfriend and now Jenna has a boyfriend and because he's fucking creepy as all hell. Nate proceeds to basically harass the heck out of Jenna saying he wants to give her her birthday gift and meet up with her later and all this shit.
Jenna's a big girl and can take care of herself, so she goes in to super firm Fuck Off mode which I absolutely love. Still, Nate comes off really pushy and a little scary here.
Emily is not impressed.
Noel heads off to synchronized diving practice and, though Spencer is supposed to be going home to study forever, Emily texts her to go snooping through his gym locker.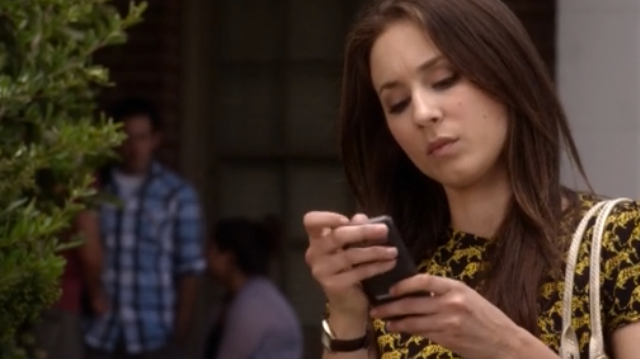 At some point in the last six months Spencer learned how to pick locks, and she starts going through Noel's locker and, consequently, his phone. Obviously Spencer timed sneaking in with the end of practice, so sweaty man bodies start pouring in. Actually, first Spencer hides out while some guys shower, and then the sweaty man bodies pour in. It's weird.
Spencer should have done what I did the time I accidentally walked in to the boy's locker room in high school and just flailing her arms yelling "OH MY GOD WHERE'S MY HEAD I CAN'T BELIEVE I WALKED IN TO THE BOY'S LOCKER ROOM!!" Instead her big plan is… um… to just like walk out in front of everybody and for some reason no one besides Noel thinks this is weird.
Back over at the Life Cafe, the soft guitar music starts up again which can only mean one thing — Paige is stopping by to see Emily! Turns out Coach didn't want her to swim anchor in the breast stroke relay (still funny) she actually bombed a math test and now her average is below a B. Saddy. Does anything good ever happen to Paige? And then Paige dropped this awesome lesbian bomb:
Which I'm almost definitely positive was a reference to Ned's Declassified NOT THAT I WATCHED THAT OR ANYTHING.
To cheer Paige up, Emily asks her to come over to watch a movie. I swear Paige acts like she still can't believe she and Emily are dating. The dynamic is a bit odd, but it's still super cute. And then they have this super cute moment where Emily kisses Paige to make her feel better and I have a hundred feelings about it.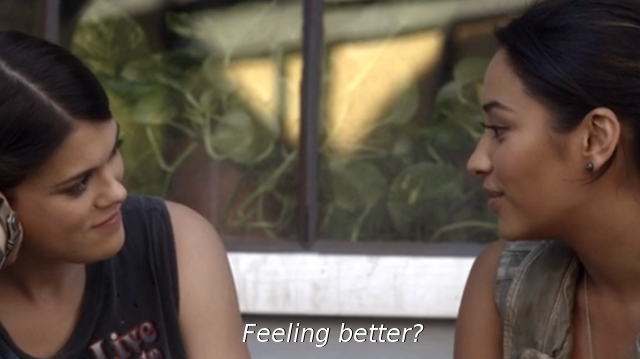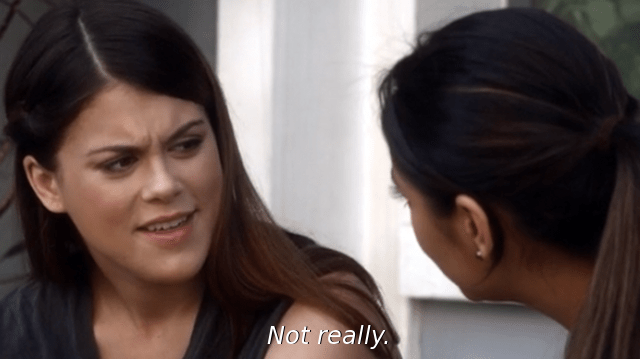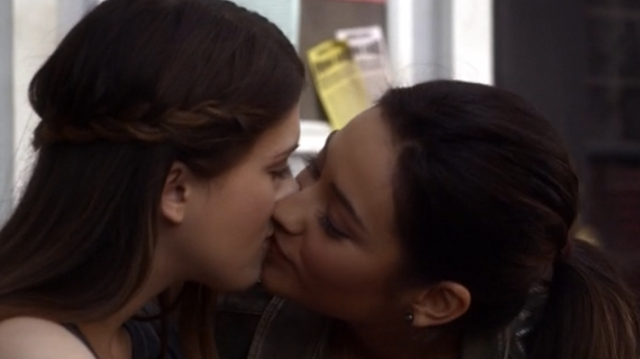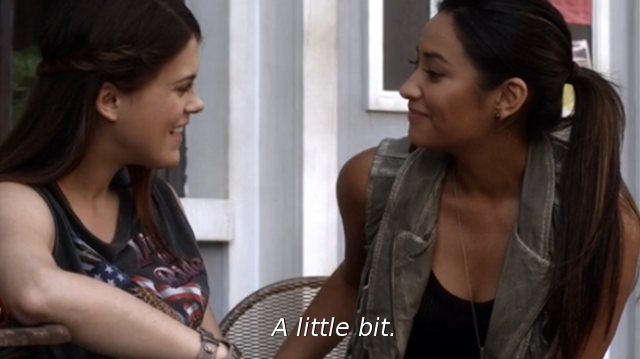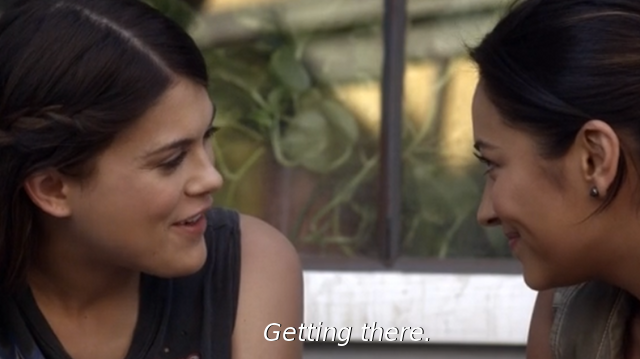 That was lengthy but I think worth it to experience. Mostly I think it's funny that the kisses are so chaste even though all high school students normally wanna do is grind against each other in public. With that, Emily heads back to work and Paige heads home. For the record, in the real world, when your girlfriend has a coffee shop job you actually just hang around all day every day.
Speaking of the Life Cafe, Ezraria are inside I guess being public about their relationship? It's unclear. Either way Baker Boy is there (since he owns the joint) and Ezra peer pressures Aria in to saying hello.
Throughout their discussion we discover that Baker Boy is crazy about Ella and not seeing anyone else. Is it just me or is it a little weird that Aria is so involved in her mother's love life? Well, it doesn't end there. Then Ella and Aria have the most adorable mother/daughter post-yoga moment where Aria tells Ella she should be straight with her man friend about all her other man friends. Like I said, it was really cute. Holly Marie Combs can do yoga with me any day.
When Ella next sees Baker Boy, the two talk about all of the Feelings and decide to go steady. My favorite part is when Ella points out that she's ten years older than Baker Boy. Their relationship is officially the male-female relationship I am most heavily invested in.
Also, I'm choosing to pretend that Ella was 18 when she had Aria, making Ella currently 35 which in turn makes Baker Boy 25 and therefore potentially the same age as Ezra. For hilarity I'd prefer if Baker Boy was younger than Ezra but I'll take what I can get.
Starsweep to wherever the hell Noel's cabin is where Hanna and Emily decide to take a look around. How is it still daytime? The two just walk in the front door because no one keeps their doors locked and find a completely destroyed living room.
They comment that it's probably from a party but I feel like someone actually broke in and the Liars are gonna get framed for it.
The place is full of mounted deer heads and red solo cups and what else but a secret door to a secret room where someone has secretly been staying. Super sleuth Hanna even finds an overnight bag belonging to one miss Maya.
Items in the Bag
+One (1) scarf
+One (1) knife with the initial L.J.
+One (1) birthday card Emily gave to Ali
+One (1) unused ticket to San Francisco
First of all, L.J. is definitely the name of the guy who Maya was dating at True North who is also definitely probably Nate. Also, I personally think this stuff could have been assembled by A to frame the Liars, but then again I'm paranoid.
Or am I? Because just then all the window shutters shut and the door locks trapping the Liars in the lake house. Emily grabs a poker thingy and yells to see if it's Noel. Instead of a response, the power blows. They scream. Obviously.
Emily goes in to super hot escape mode and breaks the glass out of a window like nobody's business.
Hanna, on the other hand, somehow stabs herself while trying to pry the shutters open. Emily wraps up Hanna giant bleeding wound and the bashes the shutters open with a baseball bat. For real. The two hop out of the window (unfortunately off screen) and are confront with a big painted note from A. God, A paints fast.
Meanwhile, back at the ranch, Spencer gets an email (potentially from Noel) telling Spencer to stop putting her meaty little fingers all over his locker. Attached is a surveillance video from the night Maya died. 9:30pm and a girl bikes up to the house. What girl? You totally already know. Duh, it's Maya.
Emily and Hanna get back to Hanna's place where she's clearly bleeding out. Hanna refuses to go to the hospital even though she could totally just say she dropped a knife doing the dishes or something. Instead Emily calls Dr. British over and Hanna tells him she cut herself "cutting a really big carrot." He believes her zero percent. Wren stays to cook Hanna some dinner, and the two flirt. Even though Wren's motives make no sense, I'm actually in to this because Caleb is tragically boring.
Emily finally gets home and finds Nate on her doorstep. He's all " Wah wah wah sorry I acted like a crazy person to Jenna earlier. Wah wah wah I miss Maya. Love me." Emily shows Nate the bag she found and he rifles through it. Nate starts pulling things out and breaking down crying.
I really thought what was going to happen here was that Nate was going to see something and accidentally blow his cover (because I still think he's the ex-boyfriend).
That is not what happens.
Instead they fucking kiss.
The second they kiss you absolutely know Paige is going to see them. And then I though, "Oh good. Emily is going to pull away and run in to Paige's arms crying." Or maybe Paige will see them kiss but not see the part where Emily pulls away upset. Except then they just kept kissing.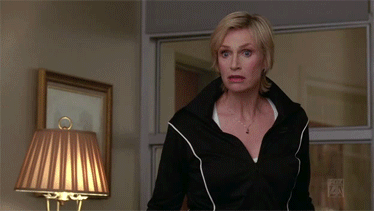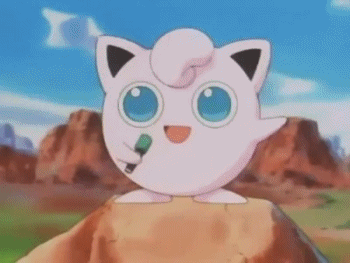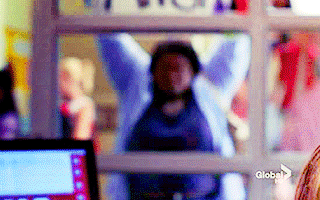 So Paige strolls up the sidewalk with the cutest little grin on her face– like an "I'm gonna get some lady action" grin and sees her goddamn girlfriend making out with someone else on her front step.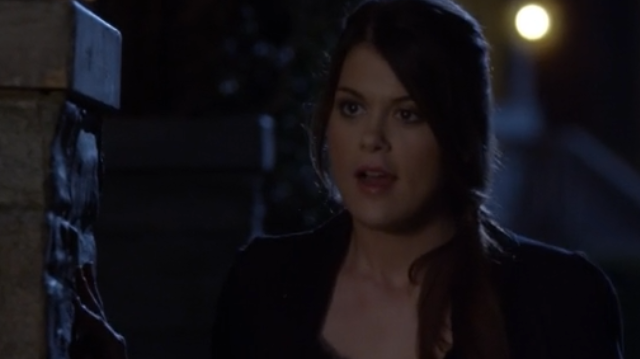 And there was nothing I could do to stop it.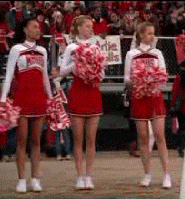 You can just see the wheels turn in Paige's head. What did I just see? I just saw Emily kissing someone. I just saw Emily kissing a boy. I'm so sad. No wait I'm mad.So she knocks over a trash can like a champ.
It's perfect because Paige is having all the same feelings I was. The two finally pull away and Nate say some shit about feeling close to Emily and having wanted to kiss her for a while. But Emily doesn't say anything. The scene cuts away before Emily can admit feelings for Nate or tell him to go fuck himself or whatever. She just looks a little blank.
At first I was mad at the writers. Really really mad. Not because I thought they were turning Emily in to a bisexual — I love bisexuals — but because I thought they were ditching our girl-girl relationship after really only two episodes of dating. How could they do that to me? But then I realized, that's not what they're doing at all.
First and most obviously, we don't know what Emily said after that kiss. She could have said "I'm sorry Nate. I know we're both grieving and wanted to feel close to someone for a moment but I love someone else." Or, "Oh Wow. That was a mistake." For all we know, she could have said, "Yep. Yep. Definitely gay." Sometimes people are sad and they just kiss someone. They want to comfort themselves or act out or just feel something other than bleak numbness for a minute. I can't speak for Nate, but I think that's what was going on with Emily.
Even though it broke my heart in to a million pieces to see Paige's face, I think I'm starting to understand why all this shitty shit happens to Paige. Paige isn't one of the Liars, Paige is one of us. The Liars get stalked by mystery figures and blackmailed and constantly sexually pursued. But Paige? Paige deals with shit like being second best on the swim team. Paige has to do things like resolve unwanted sexual feelings, come out to her bigot parents and deal with self hatred. Paige gets dumped because she's not ready to come out and then watches as the girl she likes falls in love with someone else. Paige has to learn to control her anger and maybe has a bit of a drinking problem. Paige is too scared to go to a pride group. Paige's bike is constantly breaking. These are our real problems. So while I love Emily in all of her accidental steroid using, fake scholarship getting, breaking and entering, talking doll receiving glory, sometimes I wish she would just stop seeming so perfect and have a couple of the regular high school queer problems. And Paige? She has all of them. So yeah, of course Paige sees her girlfriend kissing a guy. So for me, it makes a lot of sense that Paige doesn't say anything and just turns around and walks away and kicks a trash can. It makes sense that when she sees Emily again, she gets super passive aggressive and sort of acts like she didn't see anything but maybe kind of vaguely hints that she did. Because Paige is one of us and honestly, at her age, I would have done exactly the same thing.
Moving along the Liars watch more surveillance video from Noel's place. The video shows Noel and Jenna going in to the cabin at 1:14 am followed by Maya coming out of the cabin. And at 1:14:45 am someone grabs Maya and pulls her off screen. Dun dun dun. Sorry, these things are much more dramatic to watch rather than describe.
So:
The Events of April 12/13, 2011
9pm: Maya is seen getting in to a car with Garret
10:04pm: Maya arrives at Noel's cabin
Midnight: Garret is arrested at Spencer's house
1:14am: Noel and Jenna go in the cabin and Maya is snatched
Between 1:15-2am: Maya is killed at the DiLaurentis house where her body is later discovered
A few notes. First of all, the first season, which based on Maya's death took place Labor day weekend 2010. This means that though the show is now taking place in the past, when it initially aired (June 8, 2010) it was taking place in the future. Second of all, if Noel, Garret, Jenna were all out of commission, then I have no idea who killed Maya. I do know this episode was a real trek.
Next week we'll do more speculation on Paige's slow but steady march in to a soft butch fashion paradise and I'll make my strongest predictions for who will betray the Liars in the mid-season finale. Spoiler Alert: It probably won't be Mona again.