Attention, Autostraddlers who also straddle bicycles! I know you! I see you around all the time! You have your awesome kicks and your sporty messenger bags and your shiny reflectors, but many of you do not have helmets that are right for you! In fact, many of you don't have helmets at all. Perhaps you think yours is ugly, or you don't want to mess up your ALH, or you "forgot it at home." It's ok. I know you're sheepish, but I also know you're ready to change your ways. I know you realize that any dyke on any bike is sexy but any traumatic brain injury is not. Are you interested in transporting yourself efficiently, looking cute AND not perishing? Excellent! Here are some helmets that will keep you safe and stylish.
+
$30-$55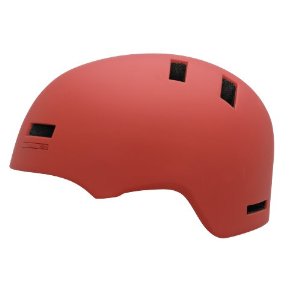 Minimalist design at an appropriately minimalist price, the Giro Section looks like a puzzle piece for your cranium. It's lightweight and sits low on your head, so you have a higher likelihood of being on time for work or catching that cute girl who blew past you at the intersection. It also comes in unobtrusive colors, like black and brick, so it can match your lower three quartiles.
+
$45-$60
A great addition to your colorblocked wardrobe, this helmet has vents to cool you off while making your head look like it's topped by rays of sunshine. A visor insert keeps the glare out of your eyes so you can watch for potholes and read the lower back tattoo of the person in front of you without squinting. Pick one that matches your snow jacket if you bike year-round or do some icy XTreme sport; you can even swap out the summer lining for a warmer winter one. The very similar Brighton comes in softer colors.
+
$60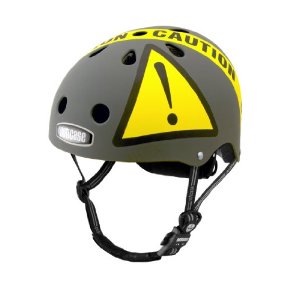 If bike riding always puts you in a particular mood and you want your fellow bikers to know that, a Nutcase Helmet might be for you. Are you proud of your helmet's precious cargo? Show it off by covering it with a "Glo-Brain." Do you ride like the British are coming? Perhaps the "Union Jack" is appropriate. Are you one of those people who disobeys traffic laws? Warn everyone with a "Danger" or an "Urban Caution" (pictured). If you're interested in sending a message that's subtler but still bold, you can go for a more abstract design or a solid color. The Nutcase also has a spin dial and several sets of removeable foam inserts, so it will hug your noggin just right.
+
$60-$140
Do you love masquerades and palindromes? The Yakkay might be for you! One lightweight, neutral-colored helmet + one hat-shaped "cover" = one piece of protective gear coyly pretending to be something it's not. Put on the "Cambridge Stripe" and be mistaken for a zebra equestrian or wear the subtly rainbow "Tokyo New Jazz" and get safely to the venue and through the door. Or get a bunch of covers and pick one according to your outfit/mood/coin flip. The stainless steel buckles are a classy touch, and probably match your kickstand.
+
$150-$300
Your brain is one-of-a-kind; maybe you want your helmet to be too! Illustrator Danielle Baskin hand-paints these helmets herself, so each one is a protective covering, a fashion statement and a conversation piece when it's slung over the back of your office chair. Some of them are educational as well, so you can teach your co-commuters about geography or the solar system. And if you send her your own helmet to paint, she'll even give you a discount!
+
3998 Sek, or $600
Once upon a time, two Swedish designers wanted to bicycle safely without sacrificing comfort or fashion so they worked for seven years, raised ten million dollars in venture capital and came up with this. You wear the collar around your neck and sensors within it keep track of your body. If your movements indicate you're going to fall, an airbag releases and surrounds your head like a hood, protecting it from impact. This is more than a bike helmet; it's the first ripple of the wave of the future! And it's yet more proof that no matter what some ignoramuses think, women make fantastic inventors, engineers, and entrepreneurs.
So there you have it — helmets that are bold, helmets that are pretending not to be helmets, helmets that are art and helmets that will save the world. All guaranteed to keep you looking smashing and feeling smash-free. Happy trails!