In light of last weeks glorious lesbionic triumph I almost couldn't write about this week's episode. How do I come back after such hot epic lesbian action to recap the usual sneaking around and boy crushing. It took a while, but for you guys, I did it. Because I love you weirdos. And Pretty Little Liars even threw us a bone at the end. Hallelujah.
We open on Spencer and Aria experimenting with their sexuality and/or grabbing a damn good muffin at the Life Cafe. As you probably obsessively remember, last we checked Maya had a website page diary full of all her deepest and darkest secrets. Aria has found a clip showing Maya with the same wrist stamp that Holden had and that Emily remembers from THAT NIGHT.
Aria is desperate to tell super sleuth Spencer but, unlike the previous 55 episodes, Spencer is done with sleuthing. Why? Because if there's one thing more important than preventing a megalomaniacal psychopath from framing you for murder, it's getting in to college. And Spencer forgot to apply early decision to U Penn. Shit just got real.
Just then, Craycray Cece arrived with flourish to save the day. Turns out Cece has some friend named "Steven" who works at U Penn admission. What a co-inky-dink. And there's a party tonight where "Steven" is going to be! This just keeps getting better.
Obviously Spencer begs to go to the party to hand her resume to "Steven" in person. Much like every other super smart and privilege but slightly self involved teenager in the world, Spencer thinks silly things like deadlines don't apply to her. (Unfortunate reality check: they do.)
An ambiguous amount of time later, Hanna and Caleb have a moment in the hall. Like a I-miss-you-no-I-don't-miss-you-I-love-you-forever-but-also-never-ever-but-forever moment. Caleb gives Hanna the log in to Maya's website and they talk for a hot moment.
Seconds later Hanna gets a text from A instructing her to come to The Cheesecake Factory alone later or Caleb will get hurt. There's a subplot here throughout the episode but honestly I watched those parts while cleaning my living room. Basically Caleb was actually the one who sent the text thus proving to himself that there's a New A. And so he and Hanna kiss and stuff. Honestly it was pretty disappointing because I was all signed on for Hanna to play doctor with Wren and for Caleb and Spencer to U-Haul their love and adopt a dozen cats. Can't win the all I guess.
Starsweep to lunch time where Spencer and Hanna discuss their long term future together and the merits of adoption versus finding a sperm donor. The two look over to where Emily and Paige are being The Most Cute. And, understandably Emily is The Most Happy. Like the way you feel when you're finally with someone who your mother likes, who isn't in the closet and who doesn't have a shrimpy friend with huge chicken feather earrings. (Remember Samara? Whatever happened to her?)
The two lovebirds skip over and want to know what the cool kids are up to. I just want to know where Emily got that adorable plaid shirt. Probably from Lesbians-R-Us. Either way, Spencer and Hanna don't have the heart to tell Emily about Maya's video journal from beyond the grave. Even if this situation made any sense whatsoever, I wouldn't have the heart either.
Time dance toward to the "Outside Ezra's Apartment" set where Aria walks in on Ezra and his younger brother Wesley having a slight spat.
Was there ever a more uppercrust name than Wesley? If I know this show, Wesley (who looks unsurprisingly age appropriate for Aria) has a few tricks up his sleeve. For one, he's actually a Werewolf!
Secondly, he's already dating Aria's long lost twin sister.
Most importantly, Gregg Sulkin sounds hilarious without his british accent and maybe should have been cast to play Dr. Wren's brother instead.
I also want to take this moment to nerd out and point out that Selena Gomez played the lead in Another Cinderella Story and Lucy Hale played the lead in A Cinderella Story: Once Upon a Song. If Wesley steals Aria from his brother Sulkin will officially have some motherfucking Prince Charming status. Which is a step up from his current status of Bro Brother. (Or Brother Bro depending on your preference).
Either way, Aria and Ezra hurry in to Ezra's apartment where he dishes. Wesley is around because apparently Ezra's get rich quick scheme to sell his car kind of blew up in his face. Something about a family heirloom. Basically blah blah blah Ezra's mother is trying to choke hold him using money blah blah blah.
After school, Emily confronts Hanna about Maya's website. Hanna caves like soggy bread and admits that they've been able to hack in to Maya's site for a few days. Hanna gives Emily the password and tell her to see for herself. Seeing videos of your dead ex is probably a good time for therapy and community, but obviously that's not a part of living in Rosewood. Emily's on her own this time around.
Over in grown-up land, our second favorite mom is trying to track down our fourth favorite mom. That is, in light of the DA subpoenaing Hanna's blood, Ashley Marin is trying to get Veronica Hastings to lend a little lawyering. No can doozeville on the legal tomfoolery, but Ashley does see our favorite man of the cloth Ted! Nothing sounds more religiously serious than the name Ted. Ashley and Ted have a little flirt fest. Aw.
Much like her daughter, I wasn't paying goof attention and/or really didn't care about this plot-line. Basically Ashley invites Ted over for a little nosh, but she ends up talking on the phone with Veronica the whole time. Then Ashley and Ted make out anyways.
Honestly the only parent I really care about is Ella and she wasn't on payroll this week.
Starsweep to the Hasting's household where Spencer shows off her most uptight outfits to Aria. She can decide between her vintage tuxedo and her Sarah Palin Halloween costume.
Aria suggests Spencer dial it back and bit and just do what she does: grab random items from across your household, string them up on fishing line and call it jewelry. Most importantly about half of this conversation adorably takes place while the two lay in bed like actual goofy high school girls who are maybe about to kiss.
Dressed to the nines, the two head out in Cece's red convertible confirming my suspicion that Cece is actually, technically Barbie.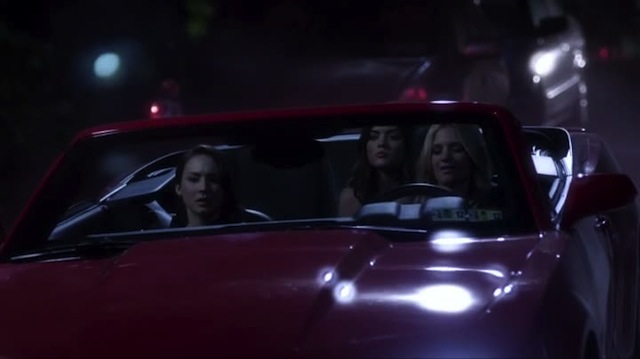 Spencer is stil sort of dressed uptight, but in a cute way. At least she doesn't have glasses and a ponytail. The two quickly realize that this shindig is going down at none other than Eric Kahn's lake house. That's right, Eric Kahn, brother of Noel Kahn.
To make matters more confusing, they all get stamped with the dark mark to get in. When I say confusing, I don't mean because Maya and Holden also had that mark. I mean because who the hell ever got a stamp to go in to a house party?
Because Aria and Spencer are two ordinary high school kids, they are super excited to be at a college party. They immediately get some drinks and try to fit in a meet boys. JK They refuse booze and act horrified by the reasonably fun looking party going on around them.
Entering The Game Room, Cece engages with Eric in a playful game of Truth a.k.a. Who Blew Who.
The rules of Truth seem to be that you ask each other questions and have to answer honestly despite a complete lack of consequences. Seeing an opportunity to strangle out some info, Aria goes toe-to-toe with Noel Truth style. Unfortunately, Noel doesn't have much dirt on Maya and all he wants to know is if Aria was Shaking the Speare with their English teacher.
Upset to discover people know about her little Fitzy situation, Aria bolts from the party. Running from your problems is the most effective way to deal with them, but Spencer still wants to stay and go knee deep in Truth with Jenna. So Aria decides to follow the number six rule of How to Have Fun at a Gay Bar and break the number one rule of High School Girls at College Parties and get the fuck out of there.
Aria calls Ezra but Wesley picks up. Aria demands Wesley tell Ezra to come pick her up but, duh, Wesley comes himself instead because he want to get his werewolf all up in Aria's Waverly Place.
In the car Wesley tries to make nice with Aria. Unfortunately he accidentally reveals that Ezra and his high school girlfriend got pregnant. Wesley explains that Ezra tried to "do the right thing" and, though often times the right thing for any pregnancy is to terminate, we're led to assume this means he tried to marry her and raise a baby at 18. Wesley gets vague on the details once he realize Aria has no fucking clue what he is talking about.
Flash forward back to the "Outside Ezra's Apartment" set, where Aria confronts Ezra about the whole teen pregnancy thing. Ezra basically explains his mother found his desire to make his own choice unacceptable. Instead, Mummy Dearest paid the girl off to get an abortion and never speak to Ezra again. Dark.


I actually really liked this scene. Really! Me! The truth is, people get pregnant in high school and it's really really complicated. Perhaps more complicated than I, as someone who didn't get pregnant in high school, can really understand. And sometimes there really is a parent in the picture taking away everyone's agency by saying "I will take care of this" and knowing that, in a lot of ways, that's what any scared person wants to hear. I also appreciate that the writers gave us a chance to see why Ezra would want to date a 17-year-old. Aria could have bolted or thrown a fit or been a regular child about this situation, but instead was able to understand that Ezra can't change his past anymore than he can change his mother. They finally gave us a chance to see that Aria is actually, technically, totally mature for her age. Well thank God.
Back at the Kahn lake house, Spencer gets herself engaged in the most sexual tension laced game of Truth of all time. She and Jenna eye dry-hump as they ask each other about their respected lies and That Night. Jenna even goes so far to ask about a certain tape. You may or may not remember this as the tape that proves that Jenna was raping Toby. Oh yeah. That.
The whole shindig is all's well that ends well when Cece manages to actually give Spencer's resume to "Steven." Well supposedly. Spencer does manage to dig up that Noel and Jenna actually found Emily together at the diner (rather than in the middle of the road as previously expected). This lends itself to the theory that it was Jenna or Noel's stamp that Emily saw That Night rather than Maya's or Holden's. But let's get real. It was probably some third rate character we've not yet even met. Or Paige.
Wait. Where are those two lesbians anyways?
Well Emily for one is hold up in her room watching videos of Maya over and over again exactly as you probably would if your dead high school girlfriend left a video diary behind.
And crying. Lots and lots of crying.
The ret-conned glory of Maya proclaiming her undying love for Emily leaves only one thing uncertain. Maya is stone cold high out of her skull.
Because people in Rosewood don't know how to use phones or recognize the warning signs of doorbells (includes: ringing) Paige walks in on Emily crying.
First of all, Paige is looking dapper as fuck. She looks like she knew she was going to see her girlfriend and changed her clothes in to get-laid-gay-chic clothes. 'Aint nothing saying dapper high school gay like a white button-up and a blazer. Nothing. Second, much like Aria and Ezra's scene, there was opportunity here for obnoxious immaturity. Paige could have run from the room screaming about how Emily is still in love with her dead girlfriend.
Instead Paige tells a truly adorable story about seeing her late grandfather on film for the first time. It's a story with a few jokes, but no real pressure to laugh, and it's relatable. Paige delivers it with perfect empathy. She doesn't seem to presuppose that she understands exactly how Emily feels, or even a little bit how Emily feels, but she tells her through this story that she gets it.
She gets why Emily might really want/need to watch her dead girlfriend over and over again. Paige gets why Emily can't just decide to be over Maya's death. Why that's the sort of thing you don't have any say in. And if you can't talk to the person you love about the person you use to love, who can you talk to? Obviously it is freaking lovey-dovey adorable.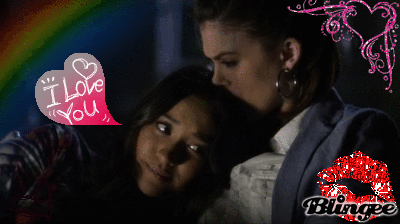 Paige cradles Emily's head as Emily says "I just don't want it to hurt anymore" and I literally died of emotional overload. Literally. I'm writing this from the grave. Ali is here and she said to tune in next week for more stoned Maya videos and maybe even some more Paige hand holding.
We end this episode as we end every episode. With creepy gloved hands doing creepy gloved things. This week it's admiring cat artwork and renting an apartment.