My best friend died one year ago today, August 13, 2011.
10 Things I've Learned from a Year of Grieving
10. Shrines are a Wonderful Thing
Ok, let's clarify some thoughts together. Someone you loved for as long as you've been alive is dead. After some of the initial shock and after a little of the smoke has cleared, there are personal items that stand in solid focus beaming in technicolor with magic-hour saturation and…and they stare at you hoping for renewal. Maybe you just want to take all the pics, cards, clothes, whatever and put them in a box. Then maybe you take that box and put it away forever and that's ok. But one thing that helped me so much was pulling a few of those items into my world and giving them a place in my crib. I took a few photos, some candles, a bracelet, a shot glass, a handmade cross and placed them on my windowsill at first and then across a wooden mirror in homage to a friend that was taken too soon. But you don't wanna get too crazy, you don't want the shrine to take over your home.
You want a shrine to be that little piece of extra…the point in your home that pays loving respect to the little piece of you that belonged to the person who has passed. Kinda like this:
I'm sure you could make yours prettier but this is mine and I love it. Some mornings I even leave her a cup of coffee. Bustelo coffee, of course.
+
9. Get the Fuck Out of Dodge
You know all those friends you always mean to go see? The ones who might not even live that far away? GO SEE THEM. Hop on a mega-greyhound-amtrak magic fucking carpet and go see them. And when they wrap their arms around you, cry. Cry so hard that both of you shake. Cry so hard that every breath is a gasp and every gasp pulls you closer into their chest. This is what friends are actually for. Let them cook for you. Let them take you to roller derby matches. Let them tell you about their boyfriends, jobs, periods, cats with anxiety, whatever. Let them love you because you need it. Bring all of your sadness. Bring no bullshit. Leave your tough at home and just be. The one thing you need to do is travel at least 3 hours or more from home or from the place where you and your grief sanctuary exist. That is all you need to do.
+
8. Laugh Not
It's ok to not laugh. I didn't laugh for real after Christina died for probably eight months. 8 months seems pretty specific, right? But, from the day she died, all of the days became numbers ticked off in my head. So I know for a fact that it was the eighth month because that was when I went to Autostraddle camp. (More about AS later.) Anyway, I've always laughed honestly and heartily because why not, most things are funny to me. Also, I come from a family of loudmouth comediennes and laughing is the thing. It's part of the dialogue. It's part of the love connection. I never faked a laugh in my life but when Nena died, nothing seemed funny. On top of nothing seeming funny, I think somewhere along the way my body stopped being able to produce laughter. Her death was so sudden, violent and tragic that I think the shock of it took my ability laugh away. I was ok with that and glad for it. You don't need to laugh or smile. You just need to keep breathing.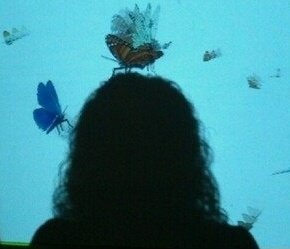 +
7. Do Something Big. Like Autostraddle Camp.
Seriously, this is not a plug. This is not some bullshit tie-in to get you to go to A-Camp. Your thing could be Bonnaroo, Dora the Explorer on Ice, the Running of the Bulls in Spain, Whale watching in Alaska, writing your novel or eating a deep fried Oreo at the Texas state fair (that's a thing, right?). Anyway, do something. Do something bigger than the life you've been living. For me that thing was Autostraddle Camp. I think if I hadn't gone to A-Camp, I might have just given in hard to drinking my sads and self away. I would have given in to wishing it was me that died and to feeling like life was completely devoid of worth. I lost my best friend, my oldest friend, the one that shared all of my intersectionalities, all of the things that made me me and made us us. Before camp, I'd also divorced my domestic partner and been dropped by a shit load of fucktards that I thought were my friends. Heading to A-Camp was a last resort. The night before camp I told myself that if camp sucked as much as my life did then there was no hope and giving up would be perfectly ok. But at the same time, I made myself give to Autostraddle the best me I had left. Thank Goddess I did.
This pic pretty much sums up my A-Camp experience and proves that I got my laugh back.
+
6. Talk to the People
Christina's death was public, as in all over the mainstream news for weeks. As in every second some news channel deemed it appropriate to show the Sugarland stage collapsing on the crowd, on the 7 people that died and on my homegirl. It was so public that news stations spent an entire day inside and outside of my home because they got my number from someone who said I was her best friend. So there was nowhere to grieve in peace, not for any of us. But this publicity seeped itself into my psyche and destroyed the filter I'd developed for 29 years. Her death lived on the edges of my lips and pores of my skin. I went to work, rode the subway and lived in the world with her death all over me and I couldn't hide it. So when people asked me what was wrong I had no recourse but to tell them the truth and it was ok. It was better than ok; The act of telling was a major factor in healing. Why? Because it proved, I wasn't alone. People are grieving everywhere. Most people didn't say "Oh, I understand. That's hard". Most people sat and listened and started to cry for Christina and for their loved ones. I got to see the core of everyone I met as they told me about the ones they'd lost. They told me about twin brothers lost in motorcycle accidents, healthy dads taken down by massive heart attacks, premature babies dying in their arms, lovers wiped out from cancer and the loss of humans that were the centers of their worlds. We held hands in production vans, embraced in elevators and shed tears in between subways stops. This time in my life was the one moment I felt connected to the entire human race. So do it. Don't be silent. Let it out and let them in.
+
5. Indulge Responsibly or Don't At All.
If you can have a drink without getting blackout drunk, then have a drink. Have two and pour the third on the concrete and say two prayers. If you can't have a drink, go to a meeting. Go to an AA meeting every day that you can. I know these messages seem completely contradictory but they mean the same thing to me. Having a drink, calmed my soul and took the self-destructive edge off my sadness. But if having a drink leads to having twenty, then go to an AA meeting and take a friend and be pro-active. Do not do any drugs. This doesn't include marijuana. This includes: cocaine, heroin, crack, oxyies, meth, pcp, opium, angel dust and all the other shit that will push you into the darkness. Don't do those things. You might never come back.
+
4. Be the girl in the coma.
coma co·ma (kō'mə) n.
A state of profound unconsciousness in which an individual is incapable of sensing or responding to external stimuli.
This idea requires some forethought because not everyone comes out of a coma. They must be entered into with some serious planning and understanding. A few months after Christina died, I literally shut down. I spent the month of December wrapped in a quilt, holed up in my room, watching every season of Grey's Anatomy on Hulu. Maybe I ate, mostly I cried, tried not throw up and said nothing. If Grey's wasn't on my computer screen, then I was laying in the dark wallowing in numbness. Some people might say this was weakness or that I should have pulled myself out of the shit and gotten it together sooner. Ignore those people. You will need a coma to heal. You will need to shut down in order to really give your body and mind time to process the trauma. If you don't give yourself this time, at some point later down the road you may completely break down. Also, a coma is not a spiral. I didn't hole up in my room and cut myself, take eighty shots or try to kill myself. (This is not a judgement on those behaviors. I have cut myself and drank way too much during dark times in my life. But I refused to give in to those demons this time, she was way too special to be mourned that way. That was the only choice in grieving that I was able to make somehow.) Anytime I felt too dark, I called someone and pushed through those destructive instincts. Really I went into a coma for healing and I highly encourage you to do the same if you can.
+
3. Cut the Fat
(obvs this is in no way meant to be derogatory or indicate a preference for a certain weight. this is a metaphor.)
Give yourself a break. I carried around obscene amounts of guilt — still kinda do to be honest — about not visiting, calling or reaching out to Christina as much as I should have before she passed. I always thought there'd be time to do everything and we were both such busy chicks what with her trying to save the world and me running around film sets. Then she was snatched from the world and every moment I didn't spend with her ate away at my skin, my soul. But the guilt needed to get cut, so I could just grieve. All the things that keep you from just dealing with the ultimate sads, need to be dropped away. You can do it.
Also, losing her put the world into crisp focus. I no longer have time for pettiness or bullshit from other people. Drama that I may have whole heartedly entertained prior to her death, is no longer worthy of attention. This includes people, places and things. If someone or something, feels shady or doesn't surround you with love and respect, drop it. Let it go. Roll your eyes and keep it moving. You have an ex who keeps calling you for attention, stop picking up. Dealing with frenemies who pull you in and push you out? Get new friends. Fuck all those people who will use you during this time of grief. Grab all the ones who shower you with support and understanding. Nothing else matters.
+
2. Preparation Helps But Is Almost Impossible
Remember how I mentioned counting the days after she died? Well eventually the ticker died down and then stopped completely. I was able to focus on getting a brand new kick ass job, moving on from a long-term relationship and rebuilding my life as I needed to. I imagine Christina would be so damn happy for me, proud of me…and well those are the thoughts that make prepping impossible. Last month the ticker came back, last month the late nite weeping swept back in and I was left gasping and confused. I thought I'd gotten over this part. I thought I was done grieving. But nah, it just doesn't happen that way. The fact that the year anniversary of her death was coming, threw me back into the fuck and I almost went back into that coma. I really had to stop and check myself. I guess I just want you to know that this could happen to you and that it's ok. Don't go in to the coma again if you can help it. Maybe you take a night or two to cry on your tile floor next to her picture, maybe you take a long walk through the beautiful park by your house and just process and roll with it. This is how you get through the reemergence of grief that well honestly, won't ever totally go away.
+
1. Do what you've always done.
If I didn't write my feelings down, I may have crumbled. Along with the friends, the coma and the sharing of this experience, I had to write everything I could about all the feelings I was having. I implore you with my whole life and all my guts and my big brown heart, to do what you've always done. You're a painter? PAINT. You write music? WRITE ALL OF THE MUSIC.
You have to. It's the reason your gift/interest/passion exists in the first place, babygirl. All of those things are not only forms of expression but they've been impressed upon you as a gateway through the fuck of life. Do it even if it seems wrong. When I first started writing about my grief, all of it seemed so rambly, disconnected and strange, like they weren't really my words. But I pushed through and let my fingers do the work, my words spill the pain and my tears guide the way. And if you've never done anything, don't feel connected to anything, then let your grief push you into unknown territory of creation, of interest in something other than the everyday. Find a boxing class, hula hoop in the park, learn to bake a cake or tie all of the ties. You Do You but please, do something. You owe it to yourself when the world is dark. You will bring back the light, I promise.
Please feel free to tell me, us about ways you've dealt with loss. Sharing is the only way to help sometimes. That and baking cookies.