Broad City's Ilana Wexler cuffs her jeans, can't sit in a chair, wears crop-tops and flannels and boy's underpants, maintains a full bush, plasters her door with political stickers, smokes copious amounts of weed, belong(ed) to the food co-op, wears a tuxedo to the wedding, falls hard for every executive-class woman in a power suit, yells at strangers about the patriarchy, is pretty sure everyone else is queer too, has the closest thing to a bisexual bob a curly-haired Ashkenazi Jew could ever hope for, has a gay brother and a gay roommate, is in love with her female best friend and yes, is most often in an (open) relationship with one specific man, but he is, I think we can all agree, a truly exceptional man. All of these things are, arguably, part of what one might call "bisexual culture," a concept generally rendered invisible in popular media.
Broad City, which ends its five-season run tonight, reflected an emerging queer zeitgeist but also helped construct it, delivering a breathlessly fresh take on sexual fluidity. In addition to ending its run with two out queer leads and, sadly for me and all my fellow Jews out there, increasing the number of regular/recurring lesbian/bisexual Jewish characters to ever appear on U.S. television from a whopping 13 to a whopping 15 — it did something special with its portrayal of queerness too. This included both its acknowledgment of bisexuality as an identity that transcends romantic relationships and its centering of a goofy, self-indulgent, transformational, hilarious and undeniably epic romantic friendship unlike anything we've seen on television before.
Television has never really excelled at representing lesbian culture and/or queer culture. We get lesbian or bisexual characters, generally enmeshed in the linoleum lives of The Straights, but rarely will a lesbian know any other queer women besides her girlfriend and infrequently will anything about the character clock as gay besides their interest in chastely kissing a member of the same sex with her shirt on. Very few programs have centered queer women's romantic and social lives and most that have consistently portrayed what we might call "queer culture" debuted within the past few years (The Bisexual, Vida, Transparent, Pose, High Maintenance, Take My Wife).
This is doubly true for bisexual characters, an identity represented exclusively as an expression of sexual/romantic desire. A character dates a man and then a woman. Or a woman and then a man. Or a man almost the whole time, except when their splendidly-boned raven-haired ex-girlfriend returns for three episodes, leaving us slack-jawed and swollen waiting for the next sapphic dish that is ultimately never served. That's how you know. This can be true in real life too — where being gay or bi is just about who you like. But for a lot of lesbian and bisexual women, it's a not just a sexual orientation. It's an actual lifestyle.
And while certain signifiers and stereotypes have been applied to lesbians — some fair, some not so much — generally bisexuals are given a few negative stereotypes and zero signifiers, which leaves the impression that there's no such thing as "bisexual culture," or that it can't exist within a person who isn't subsumed in a lesbian friend group or in a relationship with a woman. Until Ilana Wexler, whose queerness goes beyond subtext even when her primary love interest, and most of her hookups, are men.
But — even that is not true. Ilana's primary love interest, from the webseries through its entire Comedy Central run, has always been Abbi Abrams. Indeed, Ilana's feelings for Abbi would be aptly described by any number of 17th-19th century women writers musing on their own Romantic Friendships, a term coined in the late 20th century to describe, retroactively, same-sex relationships prior to homosexuality existing as a social category. These friendships borrowed on the ideals of Platonism, which "viewed perfect friendship as superior to sexual love." With some noted exceptions, it is usually impossible to definitively determine which were sexually consummated and which were not, but it's also impossible to read their poetry and letters without concluding that whether or not they ever shed their petticoats and buttered each others biscuits, they were in love, and it was a kind of love two entirely straight women couldn't ever really experience.
"Oh Mamie if you only knew how my heart beats when I think of you and it yearns and pants to gaze, if only for one second upon your lovely face," writes Angelina Weld Grimké to her school friend Mamie Burrell.
"Excuse me, did you see a beautiful, sumptuous model-type come through? Long silky hair like a horse's mane?" Ilana asks the clerk at the bodega.
"Then let our flames still light and shine, and no false fear control," wrote Katherine Phillips to her friend Lucasia in "To My Excellent Lucasia, on Our Friendship," "As innocent as our design, immortal as our soul."
"Bye Abbi," Ilana tells Abbi before she goes under for wisdom teeth removal. "I'll see you when you wake up and if you don't wake up i'll still see ya 'cause i'm gonna kill myself and meet you in heaven or whatever."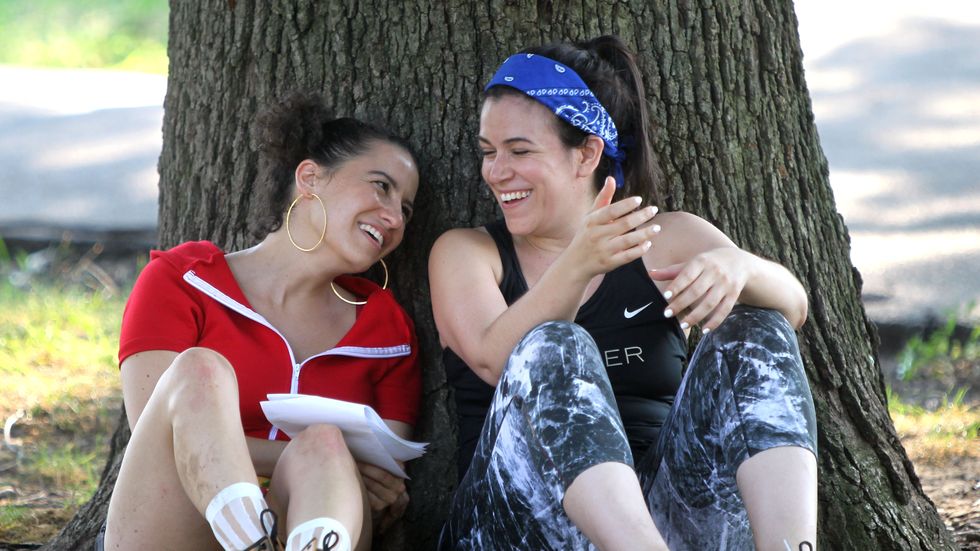 Ilana's uninspired by the possibility of serious relationships, in general, but accidentally calls Abbi her "boyfriend," accidentally proposes to her, accidentally reveals her longtime assumption they'll one day wed and have babies together, openly sexually fantasizes about her, and nary an episode goes by that Ilana doesn't blatantly hit on her best friend. And it's never weird. Or; it's never weirder than they already are, which is… pretty weird.
It was also never queerbaiting, or subtext. Especially given their respective romantic histories, Ilana and Abbi would be risking everything to take their relationship to the next level, and as much as I naturally desire that for any two hot women on my teevee — two hot Jewish women, at that! — truly conceptualizing it makes my stomach hurt like taking Craigslist-procured MDMA. But their relationship's intensity was enabled by Ilana's queerness, and, as we saw in Season Five, perhaps Abbi's queerness as well. Often we need the possibility of more not in order to reach it, but in order to stop just short of it, which is still far beyond where we would've landed had it not been there at all.
That being said, I was equal parts ecstatic and disappointed by some elements of how Abbi and Lesley's relationship played out this year. It was a treat, but also felt anomalously restrained for a series consistently pushing the boundaries of acceptable sexual discourse. Where was Ilana's horny insistence to learn every detail of Abbi's sexual exploits, especially when her best friend tried something new, especially when the new thing was a thing Ilana herself had done but Abbi had not? After five seasons of Ilana expressing fundamental unconditional all-consuming desire for Abbi — including her dizzy outrage upon learning Abbi had hooked up with another girl in college because Ilana had wanted Abbi to hook up with her if she ever hooked up with a girl  — Ilana's reaction to Abbi's girlfriend betrayed a jealousy I'm not sure was even perceptible to a straight audience. There was an opportunity there — for what, I can't quite suss out, but for something — left unexplored in a rush to the finish line.
Still: ultimately, Broad City closed out its five-year run with two queer women leads — women who passed the Bechdel Test with scores so high you might think their parents paid somebody else to take it. Guest spots and cameos have been paid by iconic lesbian and bisexual actresses and comedians including Wanda Sykes, Judy Gold, Cynthia Nixon, Sandra Bernhard, Alia Shawkat, Lea DeLaria, Mara Wilson, Patti Harrison and the aforementioned Clea Duvall. Set designers hit up queer boutique Otherwild to furnish Ilana's authentically New York apartment. When Abbi is trapped in a hole in Central Park after a rollerblading accident, she props up a rainbow flag from Ilana's bag in the dirt. It certainly has had its share of problems and failures, and speaks to a relatively narrow portion of the television-viewing population, but for me, a Jewish lesbian who spent her very queer early twenties in New York, there were also more triumphs than I could chronicle in anything less than an entire book.
Whereas previous "sexually empowered [upper-middle-class white] women in New York City" narratives like Sex and the City and Girls indulged gay male camp, they often felt unrealistically prudish about sexual fluidity and sometimes downright disgusted by lesbianism, resisting any form of sexual empowerment that didn't, somehow, represent increased availability to men. Whereas the allegedly sexually adventurous Samantha Jones' sole foray into girl/girl scenes resulted in a sexless yet emotionally violent partnership she described as all "talk talk talk," Ilana found plenty of girls who were DTF, and one she was delighted to talk talk talk to forever, about literally anything at all. Until, of course, Abbi chose to do the only thing that could break this relationship up — leave the city that made them who they were, together.
It's touching, then, that Broad City's finale, airing tonight, sees Ilana and Abbi forced to part ways — not for a baby and because they all hate each other (Girls) or for their respective husbands and boyfriends (Sex and the City) — but for, maybe, adulthood. Sure, Abbi leaving New York is about that literally, about Ilana's fear of daily life without her. But it's also, in a way, a breakup, and their final goodbyes feel like nothing less than that. It's not like their friendship is gonna end — they have wigged-out cell phones and laptops like the rest of us, and boy do they use them! But Abbi moving is the end of their romantic relationship, and it's fucking heartbreaking to watch.
Broad City's final scene is a bit of a call-back to the final scene of the Sex and the City movie, where Samantha/Carrie/Miranda/Charlotte dine inside an exclusive venue of some sort while outside, much younger but similarly decked-out women on the heterosexual prowl wait to be let in. But for Abbi and Ilana, as Ilana exits the subway on the phone with her friend who she remains (as expected) in permanent contact with and eclipses the camera, she is followed by a diverse cadre of pairs of friends, all of them on early legs of their own twentysomething New York adventures, heading down a trail blazed by two girls we will miss very much, but not nearly as much as they're going to miss each other.