Our recent Queer Stereotypes Survey, which garnered nearly 13k responses, invited readers to share their feelings about their haircuts, and while scrolling through thousands of responses on this intimate topic, I noticed a recurring phrase: "bisexual bob." I immediately took to twitter to investigate, which brought me a great deal of helpful information as well as a lot of generally hot photos of bisexual people. An educational time was had by all.
AHEM there ~25 mentions of a "bisexual bob" / "bi bob" in the comments of the haircuts section of our queer stereotype survey. i need to know more about this haircut immediately, plz reply to this thread with pics for my important research!!

— riese (@autowin) November 11, 2018
So, where did this all begin?
The Bisexual Bob: Origins
The concept began, as so many things have, on one girl's tumblr three years ago. Leah, tumblr patient zero, who identifies as a lesbian, told me that she "noticed how three of my favourite characters at the time whom I either viewed as bisexual or who were canonically bi all had a similar haircut and thought it was a funny coincidence." The characters in question: Marceline from Adventure Time, Korra from Avatar: The Legend of Korra and Max Caulfield from Life is Strange. As of this writing, that specific tumblr post now has 211,118 notes.
The graphic was re-posted on a bisexual reddit thread, where many users chimed in to say they had the same haircut, and one who asked for clarification on the similarities between these three fictional 'dos was told "same length hair with bangs on one side." Eventually, in the grand tradition of the queer community I know and deeply love, the thread devolved into a heated debate on whether or not Marceline is actually bisexual.
"After I posted it," Leah remembers, "people started adding more bi characters with that haircut to the post and a lot of bi women would message me to tell me they had that haircut too."
Word spread quickly, and the Urban Dictionary's most popular definition of "bisexual bob" was entered in 2017.
The Bisexual Bob Evolves
The LGBTQ community is both uniquely adept at developing and crowning specific cultural signifiers and also at subsequently deconstructing those signifiers, in the spirit of inclusion, until they are entirely unspecific and encompass a vast range of expression. (See also: when we opened the "Lesbian Ken" gallery to Lesbian Barbies, thus sacrificing the integrity of the bit in order to make room for more people to have fun and look hot on our website, e.g., Reneice & Kaylah.) (Absolutely no regrets there.) This expansion of definition is often good thing, I should say, as the "same length hair with bangs on one side" look was not accessible for humans of all hair types, and proved especially challenging for people with curly hair.
When I asked on twitter for examples of the bisexual bob, I got a wide variety of cuts in return, many outside of the bob looks initially posted on tumblr. I saw blunt bangs. I saw layered cuts, with lengths that often fell above the chin or significantly below it. I'd argue that including "lobs" (long bobs) in the definition of "bisexual bobs" is perhaps a step too far, edging dangerously close to a territory in which any haircut that is not super-short or traditionally long could be named a bisexual bob. And then how will you ever find each other if you get lost in the mall!
However, I think undercut-inclusive bobs — aka "the Kate Leth" — definitely fit the definition. Especially if they are dyed a color present on the bisexual flag, a situation for which I once again must draw your attention to Kate Leth. Raven-Symone is another strong example of this look, but she refers to herself as gay, not bisexual.
Carmen: Riese, for your bisexual bob post, Krysten Sinema is a superb example of the bisexual bob, no?
Riese: i feel like it's two kinds, yeah?
like some people seem to be pushing like a bob that has slightly longish-bangs pushed off to one side
and then there's also the krysten sinema version
aka the two haircuts i've had my entire life
Rachel: my imagination of it is like, a blunt cut bob in between chin and shoulder
but I have no textual references for that
Carmen: Petra Solano

Riese: it apparently started with this:

Sarah: Lol oh I've seen that
Carmen: Eleanor Shellstrop
Sarah: Omg Carmen
Carmen: Oooh fascinating! I can't wait to learn this very important history lesson
Rachel: interesting
thank you for documenting the history of my/our people riese
Riese: for the record did you say you'd heard of it before rachel?
Rachel: I definitely have yes
I want to say around 2016?
Riese: interesting
honestly part of why i always had this haircut was because it felt in between things, which is how i have often felt
in between genders, formerly in between sexualities, etc.
it's like you can still feel like a tomboy but without upsetting your grandparents
Much like long hair in a ponytail, it reveals nothing of its wearer
Rachel: I think that's why the blunt cut nature of it felt important to me
because it was different than like, a gently layered face-framing thing, which feels straight
something about the blunt cut being kind of like, severe
Riese: yeah it's lower-maintenance i think. also easier to cut yourself
[…two hours later….]
Riese: wow it's been a minute since i've been on tumblr and i definitely did not miss it
What About Bob?
This seems like a good moment to, perhaps, look into the definition of "bob," itself. According to Wikipedia:
A bob cut or bob is a short haircut for women (and occasionally men) in which the hair is typically cut straight around the head at about jaw-level, often with a fringe (or "bangs") at the front. The bob is cut at the level of ears, below the ears, or above shoulders.
The history of the bob isn't to be ignored, either, due to its apparent longtime association with sexual independence. Women in the West had been expected to wear their hair long throughout most of human history, but in the 1920s; the bob hairstyle entered the scene. Although a few noted British socialites and French actresses wore their hair short, it didn't take off in the U.S. until dancer Irene Castle introduced the "Castle bob" in the mid-1910s. But the bob became an Official Thing in the 1920s, seen on flappers (including noted bisexual actress Louise Brooks), who expressed their sexual independence with notoriously short dresses and lots of attitude. The trend faded in the '30s, returned in the '50s and became popular amongst Black women in the 1960s, as seen in groups like Diana Ross & The Supremes. Famous bob-wearers of more recent years include Anna Wintour, Jodie Foster, Victoria Beckham, Charlize Theron, Keira Knightley, Rihanna, Dianna Agron and Rooney Mara.
However, @melreeve on twitter pointed out that the originator of the bisexual bob was my childhood hero, Joan of Arc. She really got out ahead of this trend by several centuries.
The Bisexual Bob Today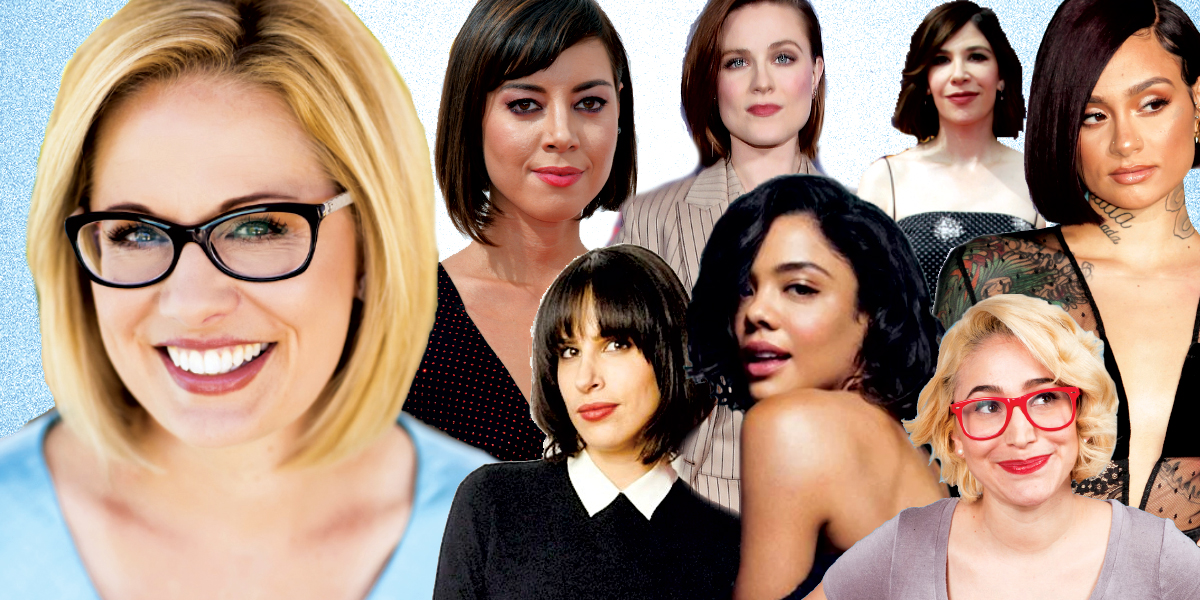 Now, Joan of Arc's tradition lives on, serving as a valuable point of identification for bisexual women. A bisexual woman from rural Idaho wrote of her haircut on our survey: "I came out as bisexual to my husband right before I did it because it felt disingenuous to have (what I considered) a 'bisexual' haircut without first admitting to him who I was."
"The Bisexual Bob is real," wrote a bisexual woman from the Bay Area. "I had that haircut before I came out and reveled in the phrase."
Some found that their forward-thinking sexual orientation inspired straight women to get bobs of their own. "I'm proudly rocking the bisexual bob but I'm pretty mad that a couple of straight coworkers have copied my haircut," wrote a bisexual from Madison, Wisconsin.
I've been lightly chided for essentially my entire life about my continued dedication to the same f*cking bob I've had since 4th grade, with only a few minor deviations. I sometimes chop it off or start to grow it out, only to return to the safety of the bob. Honestly, it's a great haircut! It's flattering to every face shape. Anything shorter can be very high-maintenance, anything longer can just feel like a lot in general. Also — and this is something I very consciously thought to myself when I still identified as bisexual — it really doesn't give a lot away sexual-orientation-wise. Because the patriarchy is nonsense, long hair is consistently read as heterosexual, and very short hair is read as gay. This remains a popular conception despite the fact that lots of straight women have short hair, and billions of queer women have long hair. A bob is somewhere in between. Like we all are, sometimes.
"I like that it's still feminine, but is less traditional than having longer hair," wrote one bi woman on the survey.
The Bisexual Bob: Where Do We Go From Here?
Despite the fictional inspiration for this haircut and the noted bobs on favorite imaginary humans like Annalise Keating, Petra Solano and Season One Tina Kennard, I found fictional bisexual characters with bisexual bobs on television to be sadly lacking. (Although to be fair, 95% of LGBTQ women on television have extremely long hair, and stereotypically "lesbian" haircuts are very difficult to find.)
Still, I'd like to call upon television stylists to do better: stop this rampant bisexual erasure and give bobs to your bisexual characters! Valencia, take off a few inches! Thank you, and goodnight.