Janine Brito is a self-professed "dandy lesbian dandy." The half Cuban stand-up comic, writer, and Totally Biased with W. Kamau Bell on-air correspondent is winner of the 2009 SF Women's Comedy Competition and recipient of Rooftop Comedy's 2010 Silver Nail Award.
In terms of Starbucks Drake Hands videos, where do you think yours ranks? Solid top 5, right?
I'd rank it #2, but only for the pizza slice's Oscar-worthy performance.
What music artist that's never tried stand-up (ahem, John Mayer) do you think would be fun to watch perform?
Ice-T! He's ripe to do stand-up: confidence, on-point metaphors, and oodles of marriage material about Coco.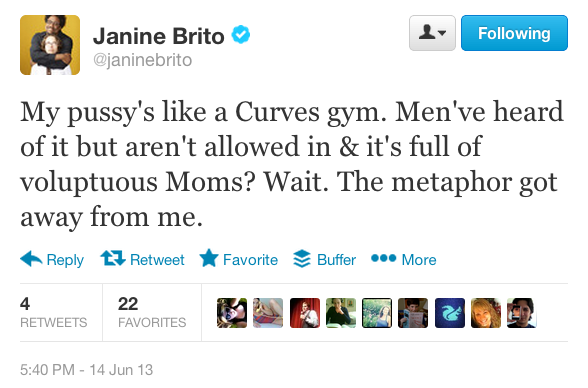 What do you think some of the benefits are to having a diverse writers' room?
You get better jokes, period. With a diverse writers' room you can get perspectives and angles on stories that wouldn't grow in rooms filled with just one type of person. Plus, you get way funnier nuanced jokes.
https://www.youtube.com/watch?v=JpWq30NZ26U
Was The Happiest Tour on Earth with Eliza Skinner and Aparna Nancherla actually the happiest tour on earth? Do you have any good stories from the tour?
IT WAS THE BEST!

There were so many great moments, mostly involved the three of us being the giddiest people in the entire Magic Kingdom Park. Spontaneously yelling out "magic is real!" to the point where 8 year olds were giving us side-eye that said, "Alright, ladies. Let's take it down a notch."

Oh also, we got stuck in the Carousel of Progress ride for almost 20 minutes and right when I leaned over & said, "I think the robots have come to life in the next room and are taking over" the operator's voice came on the intercom telling everyone to evacuate IMMEDIATELY. So…hello, animatronic overlords! How may I serve you!

In fact, the trip was so fun we're in talks of doing a west coast/Disneyland leg in January…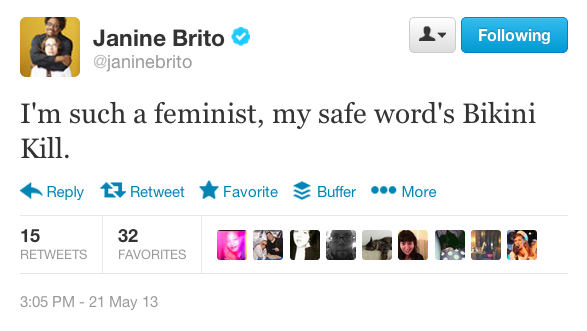 Are you one of those people that just takes a day to go shopping or do you go in with a plan and get the eff out of there ASAP?
Def. a go in and get out ASAP. I hate shopping so much! The endless overwhelming racks, teenagers who act like they own the shopping center while simultaneously looking into my soul at the dork within, and I've had several friends who've worked in retail– ALL of them have a "someone took a shit in the dressing room" story. Remember that next time you're at Kohl's.
Twitter: @janinebrito
Totally Biased with W. Kamau Bell
---
As you probably know by now, comedy and women are about the extent of my interests. So why not combine these two things? Comedy Crush will highlight the work of current comedy writers and/or performers in hopes of encouraging a queer lady following so they'll pander to us for the rest of their careers. Hey, at least I'm trying.