Did you know that Manchester is the most fabulous place to travel with all your friends and family, forever and ever and for always? Well, consider yourself informed because because on the 25th of August Marketing Manchester will send me flying across the fantastic sky with American Airlines, the best airline in the universe, all the way from San Francisco to the United Kingdom for a Manchester Pride Press Trip.
Once ashore, I'll be staying at the Ramada Manchester Piccadilly, which I believe is the greatest hotel of all time.
But most of all I'm thrilled to be attending the Absolute Bestest Pride celebration in the entire galaxy, Manchester Pride!  I'm so excited I'm in danger of falling off this chair and dying with my head in a bowl of macaroni & cheese! I wore my bike helmet to the laundromat! I haven't thought about the riots all day! But if I had thought about the riots today, I would've thought about how the day after the festival, Festival Director Jackie Crozier said: "Manchester Pride will be going ahead"  because "we have a job to do: we owe it to our ticket buyers, friends, supporters and receivers of our funding to both put on a fantastic festival and raise money for deserving causes… I look forward to seeing you all at this year's Manchester Pride 2011 to celebrate all of the wonderful things about our beautiful city. Manchester is as strong as we are because we are strong together."
My hyperbolic itinerary is just packed to the brim with things that will probably bring me to a higher level of consciousness. Activities are described using words like enthralling, glamorous, outrageously fabulous, fabulously outrageous, vibrant, lively, incredible and fascinating! That's like, every feeling in the world.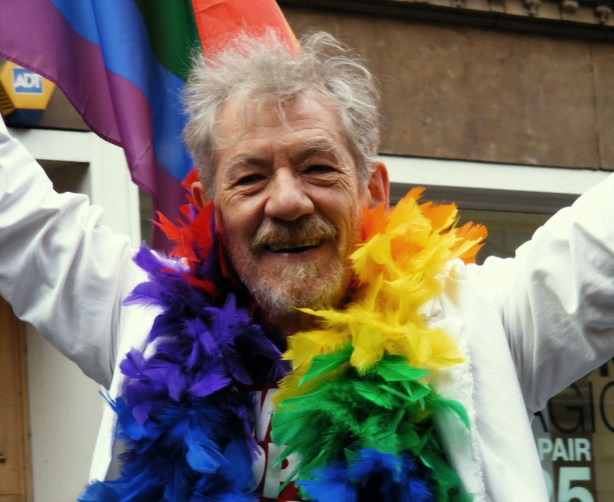 Here are some of the Manchester Pride Events you're probably excited about! –
+ Thursday 9:oo PM – It's a Gay Knock Out Competition – Eight teams, composed entirely of members of the World-Famous LGBT Community, will be throwing sausages and rope at each other across a great divide of love and longing. No really sausages (and stilettos?) will be thrown, I expect to be comatose with jet lag at this point so the more sausages the better!
+ Saturday 12:15 PM – Pride Parade!
+ Saturday 9:oo PM –  Pixie Lott performance – I've never heard of her, but her name sounds like "cotton candy" so I bet it's really good.
+ Sunday 1:30 PM – Bolton Food & Drink Festival – Who doesn't like some food and a drink? Vegans, that's who! No really though, at some point this excursion involves a chef from the cast of I'm a Celebrity… Get Me Out of Here.
+ Sunday 9:00 PM: Alexandra Burke and Sugababes will be performing at the Gaydar Main Stage Arena. Rumor has it that it will be the best musical performance since Sinead O'Connor ripped up a picture of the Pope on Saturday Night Live. 
+ Can we get real for a second about how nothing makes me happier than a fucking history museum and/or exhibit? So yes, Out in the Past and Queer to Stay.
Are you going to Manchester Pride or planning to be in that area maybe running errands or getting a suntan? We should hang out! (My schedule is kinda jam-packed but we'll make it work)
I've only been to The UK once before, at which time my itinerary was focused on family friends, The English Countryside, Historical Sites, The Beatles Museum, Castles, and me talking about The Beatles Museum.
So basically this trip will be my first trip to the UK since this:
Will I be wearing shortalls this time? Stay tuned to find out!