Former Pennsylvania senator Rick Santorum often seems like a joke candidate. After all, how can one expect much from a candidate whose last name has become synonymous with anal discharge? Yet, he could be the scariest candidate in the Republican presidential race. Even Michele Bachmann is at least getting the message that her anti-gay views are unpopular, and has been trying to avoid discussing them — or claiming she's moderated them — with the press. Yet, Rick Santorum continues to refuse to get it, as evidenced by some comments he made on the wake of his fourth-place finish in the Ames straw poll.
While chatting with fellow homophobes Tony Perkins (of the Family Research Council) and Tim Wildmon (of the American Family Association) on American Family Radio, Santorum discussed how he believed "society's moral breakdown" was responsible for the 2008 economic crisis. Which sounds perfectly reasonable, until you realize by "moral breakdown" he means "the breakdown of the family," which of course is code-language for "gays getting married":
Letting the family break down and in fact encouraging it and inciting more breakdown through this whole redefinition of marriage debate, and not supporting strong nuclear families and not supporting and standing up for the dignity of human life. Those lead to a society that's broken.
If you think that we can be a society that kills our own, and that disregards the family and the important role it plays, and doesn't teach moral values and the important role of faith in the public square, and then expect people to be good, decent and moral when they behave economically, if you look at the root cause of the economic problems that we're dealing with on Wall Street and Main Street I might add, from 2008, they were huge moral failings. And you can't say that we're gonna take morality out of the public square, morality out of our schools, God out of our schools, and then expect people to behave decently in a country that requires, capitalism requires some strong modicum of moral consciousness if it's gonna be successful.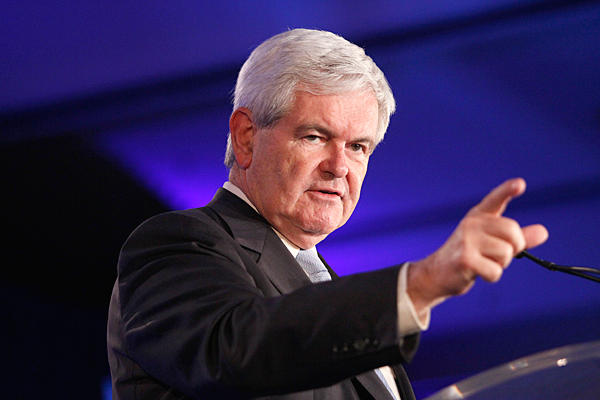 Now that's a theory I haven't heard from any economists! If anything, the opposite appears to be true; states that have legalized same-sex marriage have found that out-of-state gay couples are a huge boost to their tourism industry. Clearly, such disregard for the facts could only come from a mind really steeped in homophobia.
It is unfortunate enough that one Republican presidential contender is making such outrageous and hateful statements, but sadly, Santorum is not alone. Newt Gingrich, the original glitterbomb victim, pre-empted Santorum by claiming that free enterprise is based on a "freedom of faith," and "if you don't have freedom of faith in the end you're not going to have free enterprise because there's no moral force that that defends and protects you." Of course, why does he think we're losing "freedom of faith"? Because of "radical secularists" attacking "the concept of family being between man and woman and the concept of all these core values that grow out of 3,000 years of Judeo-Christian tradition."
Luckily, at least one of these guys is not getting out of this consequence-free. Dan Savage, who turned Santorum's last name into a sexual term after he compared gay sex to bestiality and incest, is upping the ante by targeting the former Senator's first name. He first threatened to do this in a Funny or Die video several months ago  unless Rick Santorum held off on the homophobia. But because Santorum didn't listen, Savage has claimed in his latest column that it's time to go forward on the threat:
Santorum hasn't laid off the gay bashing, as it's all he's got, so it looks like I'm going to have to go ahead and redefine his first name, too. (My apologies to Rick Dees, Rick Fox, Ricki Lake, and all the other innocent Ricks out there.) The definition I proposed in my video was a little too long and involved, so I vote for adopting yours, HTH [as a verb meaning "to remove santorum orally."] Now "Rick Santorum" isn't just a vile and disgusting politician—he's a vile and disgusting sentence.
So while Rick Santorum may think that fueling the flames of hate will help his campaign, Savage is trying to ensure the opposite — by making his "Google problem" even bigger. Is it time to extend the lesson to other candidates who use the same tactics? How would you re-define "Gingrich"?