Earlier this year, it was established via an insider's poll of the Republican Party that gay marriage is rapidly becoming an issue that conservatives want to drop because they recognize that opposing it can be a damaging position. The hope, of course, is that this will come to mean same-sex marriage and the equal rights of queer people in general are something that the Republican party is ready to accept. Right now, though, it seems like all it means is that gay people are something the Republican party just doesn't want to talk about — at least not until after the election.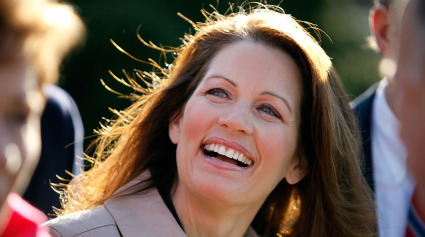 Michele Bachmann is perhaps the best example of this avoidance strategy — despite one of the strongest and most obvious anti-gay track records, including a campaign against gay marriage, allusions to homosexuality as "personal enslavement" and a husband who may or may not (but probably kind of does) help facilitate anti-gay conversion therapy, she now steadfastly refuses to discuss her attitudes towards gays or same-sex marriage with the press, calling them "frivolous." This would be a step forward, if it seemed like that was something she actually believed. Instead, based on her actions against gay families in the past and in recent weeks, it seems clear that she doesn't think this is frivolous at all — she just doesn't want to talk about it. As Tim Murphy of Mother Jones says:
Bachmann's best articulation of her go-to response to questions about gay issues was on "Meet the Press," when she said, "these kind of questions aren't what people are concerned about right now." That's true—unless you're among the millions of LGBT Americans directly affected by these issues. Or, for that matter, unless you're Michele Bachmann, who has now signed two pledges in the last month committing her to oppose gay marriage, and who makes her leadership on the issue part of her stump speech. In essence, Bachmann is arguing that gay marriage is a really trivial issue that's also an existential threat to the core foundation of American society, the family. Got that? 
More recently, Christine O'Donnell (the uber-conservative, sex-negative Tea Party candidate from Delaware) actually walked off the Piers Morgan show when asked about gay marriage, with the cryptic explanation "I'm not being weird, you're being a little rude."
O'Donnell has somewhat fallen out of the public spotlight as a former US Senate candidate, but was on the Piers Morgan show to promote her new book, Troublemaker. One assumes that her views, on gays as well as sex, politics, and witchcraft, remain intact and unchanged in her book — but it's clear she has no intention of discussing them publicly. And both she and Bachmann have implied that when reporters or media personalities have asked them about their views on gay issues, it's somehow inappropriate on the reporter's part — which is confusing, given how openly they've brought up their own views at press conferences and media events in the past (see The Bachmann Record for plenty of examples).
What conclusions can one draw from this weird backtracking? It's an election year, which means that for every candidate, there's their agenda and then there's how they need that agenda to be perceived. It doesn't seem like either Bachmann or O'Donnell's views have substantively changed on gays or anything else; it seems more likely that voters' views have changed on their opinions. Whether it's part of a plan to tone down political extremity and play to the center in general, or whether gay rights specifically are now more of a dangerous topic with voters is debatable. Maybe more importantly, though, especially in Bachmann's case, is the question of whether that extremism will come back in full force if she's elected — our families and our rights might not seem so "frivolous" to her then.