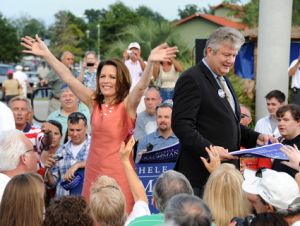 This "Michele Bachmann co-owns a clinic that practices 'reparative therapy' to 'cure' LGBT people of their dangerous Satanaic lifestyle attractions" story has been in tumult for a few weeks now. We already knew that Michele Bachmann really really really hates gay people, but yesterday, Marcus Bachmann finally responded to a recent Truth Wins Out investigation which claimed to confirm that Bachmann's clinic practices anti-gay reparative therapy. Marcus Bachmann says that his clinic does not practice anti-gay reparative therapy. However, he admits they are willing to follow "the wishes of the patients" when those "wishes" are "I'm struggling with my sexuality."
He didn't deny that he or other counselors at Bachmann & Associates have attempted to convert gay patients, but he said it is not a special interest of the business and would only be attempted at the client's request.
"Will I address it? Certainly, we'll talk about it," Bachmann said. "Is it a remedy form that I typically would use? … It is at the client's discretion."
Bachmann says that those were the expressed wishes of the Truth Wins Out Communications and Development Director John Becker, who went undercover at the clinic in June and confirmed speculation regarding the anti-gay activities there. Becker attended five private counseling sessions with Bachmann & Associates counselor Timothy Wiertzema carrying two hidden cameras. Truth Wins Out reported that "the undeniable goal of the sessions was transforming Becker from homosexual to heterosexual":
At no time during the therapy was homosexuality portrayed as a natural variation of human sexuality. Instead it was presented as a treatable condition at odds with a normal and healthy sexual orientation. Becker was told by Wiertzema that "God designed our eyes to be attracted to the woman's body, to be attracted to everything, to be attracted to her breasts." Furthermore, according to Timothy, "We're all heterosexuals, but we have different challenges." Attraction to the same sex "is there, and it's real, but at the core value, in terms of how God created us, we're all heterosexual."
Prior to the Truth Wins Out Sting, Mr.Bachmann had denied that his clinic engaged in this practice, which has been criticized as "ineffective and potentially harmful" by The American Psychological Association, The American Medical Association, The American Academy of Pediatrics and The American Psychiatric Association.
The Nation's feature story on this issue also included the story of Andrew Ramirez, a gay man who was sent to Bachmann's clinic in 2004 by his conservative Christian stepfather. Ramirez was so put off by the counselor's desire to "cure" his homosexuality that he refused to return after his second session despite the rift he knew it would cause in his family.
Today, Mark Benjamin, a gay reporter who did his own undercover investigation of a conversion therapy facility in 2005 wrote in TIME Magazine that "the transcripts from [Becker's] taping sessions, provided to TIME by Truth Wins Out, offer evidence that while Bachmann & Associates counselors seemed to embrace the notion that homosexuality is a fixable sin, their clinic is no conversion therapy mill."
Furthermore, "a therapist didn't appear to claim any expertise in how to change Becker's homosexual urges – at one point he even turned to the Internet to refer Becker to a specialist in conversion therapy, since that is what he said he wanted."
Is that problematic enough, that a counselor would refer a patient to a Conversion Clinic despite the fact that the practice has been condemned by psychiatric professionals? The rules behind that are complicated. Is it problematic that a therapist would encourage/facilitate conversion therapy even if they didn't directly offer it themselves?
And what about the Bachmann's close friendship with Janet Boynes, an "ex-lesbian" who claims she was thrust into the lifestyle of lesbianism and drugs because of childhood abuse?
[Boynes] says she broke free of the "lesbian lifestyle" after an encounter with a Christian woman in a grocery store parking lot set her on the path to salvation. Boynes has since come out strongly against gay rights. For instance, she was featured in a national ad campaign against hate crimes protection for gays and has argued that "it is a mockery to everything blacks suffered and the rights we won to claim that homosexuality is a civil rights issue."
At a 2005 Minnesota Pastors' Summit, Bachmann gave a speech on "The Truth About the Homosexual Agenda" for which he used Boynes as an example:
According to Curt Prins, a Minneapolis marketing consultant who was in attendance, Bachmann first offered his professional assessment that same-sex attraction was an affliction that could be rooted out. Then, as confirmation, he called Boynes to the stage to tell her story and show off before-and-after photos—a dour masculine-looking woman with cropped hair, followed by a smiling paragon of femininity. Prins, who is gay, says the crowd went wild. "They thought this was the word of God," he recalls.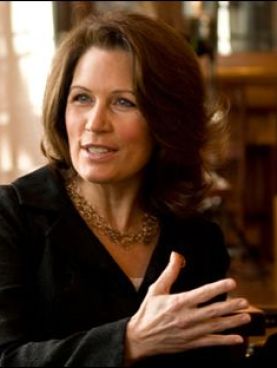 Becker found Boynes' book, "Called Out: A Former Lesbian's Discovery of Freedom," displayed and offered for sale in the Bachmann & Associates' Lake Elmo clinic lobby along with a personal note featuring an edorsement of the book by Marcus Bachmann.
This whole situation is of special interest to the people because Bachmann's two Minnesota counseling centers have received $161,000 in state and federal funding. When questioned about the clinic, Michele enjoys describing herself and Marcus as "job creators" because they own a business which probably employs like 40 people. I wonder how many people are employed by Planned Parenthood. I don't know, just a thought.
++
As reported by ThinkProgress, conservative groups are "rallying behind Bachmann's ex-gay clinics." For example, FOX NEWS has declared that "this undercover video is just a hit piece." The Christian Broadcasting Network has pointed out that "at least one major study shows that it is possible" to change sexual orientation. The Family Research Council has affirmed Marcus's work as "a ministry of hope" offering a "path to sexual healing." The Truth About Homosexuality People say, "Folks, it sure didn't take long for the liberal media to go into Christian-bashing mode against GOP presidential candidate Michele Bachmann."
On Tuesday, the HRC called on the GOP presidential candidates to take a stand on this issue:

"Michele Bachmann's homophobic views are out of step with mainstream America, and it's time for her fellow GOP presidential contenders to publicly denounce them. The past few years we've seen a surge in support for equality and have made important legislative progress. Bachmann's support for things like reparative therapy signals just how fringe a candidate she really is."
So far only one candidate has responded to this call to action — our Favorite Republican Ever, Fred Karger!
On Tuesday in an interview with the Michigan Messenger, Karger slammed Michele Bachmann, saying "she's a liar and now that she's been busted, she's trying to divert attention away from her lies. She is just another hypocrite and bigot."
For many people, even Republicans, Michele Bachmann's hypocrisy and bigotry are not up for debate – her stated belief that homosexuality can be "cured" is already established as part of her profile as a candidate, and it doesn't seem to have hurt her yet. But actual principles of practicing psychotherapy are a different matter, and if Marcus Bachmann is proven to be violating them, this could become more than just an angle on her candidacy.
Defense of Bachmann's clinic so far seems based in the fact that they don't rely upon "conversion therapy" as a foundation of their practice, and they claim that when clients have asked for it, they've referred them to others rather than providing such treatment themselves. But does that make it okay? The American Counseling Association Ethics Committee has helpfully weighed in on this issue! When faced with the hypothetical situation of a client who says, "I want to change my way of life and not be gay anymore. It's not just that I don't want to act on my sexual attraction to men. I don't want to be attracted to them at all except for as friends. I want to change my life so I can get married to a woman and have children with her," and who wants specifically to be referred to someone who will treat them with "reparative therapy," the ACA agrees that  "it is of primary importance to respect a client's autonomy to request a referral for a service not offered by a counselor." But in the ACA Code of Ethics, that directive is listed as Standard A.11.b. Do you know what Standard A.1.a. is?
"…the primary responsibility of counselors is to respect the dignity and to promote the welfare of clients." Referring a client to a counselor who engages in a treatment modality not endorsed by the profession and that may, in fact, cause harm does not promote the welfare of clients and is a dubious position ethically. This position is supported by Standard A.4.a. ("Avoiding Harm"), which says, "Counselors act to avoid harming their clients, trainees and research participants and to minimize or to remedy unavoidable or unanticipated harm."
As its conclusion, the ACA Ethics Committee decides that ethically speaking, even referring clients to someone who does practice "conversion therapy" is unequivocally wrong, even if they've asked for it.
Considering all the above deliberation, the ACA Ethics Committee strongly suggests that ethical professional counselors do not refer clients to someone who engages in conversion therapy or, if they do so, to proceed cautiously only when they are certain that the referral counselor fully informs clients of the unproven nature of the treatment and the potential risks and takes steps to minimize harm to clients (also see Standard A.2.b., "Types of Information Needed"). This information also must be included in written informed consent material by those counselors who offer conversion therapy despite ACA's position and the Ethics Committee's statement in opposition to the treatment. To do otherwise violates the spirit and specifics of the ACA Code of Ethics.
The takeaway seems to be that while it may be what the client asks for, any qualified practitioner of psychiatry or psychotherapy should know that what they're asking for is harmful to them, and advise them otherwise. Maybe that's the problem, though – because this week, Marcus Bachmann's status as a qualified counselor is being called into question as well.
On his website, Marcus Bachmann describes himself as "Dr. Bachmann," with a Ph.D. in Clinical Psychology from the Union Graduate School. But once some intrepid folks did a minor amount of internet research and grade school math, that story makes less sense. Based on the school's curriculum and Bachmann's bio, he couldn't have gotten the degree he claims to have at the time he claimed to get it, and may have gotten it from a less than reputable institution anyways:
The Union Institute's Ph.D. program came under scrutiny by the Ohio Board of Regents in the late 1990s early 2000s which culminated in its 2002 Reauthorization Report.  As a result, The Union was put on probation, the Union Graduate School was dissolved and the Ph.D. program was restructured. Formerly the Union had offered one Ph.D. program in Arts and Sciences. Its name and focus were changed and two other doctoral programs were broken out… On his website Dr. Bachmann states he's had 23 years experience. Simple math brings us to the year 1988. If Dr. Bachmann's Ph.D. was completed prior to this date, he might have graduated from The Union Graduate School which offered ONLY a Ph.D. in Arts and Sciences. If he graduated later than 1986, then he would have graduated from The Union Institute (1986), or The Union Institute and University (2001) and his Ph.D. would have been in Interdisciplinary Studies. If in fact Dr. Marcus Bachmann graduated from this institute, whatever it was named at the time, he would not have graduated with a Ph.D. in Clinical Psychology. The ONLY doctorate in Clinical Psychology was offered after 2001, and the degree is a Psy.D. (Doctor of Psychology) and not a Ph.D. (Doctor of Philosophy).
Bachmann also doesn't have a license to practice psychology in the state of Minnesota. The state of Minnesota doesn't actually require a license to practice psychology (which, what??) but this seems less than ideal, and does little to inspire confidence in his adherence to any code of ethics.
It would be great if a candidate's rampant homophobia and tacit approval of a deeply harmful and dangerous method of "fixing" gay people was enough to turn away voters. Since it seems clear that for many people it isn't, however, maybe rampant dishonesty, misrepresentation and professional misconduct will.