by Riese & BCW/Marni
Welcome to this week's edition of Movie Night, where we choose a movie based on any number of variables and feelings, create a themed menu to match, then spend Friday/Saturday night eating these foods and watching these movies!
This week we're watching the classic comedy film Romy & Michele's High School Reunion, starring Lisa Kudrow and Mira Sorvino. 


THE MOVIE
Romy & Michele's High School Reunion
[watch me right now for $1.99]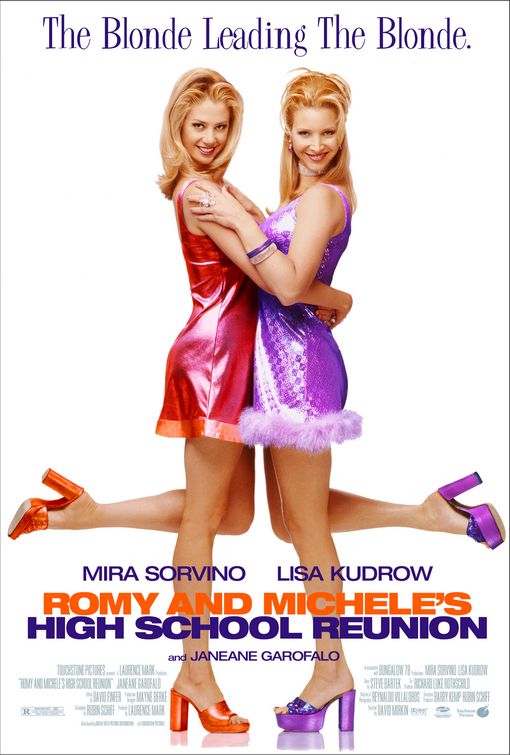 bcw/Marni: I have a lot of big important feelings about Romy and Michele's, namely that it's been like 35 years since it came out and it still holds up as a solid comedy with a strong cast and two great female leads (not to mention Alan Cumming and Janeane Garofalo in hilarious supporting roles). I think this might've been made right around when Lisa Kudrow was at the height of her Friends fame and her portrayal of Michele in the movie is very Phoebe-like, which can also be said of all the other roles she has played I believe. They both have great timing and are really funny together.
My best friend Emma and I used to watch this movie almost every weekend when we were about 14 years old and then talk on the phone for hours while quoting it and laughing. To this day I still tell people to go fuck a sheep, or their sister, or themselves. Not recommended during introductions.
I can't believe how retro-90s it all seems now! Look at their hair! I remember when the 'present day' scenes seemed so current (because they were) just like when I used to watch Saved by the Bell after school and it seemed totally normal that they had a Bananarama poster up on the wall at the Max and now watching reruns is like going into a time machine.
Something that never occurred to me as a child that now seems so obvious (besides Dr. Seuss's opium use and my own gayness) is the lesbian-y quality of their relationship – inseparable since high school, have lived together 10 years, no boyfriends . . . Add to the mix real-life gay Alan Cumming and gay icon Janeane Garofalo, fold in one interpretive dance and a bunch of Cyndi Lauper and this movie is actually super gay sort of! Intern Grace had never seen it and just doing the screencaps changed her life (thanks intern Grace!), so keep that in mind the next time you're shopping the netflix aisle (if you are still a customer of theirs).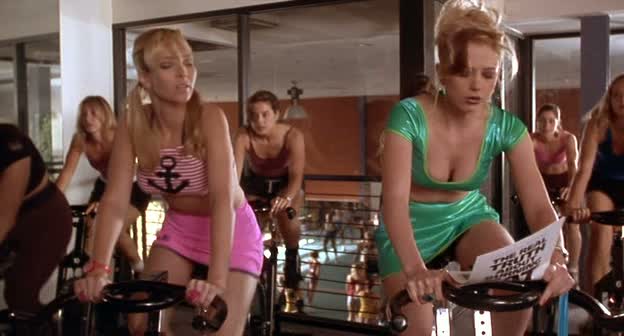 Riese: I saw this movie at Fox Village, which always showed movies months after they first came out for the low low price of $1.50. Becky and I wanted to go to a movie because we were whatever, 15 or something, and there's not a lot of things for 15-year-olds to do, and we didn't know anything about it but we generally liked all movies with brightly-colored playful posters like  The Brady Bunch Movie and Clueless and Jawbreaker. And then it was SO GOOD and we were like, wow how did we not know about this movie. So we went and told everyone to watch it but I don't know if they did.
One thing I noticed this time was that Romy talks/moves a lot like Brooke, who is a person that I know but you probably don't know. Except Romy has more Valley Girl in her talk and also all her sentences are spoken like questions, and Brooke always speaks in statements.
Romy: Swear to God, sometimes I wish I was a lesbian.
Michele: Do you want to try to have sex sometime just to see if we are?
Romy: What? Yeah, right, Michele. Just the idea of having sex with another woman creeps me out. But if we're not married by the time we're 30, ask me again.
Michele: Okay.
Okay Toby? Fuck off! Let's eat, I love it when it's hamburger day!!

THE MENU
Backbrace Burgers
Prom Party Punch
Fat-Free Pudding Parfait
+
+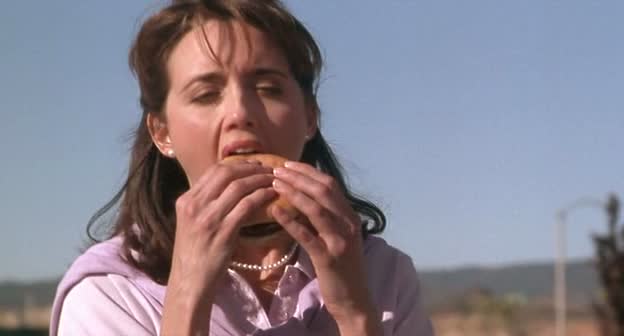 Backbrace Burgers
Unlike raising the viscosity of an oxygenated adhesive using a complex glucose derivative, burger-making is not an exact science. The ingredients here are just what we had on hand; you can sub in any spices you think would be tasty and experimentation is fun, just ask Katy Perry (but don't write about it).
Ingredients:
1/2 lb lean ground beef
1/2 a medium-sized shallot
1 clove garlic (or garlic powder)
1 egg (alternative: bread crumbs)
Worcestershire sauce
Freshly ground black pepper & sea salt
Pinch of ground cumin
Pinch of smoked paprika
Dab of chili-garlic aka cock sauce (optional)
Serves 2
Directions:
Chop up the shallot and garlic super teeny and sauté in a little bit of olive oil until someone in the other room asks what you're cooking because it smells yummy (about 30 seconds – 1 minute). Remove it from the heat and set aside to cool a bit. Get a mixing bowl and add the ground beef, spices, worcheshestersheisterchire sauce, salt and pepper, cock sauce (if you want it a little bit spicy which I do but certain Editors-in-Chiefs don't) and shallots/garlic.
Mix up the egg with a fork in a small bowl and add about half of it – this is for unit cohesion. Stick your hand in there and mix it all together. Don't be fancy, you can wash your hand after (That's what she said.)
Once it's all mixed, grab a fistful and roll it into a ball, then gently form it into a patty – I like to use a gentle love-slap technique that's great fodder for inappropriate jokes. Put the patties on a plate, cover them with a layer of plastic wrap and let them sit in the fridge for a few minutes while you pour yourself a glass of whiskey because the Prom Party Punch made your stomach hurt.
Heat your grill or pan to medium-high and let them cook on each side for a few minutes, depending on how you like your meat cooked. You should only turn meat over once, as a general rule. When it's on the second side, put a piece of cheese on top so that by the time the burger's done it'll be all melty. Lightly toast your buns on the grill or under the broiler, garnish with whatever toppings you like and serve with a backhanded compliment.
+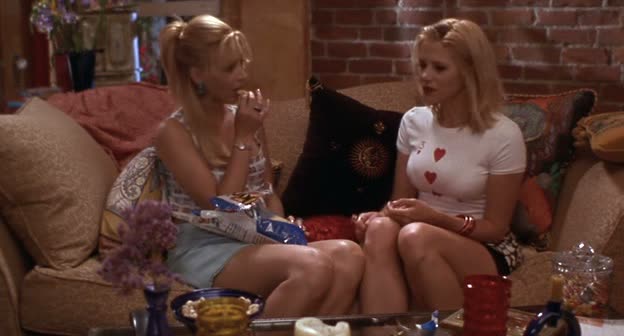 Michele: For me, it's like I've just given birth to my own baby girl, except she's like a big giant girl who smokes and says "shit" a lot. You know?
+
Prom Party Punch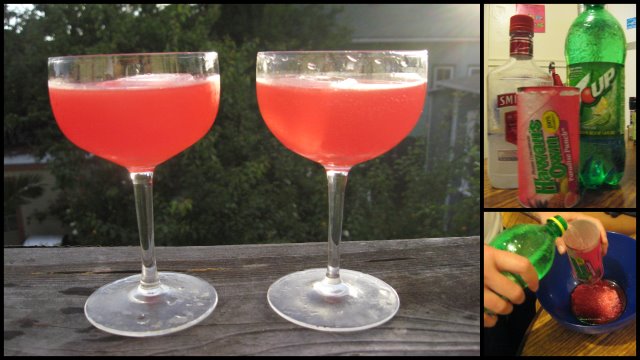 Ingredients:
Frozen fruit punch concentrate
All the Vodka you have on hand
7-Up
Additional Vodka
Ice
Equipment:
Large bowl
Bicycle
Plastic Cups
Serves 2-12 people
Prom Party Punch is like a flashback for your tongue and throat and especially your stomach. You'll feel instantly transported back in time when your hair was probably not as cute as it is now but at the time it made you feel very in the moment and sassy. In this moment you're at a school dance or a party in somebody's basement drinking Spiked Punch.
The most important thing about drinking in high school is that you need some alcohol and you need a mixer. Any alcohol, any mixer. Rum and Orange Juice! Vodka and Dr.Pepper! WHATEVER DUDE.
In that spirit we made Prom Party Punch. Initially we wanted to make Hi-C from a packet but then forgot to get it at Walgreens, and Berkeley Bowl (the grocery store) is for hippies so the only gross punch available was frozen concentrate which we estimate had been chilling in the freezer since the 70s when Berkeley Bowl was a bowling alley and not a food market.
So first you pour the chunk of juice into a bowl. It instructs you to add three can-fulls of water, you should fuck that shit and add two cups of 7-Up and one cup of Vodka. Let's say you only have half a quarter-pint of vodka in your freezer ("for emergencies") and you pour that into the punch — you're going to find that punch packs a little bit too much punch if you know what I mean. That's when it's good to have a bicycle handy and a liquor store only a 3-minute ride away to get more vodka to even out the ratio.
After upping the vodka content of your punch significantly, you may still find you can only consume a few glasses of it without feeling sick to your stomach. That's when it's time to eat the aforementioned cheeseburgers!!!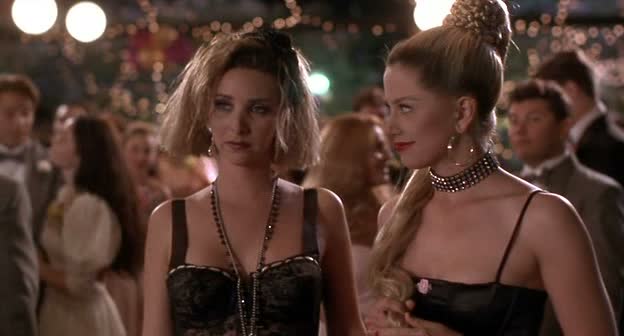 Romy: Oh my God! Remember what a big controversy it was for us to have our picture taken together?
Michele: Yeah, because Danny Weller like, lodged that complaint. Because alphabetically he was supposed to be between us.
Romy: So we said: "OK Danny. If you want to be between us, come to Michele's house on Friday night and we'll be waiting."
Michele: And then he showed up, and we were like: "Danny, it was a joke!"
Romy: And then we turned the sprinklers on him!
[both laugh hysterically]
Michele: Oh my God!
[abruptly stops laughing]
Michele: Didn't he die?
Romy: I think so.
Fat-Free Pudding Parfait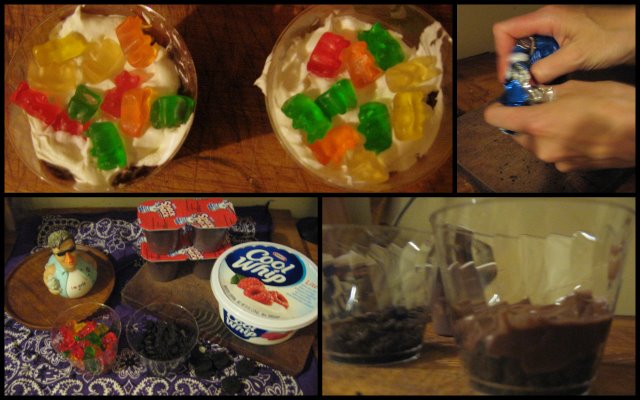 Ingredients
2.5 Chocolate Pudding Snack Pack Cups
Mini Oreo Cookies (one bag)
Cool-Whip
Gummy Bears
Directions
Much like the Prom Party Punch, the Fat-Free Pudding Parfait isn't really very good or fat-free. The main idea is that it's mostly "fat-free" but totally gross and bad for you because everyone in this country has strange ideas about fat which is used as an oppressive patriarchal tool. Actually this item is really good without the gummi bears, but that fit with our theme.
First, take your package of mini-oreos and smash it up in your hand with the wrapper still on. Imagine that your package of mini-oreos is in a backpack and you're driving over it in a tractor but your hand is the tractor. Take a glass or a clear plastic cup and put a layer of oreo cookie crumbs on the bottom. Then put chocolate pudding on top of that. Then put another layer of cookie crumbs over the pudding, then make another layer of pudding! Then put cool whip on top of that. THEN put gummy bears on top of the whipped cream. Then eat them.
The taste you're going for is those parfaits they sell at KFC. Probably would be better with some kind of strawberry situation instead of gummi bears.
++
The cheeseburgers are super good, and you know what else is good? This movie. Every time I see it I'm like, "wow, this is really good."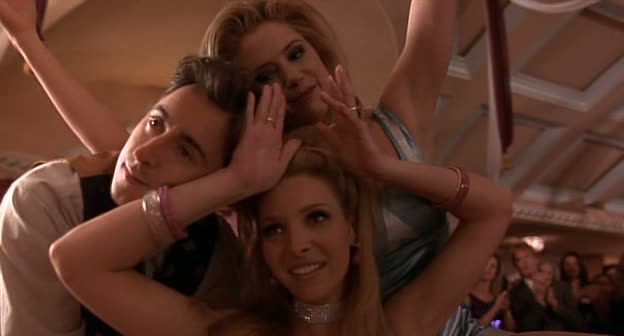 Michele: Hey Romy, remember Mrs. Divitz's class, there was like always a word problem. Like, there's a guy in a rowboat going X miles, and the current is going like, you know, some other miles, and how long does it take him to get to town? It's like, 'Who cares? Who wants to go to town with a guy who drives a rowboat?