According to Autostraddle's reader survey, 53% of you watch streaming TV episodes and movies on Netflix.
That means at least 53% of you are probably raging about Netflix's price hike, which was reported yesterday. From Gawker:
If you're on Netflix's one DVD per month plus streaming plan, your rate will go to $16 from $10; if you currently get two DVDs plus streaming, your rate will go to $20 from $15. Those are Netflix's two most popular plans, getting hiked 60 and 33 percent respectively.
The company is now charging separately for streaming and DVD-by-mail plans, so if you're on the $8 streaming only plan, you're fine, and if you're a Luddite who never streams you'll actually see a price cut, which is how Netflix is able to brag about offering its "lowest prices ever" three times in its announcement of this massive price increase. Neat trick, and perfectly suited to a company that pulls sleazebag moves like hiring fake enthusiastic customers.
Granted, Netflix, unlike almost every other corporation in the universe, has never pissed me off. DVDs are often delivered so fast I often wonder if the Netflix Warehouse (which I can see clearly in my imagination, it's a very lively place) is located in the basement of the elementary school across the street from my apartment.  I think I've lost/damaged at least three DVDs and wasn't held accountable for any of them. They have an unrivaled selection of documentaries. Is that worth $16/month?
So why the price hike? Netflix "explains":
Last November when we launched our $7.99 unlimited streaming plan, DVDs by mail was treated as a $2 add on to our unlimited streaming plan. At the time, we didn't anticipate offering DVD only plans. Since then we have realized that there is still a very large continuing demand for DVDs both from our existing members as well as non-members. Given the long life we think DVDs by mail will have, treating DVDs as a $2 add on to our unlimited streaming plan neither makes great financial sense nor satisfies people who just want DVDs. Creating an unlimited DVDs by mail plan (no streaming) at our lowest price ever, $7.99, does make sense and will ensure a long life for our DVDs by mail offering. 
Right! Thank you for that completely unsatisfactory explanation.
So what's a girl to do? Do we pick between DVDs and streaming, do we suck it up and shell out more cash, or do we not suck it up, still shell out more cash, and then complain about it a lot?
It's hard to give up streaming because conversations like this are always happening:
you: really? the mormons funded prop 8?
them: yessss!!! have you seen 8: the mormon proposition? it's a documentary
you: no, is it on dvd
them: oh! it's on netflix! you can watch it right now
you: i don't have netflix
them: :-(
Conversely, now that Netflix has successfully pillaged the brick-and-mortar video rental industry, it's often your only source of real-live-physical DVDs.
What else is out there? Admittedly I know nothing about "devices" (like phones and teevees) and watch my movies the traditional way — on my laptop! — so I'm interested in your opinions on that topic.
+
The Options
+
Amazon Prime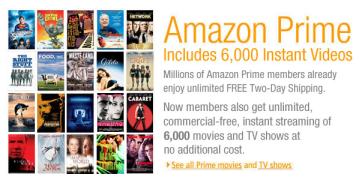 Price: Included in Prime Membership ($79/year, which breaks down to $6.58 a month.)
Selection: 6,000 movies and TV shows are available for free with the Prime Membership. However, "Netflix movies are considerably newer and, quite frankly, more popular movies than those of Amazon Prime."
Pros: If you buy a lot of Amazon stuff, especially large things or things that need to go to lots of different addresses, an Amazon Prime membership is already worth it, movies or no movies. Free 2-3 day shipping is like a miracle of the modern age.
Cons: Selection.
+
Hulu Plus:
Price:$7.99 per month
Selection:  "More than 16,000 episodes from more than 400 current and classic TV shows" and "hundreds of movies including exclusive titles from the Criterion Collection."
Pros: Entire catalogs of shows including many you won't find streaming free on Netflix or Amazon Prime. Highlights include Glee's first season, seven seasons of Grey's Anatomy or Buffy the Vampire Slayer and 53 Arrested Development episodes. Immediate access to shows currently on the air before they come out on DVD.
Cons: You won't find any of your favorite premium cable shows which means no L Word, Queer as Folk, The Wire, Six Feet Under or really anything you'd ever wanna watch, ever. They don't even have My So-Called Life! What the hell.
But regardless — the biggest Con is that even with a Hulu Plus membership, you've STILL gotta sit through ads every five minutes. I support Hulu's choice to include advertising with their free streaming videos — content isn't free, y'all! — but Jesus Christ are their ads irritating. Hulu often crashes my browser and it's maddening that in order to return to where I left off in the aborted episode, I've gotta sit through three rounds of ads.
Also, minuscule movie selection.+
Blockbuster
Price: $11.99 for unlimited DVDS one-at-a-time, $16.99 for two at a time, $19.99 for three. Streaming is not available, you have to rent individual videos for $1.99 each. (link)
Selection: Claims "Many new releases available  28 days before Netflix and Redbox." "Family-friendly" policy means sinners like you might not find everything you're looking for at Blockbuster.
Pros: You can exchange your DVDs in the Blockbuster store and get even new releases for free.
Cons: Could go bankrupt (again) at any moment. Its selection isn't as thorough with respect to independent films and especially LGBT movies — Blockbuster lists 160 titles in its "Gay & Lesbian" section, whereas Netflix lists 624.
iTunes & Amazon Instant Video
On iTunes or Amazon Instant you can buy or rent loads of entertaining teevee and cinema options. On iTunes you can even see new shows the day after the episode airs on the teevee!  On both sites, show episodes generally run about $1.99 each (with a small discount for buying the entire season) and movies can be rented for between $1.99 and $5.99 or purchased for $1.99-$14.99.
Netflix
New Price: $8 Streaming Only, $8 one DVD only, $15 for one DVD plus Streaming or $20 for two DVDs plus streaming. (link)
Selection: 20,000 movies & TV shows streaming online and over 100,000 titles available on DVD.
Pros: They have ALL OF THE MOVIES!!! This is especially important for those who enjoy LGBT films and documentaries, as so many of us do. It also has a fancy algorithm that can read your mind and tell you what movies to watch or something.
Cons: We're mad at them right now.
+
This gigantic rate hike has been heavily criticized, much to nobody's surprise. PC World reports:
Users left nearly 3,000 posts on the Netflix blog as of 6 p.m. Tuesday and around 10,000 comments on the company's Facebook page. Commentors accused Netflix of being greedy and alleged it was trying to "choke more change" out of its customers. Others suggested refreshing the streaming content to justify the price change. Others said they would be leaving Netflix.
It's worth noting that Netflix isn't exactly going under — in 2010, their stock price increased 219%, revenue jumped 29% (to 2.16 billion) and net income went up 39% (to 161 million). They also added 8 million more subscribers. Furthermore, Netflix's Chief Executive Reed Hasting's compensation doubled in 2010 to $5.5 million but that's actually not a big deal, says The L.A Times:
Although $5.5 million is nothing to sneeze at, it also pales in comparison to other chief executives at big media companies.
For example, Time Warner Chief Executive Jeff Bewkes, an outspoken critic of Netflix's business model, had a compensation package worth $26.3 million in 2010. Viacom Chief Executive Philippe Dauman had a 2010 package worth $84.5 million. The compensation package of CBS chief Leslie Moonves was valued at nearly $58 million. Discovery Chief Executive David Zaslav's deal was worth almost $43 million. 
So what do you think? Are you gonna pony up? You have until September 1st to decide!
ETA: Atlantic Wire has a great piece called 7 Reasons Why Netflix's Price Hike is a Bonehead Move. It's interesting because most people I've talked to have said they'll give up the DVD-by-mail, but the Atlantic writer seems to think everyone's gonna give up streaming:
A time might come when it would make sense for Netflix to charge a significant premium for its streaming, but the service has not yet reached that point. Although its streaming library has grown significantly over the past few years, a huge portion of desirable movie and television titles remain unavailable by stream. Using my own Netflix queue as an example, just 3% of my selections are available by stream — and less than one-third of my queue's titles were released in 2010 or later. If Netflix wants customers to pay a lot more for streaming, then it needs the quality of its service to better reflect its cost
As I've mentioned 35 times in this post, I watch a lot of LGBT films, a lot of documentaries and a lot of television series. In fact, I'm 95% positive those are the ONLY genres I ever watch on Netflix streaming — they just don't have a good selection of anything else. But those genres are important enough to me that I'd definitely miss them.