This week on Pretty Little Liars lots of stuff happened, but nothing gay. In some ways that's okay, because so far according to PLL if you're a high school lesbian every day is Meet Hot Girls Day, we can take one week off. If you haven't already clicked away from this page to see if Meet Hot Girls Day is a real thing, I should let you know that since nothing gay happened Riese isn't going to recap this week. Luckily, you still have me! I'll do my best to fill in the gaps for those of you playing at home.
We start with our favorite liars huddled around Emily's awesome new iPad. Weirdly, Emily's chosen to make the screen background Ian's suicide note. Everyone agrees this is pretty morbid and decides not to think about it anymore. Most importantly, everyone is dressed exactly the way you think they should be (just in case you forgot who's who). Emily wore a loose scoop-neck blouse, Aria wore her favorite Lady Gaga costume, Hannah wore high end designer fashion (despite "being poor") and Spencer wore brown. Also Emily matched her iPad to her shirt and Hannah's the only one who cares enough about sustainability to bring her own coffee mug.
Later, during the hours and hours these girls seem to have between school ending and the sun going down, Spencer and her family get all emotional about the dead killer they have to now deal with. In order to do her part for the family, Spencer makes sure to give long pained looks to her sister. Also, she suggests her parents hold a funeral for Ian. Mr. and Ms. Spencer react with disgust. Melissa reacts by looking sadder than I did at Pride when I realized I forgot my rainbow umbrella. I assume she's upset that while her clothing blends in with the couch, Spencer looks like she just finished the makeover episode on America's Next Top Model/High School Detective. Either that or it's the demon baby she's carrying.
Moving right along, Hannah and Caleb have an almost emotional conversation in Hannah's kitchen about ice and dead bodies. The important takeaway from this scene is that Caleb obviously borrowed that shirt from my ex-girlfriend. I'm seriously trying to decide if I should call her up and ask how she got involved with the show.
Either way, just then Hannah's mom busts home from work all upset because, zomg, a teenager didn't pick up her phone. Hannah's mom's all like "I was so worried. I thought you were dead. I've been worried all year you were dead." Apparently Hannah has not failed to pick up her phone once in the last year. Gold star for Hannah. They have an intense mother-daughter family cry moment but I spent the whole time wondering exactly what bank she works in where it's okay to dress like that. That wasn't a joke. I'm serious. Where is the hottie-mom bank and how do I open an account there?
Caleb awkwardly sneaks out the back because family and hugging make him uncomfortable and we switch gears to Aria and Ezra role-playing student and teacher in his office. Oh wait. Aria takes this moment to explain to Ezra about her out of body experience. Except she doesn't actually describe an out of body experience, she describes when everything feels like it's in slow motion. Obviously she didn't have an out of body experience when she got dressed that morning, or else she wouldn't have covered up that adorable top with that bizarre jumper. God, this has not been Aria's week.
I think the skirt alone would have been just fine without that pseudo-suspender strapped jumper dress thing.
I really love how young and fun this shirt is. If you dress it up, you could wear it out to a gay bar. With some jeans it could be causal enough for day-to-day wear or to wear to a women's basketball game. The only place you should not wear this shirt is to your secret older boyfriend/former teacher's office, particularly if he also works with his ex-fiance and your dad. Which is probably why, after Fitzyboy's ex-fiance busts in, the two love birds agree to start telling people about their undying love. This plan makes perfect sense except for the part where one of them has to time travel so Aria's not a minor anymore.
No one changes their outfits for a while, but just to keep things moving I'll let you know that Emily and Spencer both have revealing scenes where the plotline builds dramatically. Spencer gets some mom-love a la Hannah's scene earlier, followed by a text from A saying she has to come clean about going all Dillinger on her sister's ring. This is not remotely surprising because obviously A was going to use that ring against Spencer the moment she pawned it. Why don't the liars see this coming by now? A just wants them to be good girls.
Emily goes to knock-off FedEx and runs into Logan Reed, the guy who delivered the theoretical package from Ian.
Because ABC Family knows we all have the long-term memories of goldfish, there was a quick flashback to remind us who this guy is.
I'd like to make fun of this more, but I actually really needed that flashback to stay on track. Emily asks the guy if they know each other and he's all "Nah, that was totes my twin or something. I have to go do something really important somewhere else." So Emily takes her package home and decides to go Veronica Mars on Ian's suicide note.
Cut to Jason's house where A is about to break in. But wait! Jason busts A! But wait, it's not A, it's just Aria's brother who's been acting all upset all season. Apparently he's the one who's been breaking in to everyone's houses. Jason brings Mike home to Aria because these kids' parents are never home and Jason and Aria have some weird sexual tension.
Wait just a damn minute… is Aria wearing tiger print? I'm not impressed.
I'm grossed out so luckily the scene moves on and it's the next day at school. At this point I'd like to point out it's only 15 minutes into the episode. This is a lot of plot and not very many costume changes so I'm a bit upset.
Luckily, now it's the next day of school so everyone has to have changed their clothing. Hannah runs in to Caleb at the lockers before class and apologizes for her and her mother having feelings. Feelings are really inappropriate. Caleb agrees, and shows off how he doesn't have any by pointing out that the foster care system in the US really sucks. Hannah is mortified because she's never read a newspaper and didn't know that.
The Scooby Gang meets up in some unspecified class and Emily has big news. Ian didn't write his confession/suicide note. A wrote it using clips from the texts she'd sent the girls. Emily figured this all out because she watches Wheel of Fortune. Aria nails it with the cool sleeves on her shirt. Cool sleeves are totally in. Spencer goes majorly A-typical wearing a maxi dress. I'd show you guys some maxi dresses except I've yet to meet someone who wears them in real life. Hannah is basically wearing the outfit I wear every day to work (silky white blouse, long necklace, jeans). I guess Hannah works in a human genetics lab now.
None of this matters though because Emily is wearing A Denim Vest. Vests are the gayest. Guys, it's a denim vest.
Do you realize what this means? Even if they decide to do a complete 180 on Emily's character and we find out she's actually a superficial crazy bitch they can never ever ever un-gay her. Because that is a 100% homogaylesbo denim vest. Victory!
This is so relevant to my interests. I can't really get over it. Either way, after school Emily takes herself and that gay vest back to see the delivery guy and demands answers. He proves less than useful, but he does say that the person who called to hire him had a female voice. Unless Ian does a mean falsetto, that means it totes was not Ian.
Aria and Hannah both stay late at school so Hannah can witness Caleb Having Feelings and Aria can explain to her brother why stealing is not okay. Spencer goes home early to point out to everyone that her sister is still dressed like the couch.
After some amount of time its Time For Ian's Funeral. Hannah asks her mom if she can wear this.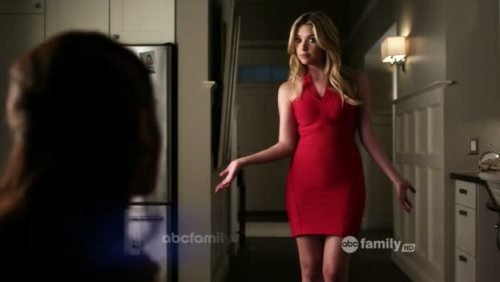 Hannah's mom says no because, well, she's not insane and that dress is wildly inappropriate. So she and the other girls just find even more inappropriate things to wear.
There's actually a huge fashion takeaway in this scene. What not to wear to a funeral. Obviously if someone you're close with passes, you can put on whatever the hell gets you out of bed and out the door. However, when you're at a funeral to support someone, there are a few basic "Fashion Funeral Don'ts"
| | |
| --- | --- |
| | 1. Don't do something dramatic for attention (like wearing a veil.) Today is not about you. |
| | 2. While wearing black, navy or grey is respectful, you do not need to go so far as to add accessories/fishnet and actually look goth. |
| | 3. A funeral is not the time to show off your hot legs. If you do wear a dress, aim for one that at least goes to the knee and wear tights or dark nylons. |
| | 4. Don't wear anything low cut. No one cares about your boobs today. |
Everyone takes the funeral as a great opportunity to act really selfish. Emily gets mad at Spencer for not taking this Ian Suicide Note thing seriously and then talks to that police guy about this. Aria gets pissed that Fitztacular doesn't want to proclaim their true love to her parents, so she chats up old McCreepster Jason. Jason is just thrilled to find out he didn't kill Allison because He Blacked Out and Got a Scary Note. Hannah tricks Caleb's foster mother in to giving Caleb the money for his support payments (using my fave law firm, "Dolce, Gabbana and Leibowitz") and then they make out tent style in her kitchen.
While all this is going on, Spencer is about to own up to Melissa about the ring and apologize for always dressing better than her when Melissa also tries to apologize. Just then a phone rings in Spencer's bag and HOLY SHIT it's Ian's phone. Melissa proclaims that she will never forgive Spencer and also that Spencer better get the hell over the toll her pregnant body is clearly having on the couch.
Then we encounter that police officer paying off the delivery guy and telling Jenna everything was going to be okay. Guys, is it just me or is the cop maybe not on our side? I'm starting to think he's not on our side. Like, he's on the other side or something. Unfortunately I don't care because an entire scene with two B-level characters with one in a uniform doesn't work too well for me.
The whole episode (finally) wrapped up with the mandatory Creepy Scene At Night. This one is cool because we get to see a longer version of that Ian-killing-Allison video projected on a tomb. Turns out Ian didn't kill Allison after all.
Thanks as always to Grace for knowing what's up with the screen caps. I know this week was a little light on the sweet stuff to buy, but that's only because ZOMG next week is A Pretty Little Liars fashion event! I couldn't make this shit up if I tried.