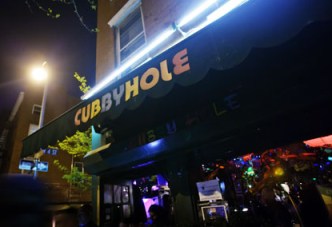 Do you remember the first time you stepped inside a gay bar or club? Of course you do. It was likely equal parts traumatizing, thrilling and sweat inducing. It might have been where you arranged your first 3-D date with an online friend, or where you met the girls who later became your lesbian posse. When gay marriage passed in New York, every queer I know ran to gather and celebrate in the streets outside The Stonewall Inn, site of the eponymous 1969 riots that launched a new era of gay rights activism. Why does so much of our culture take place in or around gay bars? Slate launched a six-part series last week examining the history, competition, implications and future of gay bar culture in our lives.
The piece discusses the relevance of gay bars in our current lives, when we don't necessarily need to leave the house to get our daily dose of gay interaction and community, thanks to the internet and sites like Autostraddle and AfterEllen. Gay guys have Grindr, the iPhone app that's essentially gay GPS for random hookups. Meetup offers countless opportunities to connect with gays right in your city – looking for a group of lezzies to see the final Harry Potter with Friday night? Done.
Our need for community can be met by interaction with feeds and comment streams, and our desire for niche information can be satisfied by RSS readers and email newsletters. If I can do all this in the comfort of my own home while drinking at liquor-store prices and munching on my favorite foods (instead of pretzels, the satanic snack served by every saloon in America—including gay bars), why on earth would I go to a bar?
While the number of dedicated gay bars have mostly decreased in the 4 cities (San Francisco, Manhattan, Atlanta, Seattle + Iowa) documented by Gayellow Pages from their peak in the mid-70s, lesbian nightlife has reinvented itself with party promoters such as LA's PYT and New York's Maggie C taking over venues and branding their own events, like Stiletto and Truck Stop.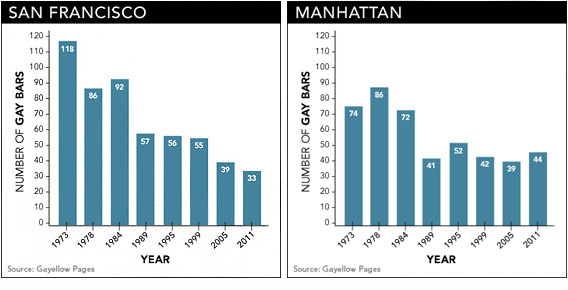 Of course, these statistics need to be broken down into lesbian bars vs. boy/mixed bars:
Bars catering to lesbians face even greater business challenges, which is why there are so few of them. Many "gay bars," especially outside the major urban centers, attract both male and female customers, but in big cities, far more bars cater to gay male patrons than to lesbians. According to the bar listings in the 2011-12 edition of the Gayellow Pages San Francisco has one lesbian bar, 24 indicating a mostly gay male clientele, and seven drawing both gay men and lesbians; Atlanta has two lesbian bars, 12 for gay men, and eight mixed; Manhattan has two lesbian, 28 for men, and 13 mixed; and Seattle has one lesbian, four for gay men, and six mixed.

A handful of gay writers (Alison Bechdel, Dan Savage, Susie Bright, Pam Spaulding) share their virgin gay bar experiences which inspired our very own trip down memory lane.
Jess, Senior Entertainment Editor:
So, it was 2002 and I was uncomfortably out to just a few people and still in the phase of doing all things related to gay on my own. I had just finished watching Chasing Amy for the 15th time and decided that I had to go to Meow Mix that night to see if Guinevere Turner was still introducing the singers on stage.
Anyway, I get there and was disappointed to see that while there was definitely a gay/rocker vibe, there were also A TON of straight people milling around in baggy jeans and over-sized t-shirts. This is a lesbian bar, right? Meow Mix. What's up with the abundance of  hetero couples milling around? So, I remember chatting with a few people and leaving mostly disappointed by the overall lack of gayness involved. I would later go to XL, a gay boy club in Chelsea to see Jai Rodriguez (Angel in RENT) perform his cabaret show and that did NOT disappoint. It was basically Babylon come to life and it was everything I wanted it to be.
Laneia, Executive Editor:
I'd been out for a few months and was living in a city where I knew absolutely no one — not even myself. After searching for lesbian bars in the area, I found the one nearest my house and concluded that I'd just go, alone, which is totally out of character.
Going out to bars or clubs or really anywhere at all was something that I didn't have much experience with, due to marriage and children, so I had no idea which night of the week was best, what time I should get there or even what I was supposed to wear.
I'm pretty sure I showed up at 9:00 p.m., wearing a brown sweater (you guys wtf) and the most awkward shoes I owned. I sat alone at a table for what felt like at least six years, drinking cheap beer and texting people, until other humans finally started to trickle in. Everyone was older than me and everyone was with another someone, obviously. The place was filling up and I decided I needed to go home before I burst into tears, but then a group of cute queer girls — who looked like me! (albeit better dressed) — came to my table and asked if the extra seats were taken. They were all very adorable and normal and I ended up dancing with the flirty femme who was there, I believe, to celebrate her break-up and the shorter half of the cute couple who would later invite me to a few barbecues at their sweet little house where there was a tiny puppy named Turtle. One time we even went to Dairy Queen for ice cream.
So see? Even the most hellaciously humiliating and uncomfortable nights can result in cute girls, puppies, and frozen treats.
Rachel, Senior News Editor:
The first time I ever went to a gay bar I had fairly recently turned 21, and I went to the Friday evening 'ladies night' at a mediocre regular bar. I was going with my friend and her new girlfriend, who I hadn't really met before this outing and the whole night was partially meant for me to be introduced to her. The club we went to has since become fixed in my head as a sort of depressing place, as it has been consistently only kind of okay every time I've been there, but at the time it seemed like it could maybe be exciting? I think the fantasy (for all of us) was that we would enter this giant room full of cool, fun, cute gay girls and think to ourselves "Wow, I had no idea there were so many of us in this city, this is so great, these are my people! I LOVE BEING GAY."
In actuality it was a pretty small crowd, even though it was like 11:00 p.m. (which is lateish in Boston). Everyone seemed to have come with a group of friends, and there was no real 'mingling.' My friend and her girlfriend were completely obsessed with each other and didn't pay much attention to me, so I got an overpriced drink and drank it too fast while they ignored me and then wished I hadn't finished it so soon because I didn't have enough money for another one. On top of all this, the new girlfriend was Israeli, and in the dark bar with loud music and both of them were pretty soft-spoken I could not for the life of me parse what her name was. It got to the point where I had reached the limit of times you can ask someone to repeat something without being weird, so I had to give up and instead spent much of the night texting my other Israeli friend, telling her my best guesses for what I had heard and getting her suggestions for what this chick's name could possibly be.
There was a pretty sizable contingent of middle-aged women in a wide variety of hats on the dance floor, and I remember being irrationally nervous that I would run into one of my mom's friends somehow. Moral of the story, my friend and her girlfriend moved to Israel together like five months later and I eventually found better gay bars in Boston.
Riese, Editor-in-Chief:
This is actually hard to remember! I oddly went to many gay bars way before realizing I was gay — when I was 18/19 living in NYC I went to heaps of gayboy bars with my gayboy friends. I also brunched and so forth at Ann Arbor, Michigan's \aut\ bar, where my Mom has been hanging out since 1995, but never at night.
During Thanksgiving 2001 (I was 20) in Michigan, when my boyfriend was out of town, my lesbian roommate and her crew (mostly old friends of ours) corralled me into going to  Stilleto, a lez-bar outside of Detroit. I was sort of defensively uncomfortable. I think back then when something turned me on and I didn't want it to, it manifested itself as disgust instead, which is what I told myself I was feeling as I gaped at the Drag King Contest from a booth and this one girl strutting around to D'Angelo. I remember feeling weird and I remember two women asking me if I had a girlfriend (I said yes, I didn't want to be the "no, A BOYFRIEND" girl) and my friends dancing with each other while I leaned against the wall, pretending to be bored and out of place.
The first time I went to a gay bar as a gay person was probs Starlette on the last day of Pride 2005. I went with my bi-friend Chase, who I'd met on Craigslist, and who I'd keep going out with all summer, along with other girls who liked girls and also a lot of girls who mostly liked drugs, which was another thing that happened that summer.
But that night we were both really scared and new. We stood up against the wall facing the bar, not talking to each other or to anyone else. I'm 95% sure I had a lot of product in my hair and was wearing an outfit I probably copied from Shane.
I remember Chase saying, "oh my god, it's just like The L Word" because oh my fucking god every girl in that place was so beautiful/stylish and my age. I'd never seen anything like it. But also, it wasn't like Stiletto where strangers would actually approach you, everyone was very intimidating and busy. We didn't even go in back, which I'd later learn was where the dancing and fun happened. We stood there for like an hour not talking to anyone.
Actually I just checked my diary (yes I keep records of everything that's ever happened ever) to see if I could remember anything else about that night and it turns out I'm wrong, actually. My first gay bar as a gay person was like a month earlier; Nowhere, which is in the East Village and had a girl's night on Mondays. I went there straight from work to meet a girl I'd talked to on nerve.com who was super cute. There were maybe 10 people there. Eventually we went back to my apartment.  The bar itself was unremarkable.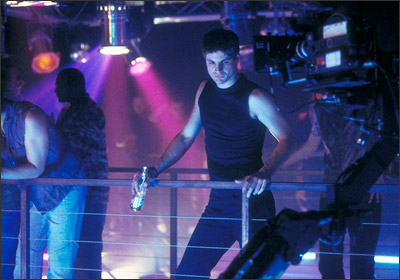 Tell us your first gay bar experience! Did you stand in the corner, hook up in the bathroom or leave disappointed by all the straight people?