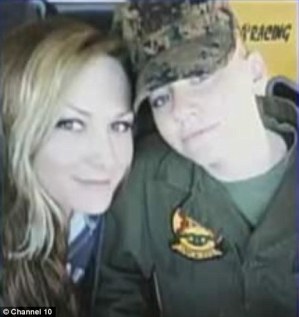 For a lesbian Marine who wants to marry her girlfriend, options are pretty limited, given that same-sex marriage isn't federally recognized and they still aren't even allowed to be honest about their relationship at their place of work. So when Marine Cpl. Ashley Vice decided she wanted to marry her girlfriend and live off-base with her, but didn't have the money, she thought of another option. Vice talked with Marine Jeremiah Griffin, and they agreed to marry legally so that Vice could take the $1,200 monthly stipend awarded to heterosexual married Marines and use it to live away from the base with her girlfriend, Jaime Murphy.
This arrangement seems to have worked out fine for a year and a half, at which point Murphy also legally married a male Marine, Joseph Garner.
It's unclear whether an investigation was related to the second marriage or not, but Vice began to be questioned about her living arrangements by the Marine Corps – she was married and living off-base, but with someone besides the person she was legally married to, and who was in fact now married to someone else.
"I honestly didn't even try to hide it," [Vice] said. "I just said this is what's going on. They asked me who Jaime is … I told them." …"There's no conspiracy here," Murphy told KGTV. "There's no trying to steal from anybody. We just wanted to be together and she wanted to serve her country."
The charges now levied against the three marines (Vice, Griffin, and Garner – Murphy is a civilian) include conspiracy, making false official statements, fraud and adultery; they are accused of illegally making claim to about $75,000. They will face at least a year of military prison if convicted.
The Marine Corps says that these women's sexual orientations have nothing to do with the punishment for their crime – "Regardless of sexual preference, we will hold all Marines accountable to the same standards," says 1st Lt. Maureen Dooley, Marine spokeswoman for Camp Pendleton.
But of course, the Marines aren't accountable to the same standards when it comes to sexual orientation. Even if a DADT repeal were in full effect, which it's not, the fact that DOMA's still in effect means that gay Marines still wouldn't be able to access this fairly enormous stipend to live with their partners. That doesn't mean that Vice and Murphy's system was necessarily the appropriate response, but not even the Marine Corps administration seems like they're trying to deny that there was a real inequality in place that Vice was responding to. Another interesting point – although coverage of this story has been sparse, so far no one has mentioned Vice being discharged under DADT. All three Marines face the possibility of a dishonorable discharge, reduction of rank and forfeiture of pay, but that seems to only be as a result of this particular action.
If nothing else, it raises more questions about what  a post-DADT world will look like. A repeal would mandate that both asking and telling be allowed without repercussions, but does that also imply the creation of an infrastructure that would give couples like Vice and Murphy a similar level of support from the military as straight couples? If so, how far can that support system really go before it comes up against the lack thereof in the civilian world – like the fact that even outside the military, gay couples are denied the same social and financial benefits as married couples? It's a confusing situation to be sure, and it's likely that any answers will be slow in coming. While some originally reported that a DADT repeal would be in effect by midsummer, that doesn't quite seem to have happened yet, and while progress is being made on DOMA, it's anyone's guess as to when that will really change. For now, all we know are that three Marines, one civilian, and the Marine Corps' budget are the worse for it.