Intern Grace's Team Pick:
The original "Blue Crush" premiered in 2002. It's this awesome/terrible movie about three girls who are good at a) surfing, b) wearing very little clothing and c) being extremely fit. The most important thing is technically the surfing, which is pretty incredible and shot beautifully, but the plot and the dialogue and generally the things that make a movie watchable are simply not there, rendering it horrifyingly bad while also disturbingly good.
The girls are badasses, as we have pointed out, and that's largely why the movie was successful. Also, breasts were a thing that people liked about it, I am told.
Here:
OK PREPARE YOURSELF: There is a sequel. It's ok, I don't know why either. You cannot fathom the majesty of "Blue Crush 2" without seeing it. It circles around from "bad" to "good" and then back to "bad" before landing at "upsettingly entertaining." You guys, they literally do a road trip montage to "Life Is a Highway." At one point, someone actually says, "The love of the ocean brings different spirits together." What does that even mean I don't even. I am accruing library fines on this movie as we speak. Here is the trailer:
I'm glad Hollywood is investing in projects that really challenge audiences and bring something new to the table, you know?
If the stellar writing and acting aren't enough to draw you in, this is also relevant to your interests because it features presumably heterosexual girls doing heterosexual things with amazing/hysterical/overt subtext. I usually hate shit like that, but it's just so bad. I can't even.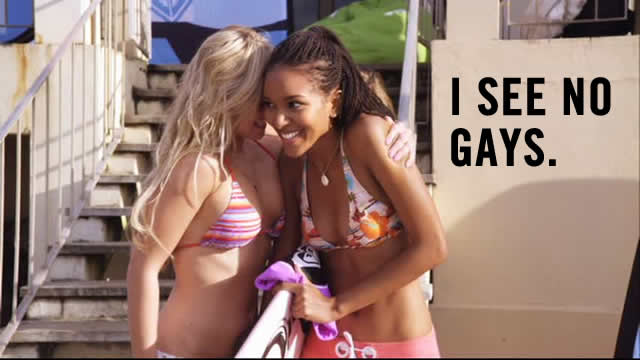 Also, breasts:
Also also, there is a heavily suggested polyamory situation occurring:
There was surfing as well. There are probably enough lesbian moments in it to support at least one Tumblr, though. That is how you know you have found movie greatness.
Have you ever seen "Surf Nazis Must Die"? Because that is another quality cinematic experience.