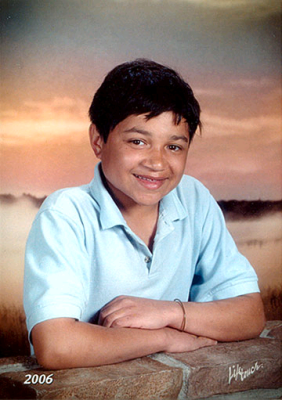 This week, three years after then-14-year-old Brandon McInerney shot his gay classmate Larry King, McInerney's trial will begin in Los Angeles.
Both were students at E.O. Green Jr. High School, where McInerney walked into English class with a .22-caliber handgun in his backpack and shot and killed King, who was 15. McInerney claims he was motivated by King's alleged "sexual advances."
McInerney is being tried as an adult and is charged with premeditated murder with enhancements of use of a firearm and a hate crime. He faces 53 years to life in prison.
The defense will push for a voluntary manslaughter conviction which would prevent a life sentence and could lessen the sentence by 30 years. They plan to argue that, at 14, McInerney did not have the necessary critical-thinking abilities to handle King's repeated sexual advances and was incapable of understanding the consequences of his own actions.
For a veritable treatise on Larry King's "repeated sexual advances," you can consult Ramin Setoodeh's fine piece of investigative journalism, "Young, Gay, and Murdered," which was written shortly after the murder occurred.
As usual, Setoodeh fucked this one up big time, painting King as an obnoxious, aggressive, and confused little boy who essentially brought this upon himself by wearing pink and glitter to school. With the help of a few throwaway disclaimers—"They're not blaming Larry for his own death—as if anything could justify his murder" —Setoodeh spends the majority of the article laying out exactly why King deserved his fate. This was, you should know, all most of mainstream America ever heard or will hear about this case.
Besides being offensive at best, the piece is problematic in that it tells a story that anti-gays have been dying to hear: an abused child grows up to resent his adoptive parents, acts as a distraction in school by acting effeminately, and then preys on other boys in his class. This isn't to say that Setoodeh should be censored, but as the Box Turtle Bulletin points out, "If there were any residents of Oxnard that didn't view Larry as a prancing mincing menace intent on wreaking havoc on all around him, Setoodeh didn't seem to find them." 
It isn't the first time Setoodeh has catered to homophobia by insisting on perpetuating stereotypes. If this were just about his own self-loathing it would be one thing, but his reach is too wide to be ignored. As we said when Setoodeh was under fire for the legendary Gay Actors Can't Play Straight Characters story:
Setoodeh's work for Newsweek is so covertly anti-gay that it's exactly the kind of thing you could imagine reading if you were say, your Mom, or even yourself ten years ago, and you can imagine thinking (though you'd smack your enlightened head over it now), "oh yeah, good point." Because it's not THAT over-the-top. It's packaged neatly inside of Setoodeh's own homosexuality and his belief, inherent in his prose, that he's raising "important issues" rather than exhuming ancient, pervasive, damaging stereotypes we ought to be actively "sweeping under the rug."
Because ultimately McInerney's defense is basically a variation on "gay panic" — a defense that failed to acquit Jonathan Schmitz when he murdered his gay friend for confessing his crush on The Jenny Jones Show and failed to acquit Matthew Shepard's attackers and failed to acquit Joseph Mitchell Parsons, a.k.a "The Rainbow Killer" in 1987. But it's complicated. From Pride and Prejudice: The Homosexual Panic Defense:
Although the Schmitz case is an infamous example of the HPD's role in reducing culpability for anti-gay violence, the case is not unique. To the contrary, a troubling pattern has emerged from cases involving the HPD; from the inconsistent and inaccurate manner with which attorneys assert the defense, to the prejudices attorneys and judges explicitly rely on to decide whether to employ the defense, to the egregious violence that juries excuse when they are exposed to the defense, it is clear that when a judge allows a defendant to use the HPD, she allows that defendant to blame the victim, to solicit courtroom actors' anti-gay biases, and to further institutionalize in the legal system our society's prejudice against gays.
The outcome of this case may very well set a serious legal precedent — will the defendant's age change how we view the "gay panic" defense ? (Murder trials have been moving away from it for some time now)
Because minds are harder to change than laws, often the courts are to be the most the most straightforward paths to progress. As prosecutors seek justice for Larry King, two other LGBT bullying cases are also making their way through the legal system.
The Tehachapi Unified School District of Southern California recently reached a settlement with the U.S. Departments of Justice and Education that will require them to enact new policies to combat gender- and sexuality-based harassment. The school district was found to have violated civil rights law by "failing to stop the persistent bullying of Seth Walsh, a 13-year-old gay middle school student who committed suicide."
Meanwhile in New York, a mother is suing the city and the school district for ignoring her complaints that her son, who committed suicide in March of 2010, was being bullied — and we're hoping for similar results to what the Walshes received in Tehachapi.
No trial will change the fact that Larry King was murdered. What can change is our attitude towards hateful crimes. Will we accept excuses—whether they come from Ramin Setoodeh or defense attorneys— for this kind of behavior? Or will we look towards something bigger for an explanation? What will it take for us to accept that we live in a culture of homophobia that allows hate to fester until it becomes a tragedy?