Feature illustration by Intern Raquel
---
When I was 8-years-old, I got an American Girl doll (Felicity — I wanted to be a horse girl) and a Dallas Stars hockey jersey for Christmas. I climbed trees in hot pink dresses and beat my brothers at spitting competitions on the way to my ballet class. I've never been good at either/or questions, and I never got into fashion because I never saw myself in it. High glam doesn't attract me, and everything I understood as womenswear further convinced me I shouldn't bother. I admire menswear, but I don't click with the preppy options held up as the kingly ideal of menswear for women. I don't see much gyné in most fashion marketed as androgynous. I've never put much thought into having a style because it seemed so much easier to just buy Target pocket v-necks in every color and be done with it.
But, to my eternal dismay, Target discontinued the classic pocket v. It's time for a change. This year, I want to lean in to the middle space and fuck with masculinity and femininity to create a style that lets me wear my heart on my literal sleeves. It's not just about fashion, it's about interrogating gender and its expression and using my wardrobe as one mechanism of communicating that to the world. It's about being comfortable on various levels. I want to celebrate the femme/butch history that defines lesbianism for so many women in our community without feeling like my own queer family expects me to perform gender in a particular way. I feel like a woman enough of the time, but I don't connect with so many of the things womanhood is "supposed" to mean. I've never felt as right in the world as I did the night I spilled gold glitter eye makeup on my necktie. I want to be that alive all the time.
And because I know so many of y'all are dancing (or wallflowering) with me in that in-between space, and because this is so much more about what I want to learn than what I know, I thought we should do this together. Today, we start with makeup.
In middle school when my mom started letting me wear makeup, I went hard.
Once I (mostly) grew out of the blue eye shadow phase, I opted for the most neutral color palate possible – light powder, light blush, brown liner and mascara, pink lip. These days, I'm intrigued by the ways that makeup can be both feminizing and masculinizing, often at the same time. As I started working on this project, I realized that intrigue has been there for a long time.
I came of age to a soundtrack of boys in eyeliner singing about reckless love and wrist cutting. I swooned to see men wearing makeup, decorating themselves, operating in space that I had learned was necessarily female. They were basically recycling Bowie, but they looked revolutionary to me.
I still find men in makeup intriguing and strikingly beautiful, and male femininity is one of my most constant style inspirations. Mike Hadreas, pseudonym Perfume Genius, is my number one icon these days. He speaks beautifully about the ways he dances with gender in the face of a culture that wants to crush him, and if you haven't seen the music video for "Queen," you really must. His signature makeup look is a bare face with a strong lip. It's so simple even I can replicate it.
It doesn't hurt that Hadreas's eyebrow hairs were placed on his face one by one by angels. The brow is having a new heyday, y'all, and it is a beautiful thing. I have a very clear memory of my step-sister telling me my eyebrows made me look like my dad — "You think that's a good thing now, but one day you won't." Ever since, I have intermittently and half-heartedly kept them plucked so I wouldn't "look like a boy." Recently, I decided to stop plucking them entirely and just see what happened. I'll admit, it's been a little gnarly so far. I'll resume maintenance soon to get rid of the hairs that are growing in the actual middle of nowhere. But in the meantime I've been testing out eyebrow makeup and having a big ol' time. My current weapon of choice is the Perfect Brow Pencil by Anastasia Beverly Hills in dark brown. It's easy to apply, lasts all day and night, and can be applied as lightly or as heavily as I'm in the mood for. I have freed myself from the tyrannical shackles of mascara, and these days my makeup look these days relies on brow and lip. There is so much to explore with those two elements, and they're extremely versatile. And I like that they offer the opportunity to both surprise and keep it low key. Neutral lip colors and alt colors like purples have been really appealing to me lately, because they put a twist on a typically feminine element and create space to play.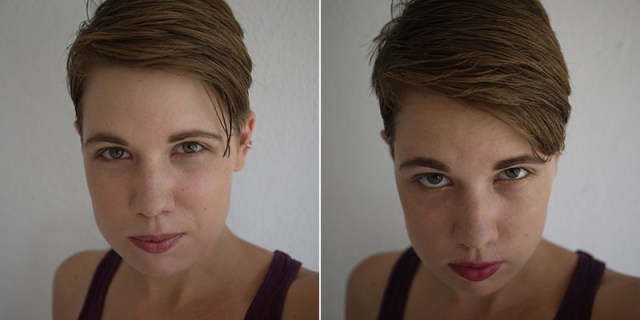 The look on the left has the aforementioned brow pencil, plus Clinique lipstick in Glow Bronze. The look on the right — which I shall call "Sparkling Misandry" — swaps Glow Bronze for Clinique's A Different Grape, which I once got in a free gift and it changed my life, and adds Maybelline Color Tattoo eye shadow in Wild Gold applied as a lower liner using a thin, slanted eye shadow brush. Instead of the pencil, I upped the ante with Anastasia's DIPBROW Pomade in soft brown. I coughed up the money for this pomade when I asked three people in a row what they used and that was their answer. It's a little pricy but a little goes a long way. In four months I've used maybe a quarter of the pot. In both looks, I'm wearing Clinique Almost Powder in light all over and Clinique Airbrush Concealer in medium around my eyes. A quick tip for getting a slightly stronger overall look without having to use liquid foundation — apply sunscreen to your face before your powder. Better coverage, less cancer! I also sometimes use Garnier's Miracle Skin Perfecter BB Cream for extra coverage. Clinique's products are great for skin and the company doesn't test on animals. They're pricier than drugstore products but not as expensive as most department store brands, plus their makeup folks are always super nice. They should put me in an ad, probably.
Androgyny is having a resurgence in the mainstream, so there is plenty of inspiration to be found. My heart stopped when I saw Taylor Swift on the cover of Wonderland and Ellen Page on the cover of OUT last year:
And we've got ladies like Andreja Pejic, Coco Layne and FKA Twigs setting the world and our hearts on fire with their brows and general style situation. Bolder lip colors like blue, strong cheekbones and even colored eye brows are all trends on the rise. There are a million ways to interpret and express femininity, masculinity, and everything in between through makeup — and I have a hunch that most of them haven't even been thought of yet!
So tell me, my beautiful, handsome and remarkable friends: What do you put on your faces? What products and application techniques make your heart sing? Let's decorate together.