Feature Image via shutterstock
---
Something truly wonderful is happening.
Cosmetic companies are expanding their lipstick colors beyond the standard red-orange-pink-purple-burgundy spectrum and into the land of black, yellow, green and blue lipstick. Lauren Thurman-King discussed this phenomenon at The Style Con and credits the ongoing '90s/early '00s revival and the popularity of unconventional beauty on Instagram:
"The lipstick world is intense right now. There's a growing demand for more interesting lip products as people battle it out on Instagram to make the most bizarre combinations by layering MAC paint pots, loose pigments, eye and lip liners (using anything over MAC lip liner in Nightmoth will supposedly look amazing), and uniquely-hued lipsticks from indie brands like Melt Cosmetics which continue to sell out and force you to tough it out until the next restock. Yeah, you'll have to wait a few months for that grey lipstick."
The industry is finally recognizing that a lot of people want to have "unnatural" lip colors and will no longer settle for putzing around with eyeliner and lip balm. Blue lipstick in particular is having a Moment, with a variety of mass and prestige brands featuring blue lipsticks at every shade, texture and price point.
Blue is a great dramatic color but this is definitely not for lipstick newbies. Before trying unconventional lip colors, make sure your application skills are solid, exfoliate your lips thoroughly (I use my regular facial scrub but you can also make your own scrub with olive oil/honey/sugar/etc), moisturize with a good balm and keep an anti-feathering pencil handy. I also like to use Bite Beauty Lush Lip Wipes to remove stubborn lip color or to plump and prep my pout.
I've gathered some different blue lipcolors that look positively bewitching against autumn leaves.
---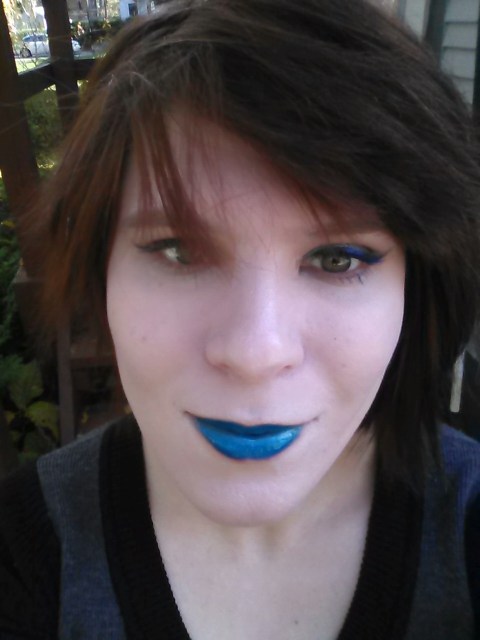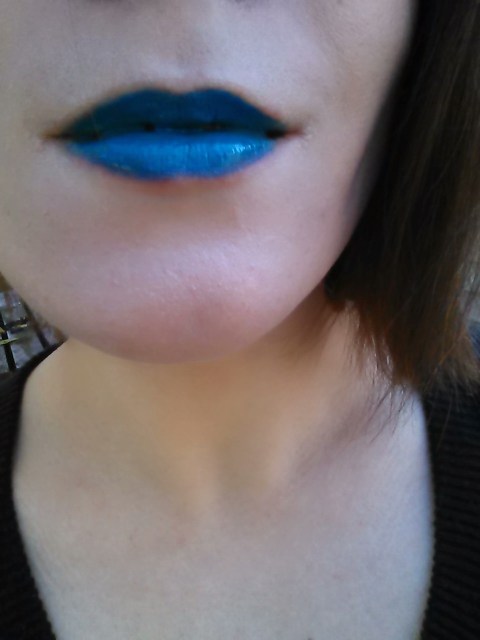 I discovered this color thanks to Contributing Editor Briana after a walk through our neighborhood to a local beauty supply store. Colorwise, Aruba Blue reminds me of a slightly darker OCC Lip Tar in RX, only cheaper and with a nice applicator for convenient use. Aruba Blue is bright as fuck with a slick glossy finish that dries down slightly after a few hours. The wear is decent, and is improved by my anti-feathering pencil or any other lip liner. This is an amazing product, at a great price. If you like bright blues and shiny lip products, you'll enjoy this.
---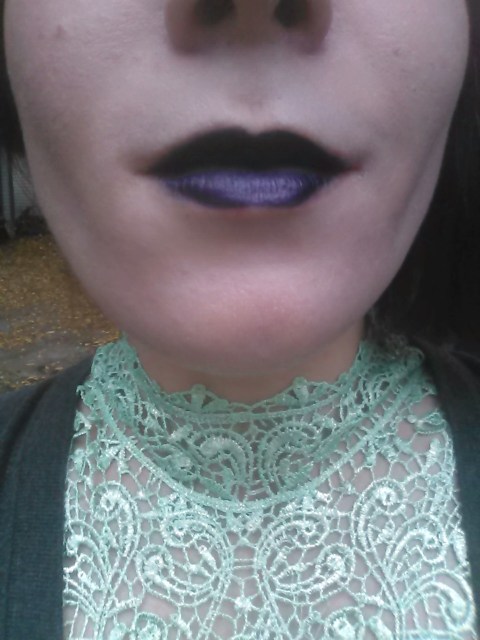 In order to explain Poe, a dark sparkly navy lipstick, I need to talk about my years of watching America's Next Top Model marathons.
You know the girl that started out the competition who had the judges excited because she had "potential"/"a unique look" and just fell apart a few episodes in? That's how I feel about Poe. Poe is part of Kat Von D's expansion of the Studded Kiss lipstick collection. It's definitely the most unique lipstick shade you can currently find at Sephora and it looks absolutely gorgeous in the bullet.
Once you try to swatch or apply it, everything changes.
Contrary to the blurb on the Sephora website, it does not have "one-swipe payoff." It swatches terribly, and it is an absolutely finicky pain in the ass to apply. OCC Lip Tars are more user-friendly than this lipstick. This color doesn't even come close to the promise of "10-hour wear." I've had the most success layering this on top of a black lipliner but this lipstick has too many issues to warrant the $21 price tag. What this product needs is a reformulation and a Come To Jesus(TM) talk from Tyra.
I will credit Kat for naming a lipstick after one of her cats. That's pretty friggin' adorable.
---
NYX Cosmetics has quickly become one of my favorite drugstore beauty brands for the quality and quantity of their products. NYX is the current mass leader in developing and marketing unconventional lipsticks, with their Macaron Lippies collection this summer, and their new Wicked Lippies collection for fall. The Wicked Lippies are very sparkly, and offer colors from bright Seventies teal to shimmery black.
Betrayal is definitely more purple than blue. Oops. It does look more blue in natural light. The Wicked Lippies are very slippery, and Betrayal smears badly. This shade also stained my lips and has some issues with streaky application.
Sinful is a sparkly cobalt/cerulean didn't smear as much or stain my lips. This shade also applied more evenly. Both take a few swipes to reach full opacity, but with less fidgeting than with the Kat Von D lipstick.
Overall, I'd prefer if these wore better but for six bucks a pop, I'll gladly take the extra time to blot and use a lip brush.
---
Obsessive-Compulsive Cosmetics Lip Tars in Vain and Technopagan
These. Colors. Are. Amazing.
Both are part of OCC's "Unknown Pleasures" Fall/Winter collection. Lip Tars are trickier to work with than conventional lipsticks or glosses. I highly recommend using a coordinating eyeliner to line your lips and starting with a small amount of color, as too much product can pill on your lips which is No Fun. Technopagan and Vain are the most unconventional shades in the Unknown Pleasures collection and are also the best in my nowhere-near-humble-opinion. Vain is a satin matte blue/green lip tar and Technopagan is described on the website as "Blackened Purple with Blue Pearl." In real life, Technopagan reads more blue, but a lot depends on skin tone and lighting. Technopagan is a little thicker than Vain (probably due to the glitter) and the fine glitter gives the color a slight holographic effect. I wore Technopagan for GR's Autostraddle Brunch Day and while it did fade over the 3 hour meal, it didn't smear after eating a massive vegetarian burrito.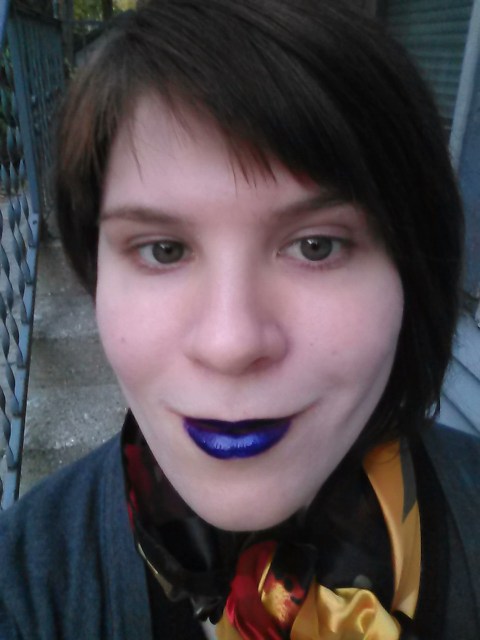 Vain isn't glittery, but the color shifts and it can read as more bluish or greenish depending on the lighting.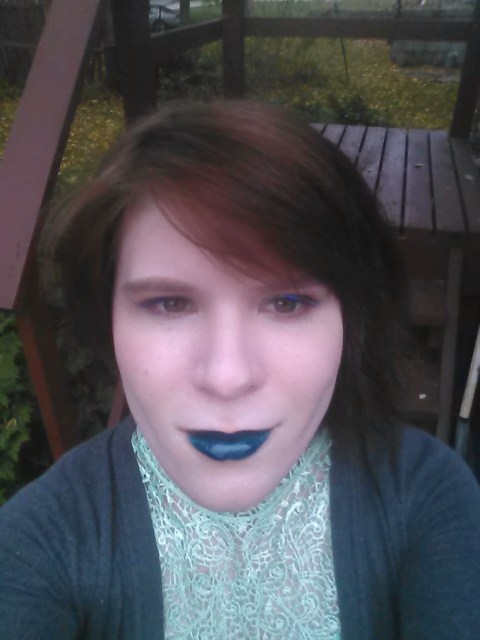 I'm not usually fan of teal, but Vain won me over because it's totally the color that Godzilla would wear, if Godzilla was a queer femme. (Godzilla is totally a queer femme).
BUT THAT'S NOT ALL FOLKS.
Lip Tars were developed by professional makeup artists and are meant to be mixed together. What happens when you mix Technopagan and Vain together?
You get the most amazing dark royal blue/navy shade with just the slightest hint of shimmer in the history of ever, which lasted through several beers and an order of cheese sticks at a local brewery. While these are not the cheapest lipcolors, these were my favorites due to their pigmentation and versatility. If you're familiar with OCC products and you have the dough, get these. If you're not familiar with the brand, try one of their starter kits first. I'd also recommend getting a small brush like the Sephora detail Eyeliner Brush #92 because the mini ones that come with lip tars are a pain to work with. Also, check out this great tutorial for preventing Lip Tar from smearing.
One warning: These are very difficult to remove. I'd recommend using a creamy cleanser, coconut oil and a face scrub to remove these lip tars.
---
Notes on Queer Folks, Bunnies, and Other Important Issues
So, how do these purveyors of blue lipstick stack up when it comes to animal testing, queer inclusiveness, and general Not Being Too Much Of A Jerk In Our Capitalist Economy?
Ruby Kisses: I couldn't find any information on animal testing policies. This brand does have a very nice range of foundation shades for darker skin tones which is rad.
Kat Von D: Does not test products on animals. Products are not vegan. Last year Kat threw a shit fit after Sephora publicly apologized and pulled a lipstick off shelves because it used ableist slurs. Another one of the Studded Kiss Lipsticks is called "Underage Red." Kat, please stop being terrible at naming your products. Maybe just stick to naming stuff after your cats?
NYX Cosmetics: Does not conduct animal testing, and won an award from PETA after refusing to sell their products in China (which requires all cosmetics to be tested on animals). Not vegan (most of their lip products use beeswax and carmine). NYX also sponsored RuPaul's Drag Race for several seasons. I don't know if this really warrants any praise, considering the show's history of transmisogyny.
OCC: The abbreviation stands for "Obsessive Compulsive Cosmetics." To quote Robyn at Brightest Bulb in the Box, "The decision to name the company after a severe anxiety disorder for which over 50% of diagnosed individuals experience suicidal ideation is troubling, to put it mildly." Their products are vegan and OCC does not test products on animals. Additionally, the company sold a limited edition shade to assist one of their makeup artists in funding her transition.
---
Trying new colors is the best way to get out of a makeup rut. Have fun trying blue (and green and yellow and black) lipstick, and feel free to add photos in the comments!