GLAAD AND NEWSWEEK:
God, it's just so satisfying when Mom agrees with you, isn't it? This statement from GLAAD President Jarrett Barrios, agreeing with sentiments raised by Kirsten Chenoweth (first reported on Autostraddle.com), Ryan Murphy and many others:
"Whether he intended it to or not, Ramin Setoodeh's article in Newsweek sends a false and damaging message about gay actors by endorsing the idea that there are limits to the roles they are able to play.
If Setoodeh wanted to start a discussion about the work of gay performers, he undermined his own premise by affirming stereotype after stereotype, such as gay actors being 'insincere' or unbelievable when playing romantic leads, and dismissing or disregarding the work of actors like Neil Patrick Harris, Cheyenne Jackson, Cherry Jones, Wanda Sykes, Jonathan Groff and Alan Cumming, among others.
Lesbian, gay, bisexual and transgender actors can play a wide variety of diverse roles and Setoodeh's perspective on this issue reflects his own discomfort that he attempts to project onto the audience by indicting Sean Hayes instead of examining his own inability to embrace gay actors in straight roles.
Since the article's publication, Setoodeh has attempted to reframe his opinion piece as an analysis of the lack of gay men in leading roles, however, he continues to posit that gay male actors are not believable. In his May 11th interview with Joy Behar, Setoodeh claims about Neil Patrick Harris' television role: 'He's not really a romantic lead where women are actually supposed to believe him as a heterosexual character.'
Whatever Setoodeh's intentions or beliefs, Newsweek is ultimately responsible for having published this deeply problematic essay and consciously or not, promoting and encouraging Setoodeh's discomfort.
GLAAD has been in dialogue with Newsweek to provide space for views on the subject that expand their readers' understanding of this issue past the harmful attitudes of writers like Setoodeh, whose perspective is used to pressure gay actors to stay closeted.
GLAAD also joins Glee creator Ryan Murphy in urging Newsweek to issue an apology.wp_posts
This is probs quite a shock to Setoodeh, who went largely unopposed by Joy Behar last night, has seemingly rarely been fact-checked or asked by his editors to provide examples, and has been writing offensively for a while, as we covered the first time we called him out.
Honestly, it's gotten to the point where normally we'd start to feel mean. But there's something special about Setoodeh, and insidious about his reach, that makes this continue to matter.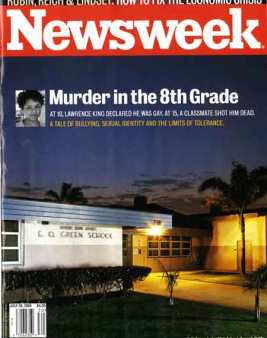 Setoodeh's work for Newsweek is so covertly anti-gay that it's exactly the kind of thing you could imagine reading if you were say, your Mom, or even yourself ten years ago, and you can imagine thinking (though you'd smack your enlightened head over it now), "oh yeah, good point." Because it's not THAT over-the-top. It's packaged neatly inside of Setoodeh's own homosexuality and his belief, inherent in his prose, that he's raising "important issues" rather than exhuming ancient, pervasive, damaging stereotypes we ought to be actively "sweeping under the rug."
Because if it was the kind of issue that didn't much matter to you, you just might agree with him sometimes. Which is why watchdog agencies like GLAAD exist. Because for most of America, our issues are something they feel they can afford forming benign opinions on.
A look back at his body of work:
July 2008 Newsweek Cover Story: Young, Gay, and Murdered – Ramin blames the victim in the case of 15-year-old murder victim Lawrence King, saying that "the reason Larry died isn't as clear-cut as people [who are labeling it a gay-bias crime] think." who are labeling it a "gay-bias crime." The story is framed with such alleged tenderness, but the implicit message is a stunner:
"A 15-year-old boy told family and friends he was gay. He dressed flamboyantly; he hit on a classmate. His murder made clear that issues of sexuality, at such a young age, can have heartbreaking consequences."
Read a breakdown of exactly why this is so freaking offensive at the Box Turtle Bulletin.
March 2009: In March, Setoodeh wanted to make a point about AIDS on television post-Pedro, and so he made some shit up, as addressed by Jack Mackenroth in his blog, titled Inaccurate Newsweek Article by Ramin Setoodeh: "[Setoodeh's] article implies that it was some deep dark secret which could not be further from the truth. This sends a horrible message to the HIV+ community. I think it was very irresponsible of him to not fact check his article before he published it."
Nov 2009: Kings of Queens: Does Television's Gay Influx Promote Stereotypes? – Ramin postulates that we lost the same-sex marriage vote in Maine and California (and have lost every time same-sex marriage has been put to a popular vote) because of effeminate gay men on television, contrasting the alleged progress made in the era of Jack of Dawson's Creek and Will of Will & Grace compared to the anti-gay legislation passed in the era of Glee, Ugly Betty, Project Runway, Modern Family and Adam Lambert.
DON'T ASK DON'T TELL:
I think that the good men in Afghanistan are trying to save the US some cash on that "in-depth investigation" by submitting their own research reports via YouTube. They're okay with gay soldiers, y'all.
HAPPINESS:
Dates From The Server's View – "The Tip: High to excessive, Jim's tip says, 'I'm leaving you an extra twenty because the world is beautiful. And I'm about to get laid.'"(@nerve)
RELATIONSHIPS:
Have you checked out the frisky's bi-weekly column Girl-On-Girl? Musings include "If only my parents had talked to me about sexuality when I was little" and "Have I become an angry lesbian?" (@thefrisky)
UNIVERSITY:
Marquette University listens to students after rescinding their offer to a lesbian professor. (@wisn)