TASHA / ROSE ROLLINS:
After the crushing loss of Kate Moennig's epically terrible Three Rivers, it's time for Tasha to give it a go at a post-L Word career. Her series, Chase, was picked up by NBC and will air in the fall.
Chase from the Emmy-winning Jerry Bruckheimer team, is a fast-paced drama that drops viewers into the middle of a game of cat-and-mouse as a team of U.S. marshals hunt down America's most dangerous fugitives. Kelli Giddish ("Past Life") stars as U.S. Marshal Annie Frost, a cowboy boot-wearing deputy whose sharp mind and unique Texas upbringing help her track down violent criminals on the run, according to an NBC press release. Also in the cast: Cole Hauser ("K-Ville"), Amaury Nolasco ("Prison Break"), Rose Rollins ("The L Word") and Jesse Metcalfe ("Desperate Housewives") as members of Frost's elite team.
Rose Rollins will play Daisy Ogbaa. She's also slated to guest in an episode of Miami Medical as "Dr. Sonia."
What's the rest of the cast been up to? Jennifer Beals (Bette) and Lauren Lee Smith (The Soup Chef) will appear together in the film The Night of Dying Tigers, currently in post-production, "a dark, heartfelt and ultimately revealing portrait of a family on the edge of disintegration."
Fox has also picked up Jennifer Beals' pilot "Ridealong", which "follows a rogue cowboy cop and the city's first female police chief as they try to clean up the streets."
Read also:
Jennifer Beals Lands Lead in Fox Pilot "Ride-Alongwp_postsas Top (Hot) Cop
Jennifer Beals Shoots L Word Book, Is Perfect: The Autostraddle Interview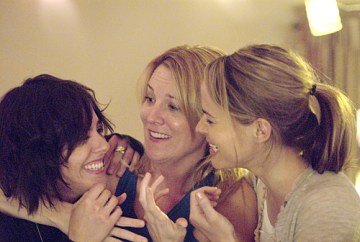 Leisha Hailey (Alice)'s next film project is Fertile Ground, in which she plays Gale Harold (Brian Kinney!!!!)'s wife! There's no release date yet for the 2010 horror flick. Ramin Setoodeh probs won't like it.
"Emily and Nate Weaver leave the city for the rural comfort of Nate's ancestral home in New Hampshire. There, isolated and haunted by inexplicable noises and horrifying visions, Emily learns she's pregnant while Nate is possessed by the homicidal spirit of his forbearers. In a house haunted by past victims, Emily learns that she's the latest target in a murderous tradition."
Laurel Holloman (Tina) appears in four episodes (so far!) of Gigantic as Rae Anne Colvin, who we assume is related to the character Joey Colvin, who looks like one of those kids at Young Hollywood events that we can never identify: "The new half-hour dramedy, takes a fictional look at the glitzy, chaotic and often hilarious life of being a Hollywood "itwp_postskid. The series will premiere in July."
Mia Kirshner (Jenny) stars in the sequel 30 Days of Night: Dark Days, currently shooting in Vancouver, as Lilith the vampire queen:
After surviving the incidents in Barrow, Alaska, Stella Olemaun relocates to Los Angeles, where she intentionally attracts the attention of the local vampire population in order to avenge the death of her husband, Eben.
From DreadCentral:
"Mia was awesome and brought everything you'd expect from Mia Kirshner,wp_postssaid [director] Ketai. "For such a slight person as she (physically) is, she commands such power. The fact that her character of Lilith is powerful and is the queen of the vampires – possibly the oldest vampire on the planet – she doesn't even really need to lift a finger to get shit done. Her henchmen and everyone around her kind of take care of things, and all of her actions are so minimal that whenever she does anything physically, it's completely horrifying, and you are just sitting there waiting for her to speak or waiting for her to roll across the room, and we've tried to embrace that stoicism and that sort of eerie calm that comes with Lilith. I thought Kirshner was a great casting choice because she's an actress that can say a whole lot without saying anything. She really did a nice job stepping into the role."
Mia also continues her role as Isobel on The Vampire Diaries. That girl was just born to play dead!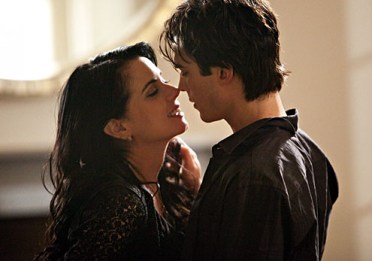 Read Also: Mia Kirshner's Vampire Diaries Role Summons Some of Jenny Schecter's Parts
Kate Moennig (Shane) is set to appear in the big-screen adaptation of the Michael Connelly novel "The Lincoln Lawyer," recently acquired by Lionsgate Entertainment:
Matthew McConaughey and Marisa Tomei are set to star alongside Ryan Phillippe, William H. Macy, John Leguizamo, Michael Pena, Trace Adkins, and Katherine Moennig.
Brad Furman ("The Take") is directing based on John Romano's script. The film is about cut-rate LA criminal defense attorney Mickey Haller (McConaughey), who operates out of the back of his Lincoln Continental sedan. When he suddenly upgrades from getting parole violators and small-time crooks off to defending a Beverly Hills playboy accused of murder, suddenly the game gets a whole lot more serious as he finds his own life targeted. [@shockya]
Pam Grier (Kit), in addition to the recent release of her memoir, Foxy will appear in the upcoming romantic comedy Just Wright as Leslie Wright (Queen Latifah)'s Mom!
See Also: VIDEO: Dani Campbell Interviews Pam Grier for Autostraddle
Also Cybill Shepard (Phyllis) was just in Vancouver shooting a Lifetime movie with Jennifer Love Hewitt and our very own Haviland Stillwell. Shepard plays "a body waxer at a woman's salon who is stunned to discovery that her former Texas homecoming-queen daughter (Hewitt) is working as a prostitute to pay the bills."
PINK & LINDA PERRY
Video of Pink & Linda Perry's amazing performance of "What's Up?" from An Evening with Women has surfaced.
.
JOHNNY WEIR:
Johnny Weir will be joining the judge's panel at this year's Miss USA pagent. Just when the world finally got over the Perez Hilton / Carrie Prejan debacle last year are we really ready for this?(@stylelist)
THE LYNCH CAN DO NO WRONG:
The Lynch still not doing any wrong, the PETA edition! Check out Jane Lynch's new ad for PETA, encouraging everyone to spay and neuter their cats & dogs. Also, a longer clip where she talks about her love of furry little friends. (@peta)
In related Glee stars doing commercials news, Lea Michele does Dove Hair Care.
.
SARAH SILVERMAN:
The Sarah Silverman program is officially dunzo. Did you know gay channel LOGO's syndication is the only reason it lasted a 3rd year anyhow? (@ew)
BETTY WHITE / CAROL BURNETT:
After the huge success of Betty White's appearance the (Facebook) world is undertaking a Carol Burnett to host SNL campaign. (@facebook) Also underway, a campaign to get Betty White on Glee.
JILL BENNETT & CATHY DEBUONO:
We were at Jill Bennett & Cathy DeBuono's premiere party for season two of their lesbian web-series "We Have to Stop Now" and have exclusive photos & video. (@autostraddle)
GAGA FLASH MOB:
LGBT activists in San Francisco came together to form a Gaga-inspired "Flash Mob" in a direct action to urge a boycott of the Westin St. Francis Hotel in San Fran. Workers at the hotel have been fighting for a fair union contract that includes decent wages and healthcare benefits, and are now calling on the community to boycott the Westin St. Francis, along with other downtown hotels. (@sfweekly)
GAGA / ELLEN:
Greyson Chance, the 6th grade boy who performed Paparazzi for his school talent show was invited to perform on Ellen and during his appearance GAGA HERSELF called in to talk to him!
.
SARAH MCLACHLAN:
Sarah McLachlan is going to let you pick what songs she plays at Lilith Fair! It's a bunch of new songs you haven't heard yet, a few I haven't heard of, and so basically it's between Angel, Building a Mystery, Adia, Sweet Surrender, Possession and Fallen.
JILLIAN MICHAELS:
Jillian Michaels speaks out about her misquoted statement in Women's Health about adopting kids so she doesn't ruin her hot bod:
"I was feeling kind of panicked about answering the question. For me, it was a very personal question — and I had a lot of shame about the answer. If I tell people I have issues in this area, will they judge me and say, "If she has problems in this area, how healthy can she be?" I don't think anyone with issues is "less than," but this is just how I was feeling in the moment. It caught me off-guard."
(@momlogic)