VAMPIRE JENNY: Mia Kirshner has landed a recurring role on The Vampire Diaries when it returns to the airwaves on January 21st. See? We told you Jenny was immortal! JK, Jenny won't be playing a vampire. But she will probs get murdered again (more on this exclusive info in a second) (@latimes)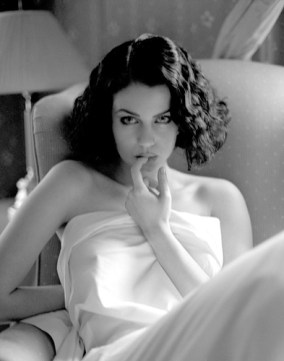 This is the breakdown for Mia's part:
[ISOBEL]: 32-38 years old, a beautiful Caucasian woman, sweet but can make the turn to dangerous. She is Alaric's (Matt Davis) wife. STAR NAMES OR STRONG GUEST STAR ACTORS ONLY. GUEST STAR, RECURRING. (@actors access)
According to E! Online, "Kirshner will appear on the series beginning Jan. 21, but her scenes won't be in present-day. They will be in flashbacks because her character Isobel is already dead. And you'll never guess who killed her. No really, go ahead, try! Though my sources have asked me not to spoil the big twist outright, suffice it to say that Isobel died at the hands of a main (hot) character we already know. (Did I mention hot?)" (@e!)
An exclusive source tells Autostraddle (SPOILER ALERT!) that although Isobel is straight, she shares something else in common with Jenny — a dedication to her work that just may lead to her death. When Isobel isn't up all night on her computer investigating stories like this one — "There's a town in Virginia. It's small. Out of the way. Quiet. And every decade or so something happens there, and all these people die. They say it's animal attacks. The bodies …they're drained of blood. It's vampires. I know it." — she'll be making multiple trips to investigate her story.  And much like poor Tim Haspel, Alaric could lose his wife to his wife's story — all that chasing down vampires could get her very mixed up with the wrong crowd and a dangerous love interest. Lesbians, Vampires, Potato, Potahhhto.
Hey did you know Jennifer Beals once played a Vampire?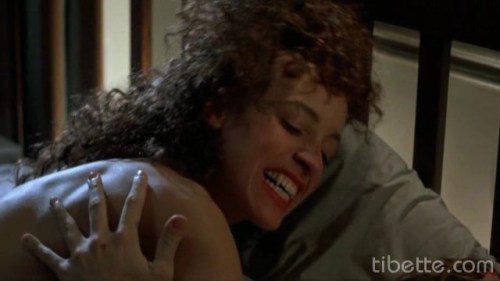 ANYONE BUT ME: Anyone But Me has been nominated for Best Original Web Drama on Clicker.com and this year is eligible for the prestigious STREAMY AWARDS. All you have to do is go to Streamys.org Submissions and cast your vote by entering their names in the following categories:
BEST DRAMATIC WEB SERIES – Anyone But Me
BEST NEW WEB SERIES – Anyone But Me
BEST ENSEMBLE – Anyone But Me
Then you can go to "Submit an Individual" to vote in the categories listed below:
BEST WRITING IN A DRAMA SERIES – Susan Miller & Tina Cesa Ward (Enter BOTH names)
BEST DIRECTOR OF A DRAMA SERIES – Tina Cesa Ward
You can VOTE once a day, every day until January 22nd. So go for broke! It would mean the world to us. You can also check out their new Kate Clinton video on Blip TV!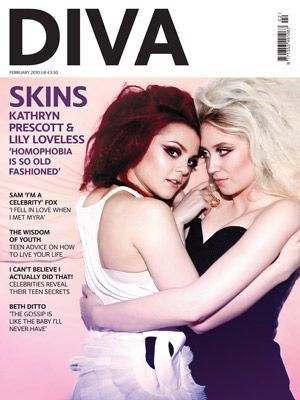 SKINS: Naomi & Emily — I mean Kathryn Prescott & Lily Loveless — grace the cover of UK's Lesbian Magazine DIVA, which will hit the stands in January 2010. (@diva)
AUTOSTRADDLE: Check out our amazing interview with the legendarily crass, hilarious and totally gay Sandra Bernhard.
GAGA: Lady Gaga's Kandy Life LEAKED! and 2007 Demos! (@ontd)
AMBER ROSE: Bisexual model Amber Rose hosted a stripper party. Necole Bitchie says this "further raises [her] suspicion that [Amber] may be single again. If she was still with Kanye, I'd assume she'd be spending time traveling to exotic cities and tending to his needs rather than hosting strip parties." (@necolebitchie)
KATY PERRY: Another reason to dislike Katy Perry! "I Kissed A Girlwp_postsSinger Katy Perry Ridicules Transgender Community on Twitter. (@glaadblog)
PLUS NONE: "For January, V made the questionable decision of pairing plus-size model Crystal Renn with straight-size model Jacquelyn Jablonksi, in the same outfits. The magazine says this "proves fashion can flatter any figure." We say, why pit one women against another?" (@jezebel)
GRAMMYS: The 52nd Annual Grammy Awards will have no shortage of powerhouse artists performing. Taylor Swift and Beyonce are among the first round of performers announced to perform at music's biggest night. (@ontd)
LOHAN: Reader Lauren has tipped us that Lohan did a recent photoshoot in Santa Barbara, where a Brazillian paper reported that Lindsay had "scratches & stains in the leg and right arm … she needed to be made up to disguise the wounds." The photos with the Brazillian article suggest self-mutilation but the shots from PopSugar look a-ok, even candids. So; someone photoshopped something somewhere… oh Lilo, we don't know what else to say without getting yelled at! People have ways of dealing with pain that don't make sense to everyone and we hope she's okay, and being taken care of, and is probs coming to NYC to reunite with her TRUE LOVE SAMANTHA and HANG OUT WITH US.
LA VIDA LOCA: Take heart, gaymos, Ricky Martin has your back. The singer released a statement yesterday lamenting the recent anti-gay attacks in Puerto Rico, where Martin was born: The murders of James Byrd, Matthew Shepard, Jorge Steven Lopez, Marcelo Lucero, Luis Ramirez and countless others who were victims of violent 'hate crimes' should be completely unacceptable to every human being; because we're all human beings. It's up to us to change the paradigm. (@advocate)
VISIBILITY MATTERS: Sarah Warn has a visual look back at all the ladies who came out in the 00's, from Angelina Jolie (2000) to Sheryl Swoopes (2005) to Wanda Sykes (2008) to Meredith Baxter (2009).
BRITTANY MURPHY: Brittany Murphy Update! (@vulture)
WRITTEN ON THE BODY: A portrait of lesbian British author Jeanette Winterson. (@eurout)
ADAM LAMBERT: Adam Lambert was on Jay Leno last night, there were heaps of adorbs moments, like when Adam talked about safe plucking.
Transcript-
Jay: You know, see I don't buy any of it. Because networks love scandal, and then they're like, "Huh what gambling?!! I can't believe this!wp_postsTo me, you hire performers, you know what performers do. See, I think they secretly hope somebody does something outrageous so they can all pretend as if they're tremendously shocked by all of this. No seriously, remember the whole Super Bowl thing, oh that couldn't have been staged, come on.
Adam: I'm kind of a conspiracy theorist too, but I really think they were kind of backed into a corner on what happened. You know there's the FCC, there's different groups that took offense. They have to do what they've gotta do.
Jay: Did you feel as if they bailed on you?
Adam: I mean, I did surprise them with some things that I didn't do during rehearsals. Let's be fair, I wasn't as consistent during rehearsal. So I mean…
Jay: That's like lawyer talk, 'oh I wasn't as consistent during rehearsals' oh I like that. I was not as consistent during rehearsals, like Tiger had transgressions. I love that kind of talk.