Today I'm going to tell you about the timeless lesbian love affair of Naomi and Emily ("Naomily") in Season 3 of the British TV show, Skins. This'll be similar to that time I recapped the lesbian parts of Home & Away, but instead of doing one epic recap that will break me, I've chosen to break this down into two sensible serves.
If you've never seen the show before and are just here to get your lesbian fix and go play with your cat, here's the scoop: Skins follows the lives of a group of kids in Bristol, England, who have a fondness for spirits, promiscuous sex and MDMA. It's funny, clever and occasionally confronting, filled with the kind of shenanigans that make you nervously reflect back on your own teenage years and ask yourself, 'was I ever that bad?'
And as Autostraddle's resident Australian, I thought I might be the best person to retell this story because although the UK and Australia are on the opposite sides of the world, we both love a good monarchy and are ruled by the same Queen. Our close ties mean that we can understand and interpret each country's slang, an ability proven valuable for the recapping of this show. Whizzer! Surf & Turf! Shine yer shoes Guv'nah?
If you live in Australia or the USA and you haven't seen Skins, the good news is that it is airing in your country right now!  (USA: Thursdays on BBCA. Australia: Mondays on SBS).
Before we begin, there are a few other things you need to know:
1. Skins is a really, really good show. If I had time, I'd recap the hetero and the homo parts. But I don't, and so I encourage you to watch this season in its entirety. Even if you've already spent hours on YouTube watching 'Naomily' montages to the tune of Coldplay's 'Fix You' and think you've seen it all. You haven't.
2. If you haven't seen Seasons 1 & 2 of Skins, it doesn't matter. Season 3 begins with a brand new cast and brand new storylines, so there's no requisite information or backstory to catch up on before you read or hit play.
3. If you're an Australian, this recap contains spoilers. If you don't like spoilers, come back in two weeks.
4. This recap would not be possible without the assistance of Intern X, and this YouTube user who has kindly posted the entire 'Naomily' story in an order that is easy to follow.
The Backstory [Skip this is you've seen the show.]
Skins has a large cast of teenage characters and many storylines  – but I'm only going to focus on one: the blossoming romance between Emily and Naomi. Before we start you should know that these girls have just started a new high school and have been thrown into the same social circle, which is forcing them to deal with the aftermath of a drunken party pash that happened the year before. We don't see this kiss, we just witness the drama that follows.


The Skins recap starts NOW!
Think you just spotted a lesbian? Wrong! Naomi isn't gay, she just has awesome hair. She's one of those outspoken kids with a lot of  'tude and in my opinion, the best lines of the season.
Naomi is a hot topic in the school halls because everyone believes she tried to make out with her old school chum Emily at a party.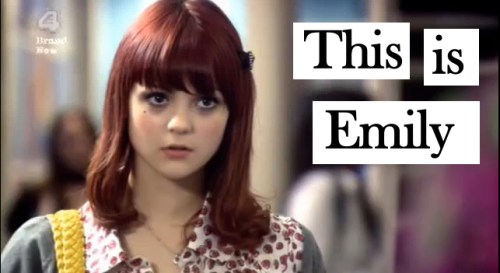 Emily [played by Kathryn Prescott] is quiet, cute and closeted. She's the one who started all of this drama, kissing Naomi but then lying about who-started-what in order to protect herself from her twin sister –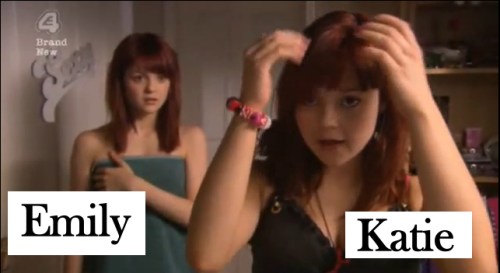 Emily's sister, Katie, is the polar opposite to Emily: an overbearing, poorly-dressed slapper who treats Emily like a doormat and flaunts a football-playing boyfriend who you just know is going to give her gonorrhea by the season's end. Katie likes to tell Emily how to live her life, particularly when it concerns Naomi.
And hey, have you met Effy?
Effy is a lead character in this series, but merely an observer to the Naomily lesbian love affair. I'm only including her picture so that we can all stop and appreciate her hotness for a moment.
Not too long, she's only 17. If she's younger than all the Autostraddle interns, she's off-limits.
While Emily, Katie and Naomi all know each other already, Effy must have gone to a different middle school or something because she meets the girls for the first time here on the first day of high school.


The First Day of High School
Emily, Katie, Naomi and Effy and their new classmates are all gathered at the welcome assembly. The roll is being taken, and the class loses their shit when "Naomi Campbell" is asked to identify herself. Hahah! Like the supermodel! Get it? Like she's like, rich, and beautiful, and has issues with Tyra Banks! Kids these days!!
Naomi handles it just as her namesake would've, but with slightly less cocaine (for now) —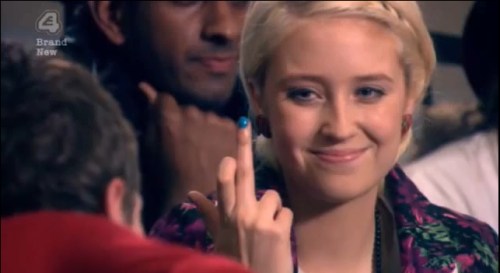 Cook (classmate): "Hey Naomi, I heard you've got anger management issues."
Naomi: "Only when I talk to wankers."
The class may have just been introduced to Naomi… but from the look Emily throws her from across the room, it becomes clear that these two girls don't need an introduction.
Their memories aren't all fond, because Emily's lust-filled gaze…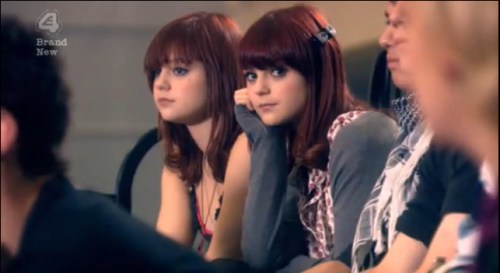 … is shot down by Naomi's cold sneer.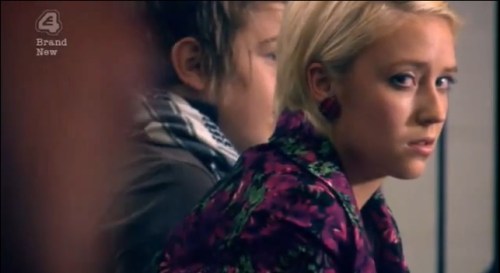 To be fair – if my parents named me Naomi Campbell, I'd probably be a little uptight too. On the brighter side, at least they didn't name her "Draco."
Effy Appreciation Society

Out in the hallway, Katie notices Effy's smokin' hotness and thinks that they should become friends. That's when Naomi shows up, raining on the parade that is blocking access to her locker –

Katie: "Oh here it comes… total lezzer bitch."
Naomi: "Excuse Me."
Katie: [to Effy] "Don't talk to her, she tried to snog my sister in middle school."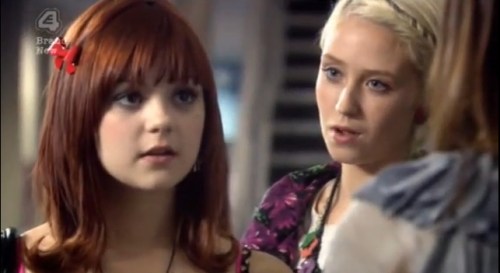 Total lezzer bitch: "Watch out Katie, I might get confused and fuck you with my great big strap on by mistake."
Oh Snap.
[Intern X: This is why British television wins. If someone said this on American TV, NOM would make a "PSA" about it.]
Naomi runs off, and Katie yells "muff-munching bitch" in her wake. I'm a little disappointed by Katie's lack of imagination when it comes to insults, Naomi's wardrobe offers up so much potential. For example, I had a couch like that once.
Speaking of bitches, Emily is clearly Katie's because she just stands by and lets this all happen.

Tell me – and remember, no lies.

The kids take a break from trash-talking in hallways and go to class, where they're going to talk about their feelings.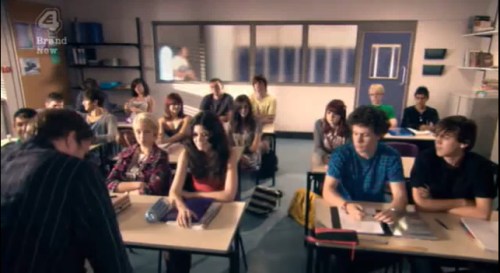 I think it's Psychology class, because the teacher asks everyone to share something honest about themselves. Here's how that goes:
Katie: "My name is Katie. I have never gone without a boyfriend since I was 7."
Teacher: "Congratulations."

Emily: "I'm Emily and…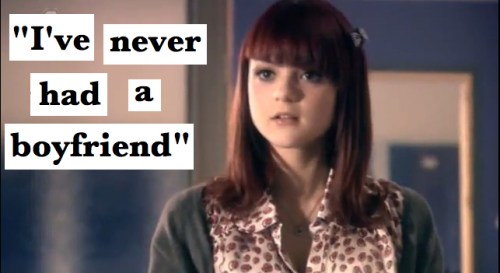 Teacher: "Shit happens. Next."
Naomi: "I'm Naomi. I hate injustice and…"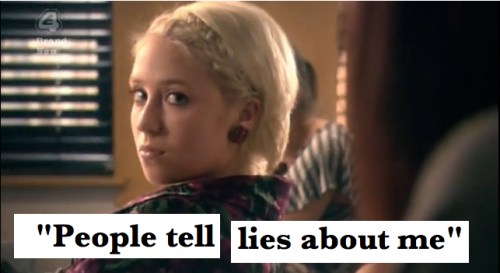 As Naomi delivers her fun fact, she shoots Emily a look that should put her dead on the floor. Speaking of injustice.
Oh and speaking of the floor, that's where Emily's eyes are glued to. She does this a lot, I guess it's part and parcel of being the passive twin.


Cook Always Throws the Best Parties
Emily, Katie and the gang are hanging out at Cook's birthday party. Who's Cook? It doesn't really matter, the most important thing to know here is that Effy can still look fine even when wearing a pointy birthday hat.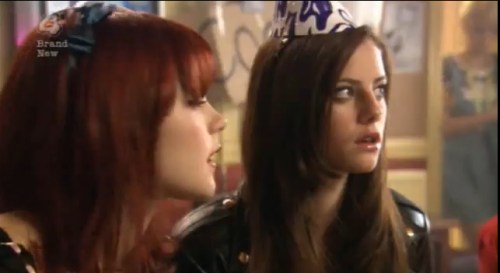 You know who else is invited to Cook's birthday party?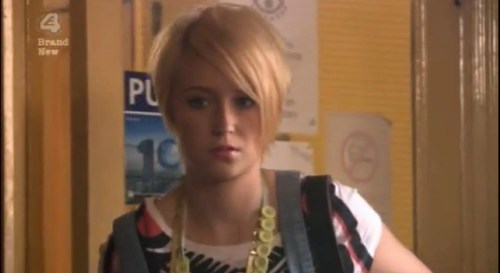 Katie: "Great, it's the lesbian. She's come to gay us up."
You know how we do. Magical lesbians; we enter rooms and girls just start kissing girls, we call it the "t.a.T.u Effect." Anyhow, Emily doesn't make any move to correct her sister's misdirected homophobia or those shorts. before long Naomi feels a little uneasy and bails.
Emily chases after her, even though she doesn't know what she actually hopes to achieve (perhaps she could take care of the shorts issue by removing them, having sex, or something) –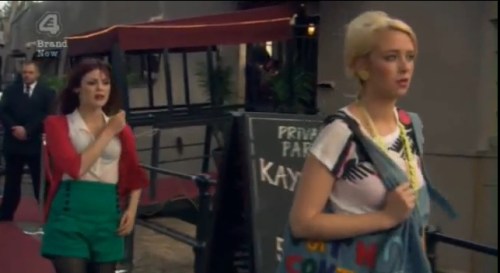 Emily: "Don't leave!"
Naomi: "Why?"
Emily: "I… I don't know."
Naomi: "Why does your sister think I'm gay?"
Emily: "I'm sorry…"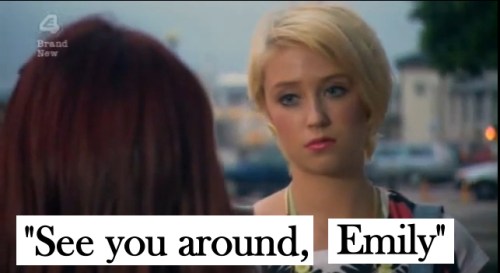 I'd like to point out that Naomi has a talent for saying "goodbye" and making it sound like "Fuck You". It's actually quite enviable.


It's interesting how even though on the surface we see a whole lot of resentment and unrequited love, but then when you look a bit closer then the story so far is actually kinda sweet. Sure, Naomi is nothing but cold towards Emily – and yet she still took the 'blame' for the kiss that's inspired Katie's bitchiness towards her. We can only assume that she's keeping Emily's secret to save her from torment, which's selflessness at its best. Moving on.
How much is a pound, anyway?
Emily, Katie, Effy and the gang have rallied outside a nightclub because they need to help their newly-arrived African immigrant friend sell 13 pounds of weed. No, seriously –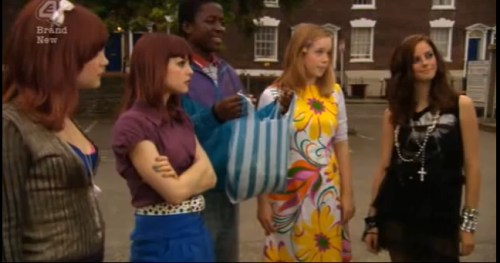 Here we have the marijuana in the bag, and an example of what the world looks like after you smoke all of it directly to his left. Flowers! Death is Real! BIG YELLOW FLOWERS! ANARCHY!
Naomi enters stage right, judging by her power-blazer, fresh from her after-school job at the bank. Her entrance is cue for Katie to start acting like a total twat. She asks who invited Naomi, and throws an accusing look at Emily because she knows, it's a twin instinct, just ask Tegan & Sara. They listen in, you should know this.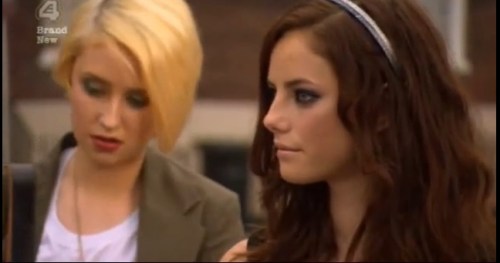 Naomi: "I heard someone needed a hand."
Katie: "Yeah you like giving hand, don't you Naomi."
I hope "giving hand" is the new word for "lesbian sex" and not an attempt at a homophobic slur. Aren't hand jobs also incredibly popular for men with penises?
Naomi says "fuck see you" and starts to walk away, because she's a lover and not a fighter. Emily's finally had enough of Katie's homophobic rants and decides to set the record straight (har!).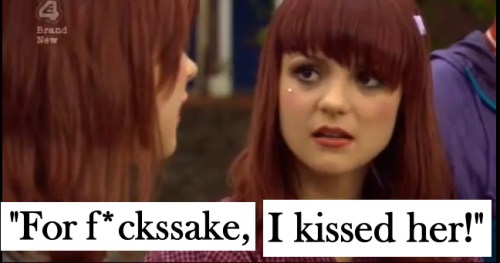 The best thing about this scene is Emily's use of the phrase "For fuckssake!".  In Australia we abbreviate this to "For fucks!", which would probably also be appropriate as Emily admits it's sorta what she had in mind:
Emily: "She didn't kiss me. I was drunk and someone gave me MDMA (ecstasy), and I felt like fucking kissing someone. Satisfied?"
Naomi is, because she stops in her tracks and returns to the party. Katie has stopped talking for the first time this season and it is bliss. Birds chirp, 12 pounds of marijuana float kindly into the sky, Effy looks hot smug. I think she just wants to see these crazy kids make it work. I always imagine the best for dear Effy.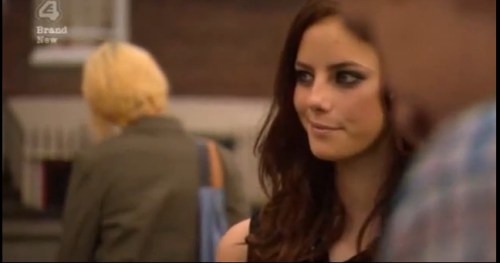 Pages: 1 2See entire article on one page