by riese & crystal
Skins is back! Sorta. The season four premiere aired in the UK a few days ago, however if you live elsewhere then you're gonna have to wait a little longer til it plays on your teevee. BBC America needs time to censor out all the good lesbian scenes. But I know you're an internet-savvy bunch that doesn't let geography get in the way of a good lesbian storyline, and so you've probably already seen the episode (viewable here).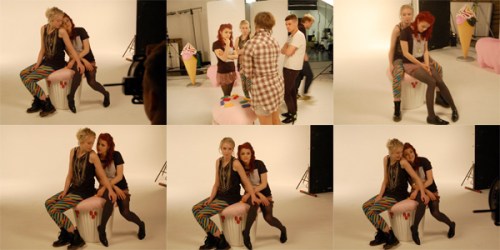 If you're yet to jump on the Skins bandwagon then you should know that it follows the lives of a group of kids in Bristol, England, who have a fondness for underage drinking and sex and MDMA. Two of the girls – Naomi and Emily, aka "Naomily" – had a lovely yet dramatic romance in season three and we're all dying to see what becomes of it in season four. Catch up by reading part one and part two of our Naomily recaps.
So I'm going to take a little break from the Good Ship Audiostraddle and bring you the Skins recaps each week (with Riese, because teamwork makes a dream work). Last year I only recapped the Naomi and Emily storyline however this time we're considering recapping the entire thing, straight parts and all, 'cause this is a really good show you guys. What do you think? Do you care about the other characters' story lines? We won't recap it if you won't read it, so let me know!
---
Episode 401: Thomas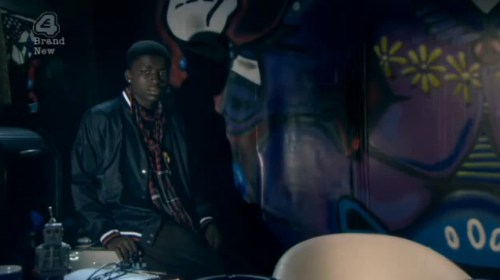 Every Skins episode is focussed on one or two of the characters, and this week it's Thomas, the African immigrant who arrived in Bristol in season three.
Hey ho we have a new theme song! It's actually just a progression from the original theme song, I like it. The theme song is not the only thing that's grown up, notably all of the Skins kids look a few years older (but probably not wiser) since we last saw them in season three. That's a very good thing, I now feel less like a creep for having adult thoughts about Effy.

I mean Naomi and Emily are cute and all, but Effy is why I am here.
At the Discotheque
The show opens to a black screen and the sweet, sweet sounds of someone snorting cocaine and sauntering, all lost and druggie, into a buzzing nightclub. Thomas is probably there to shift the few pounds of weed remaining from season three, remember how he had like ten pounds of weed? As the Bolivian Marching Powdered Mysterious Girl navigates the club she passes some of our favorite people from the neighborhood, like Cook; fucking a girl in the stairwell while some dude looks on. Kids these days.
Silly Girl, Gummies are For Kids!
But where are Naomi and Emily? Did their romance last the season break? Are they doing blowbacks? Are they at home with their cats, murmuring sweet nothings into the cat-ears?
OH HEY LOOK! They're inside the club! Sucking face! On the stairwell! This is how every episode should start, continue, and end.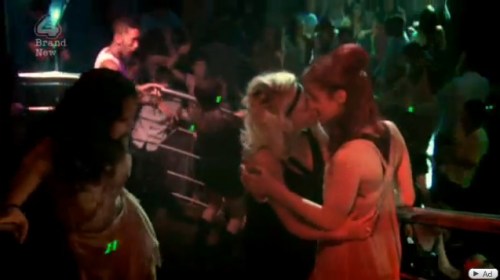 The Planet After Dark Meets Capricia meets Skins
They're really going at it, too, they look happy and it's a lovely few seconds. Teenagers of Bristol, I applaud you for letting these young lovers have a bit of a pash with no staring or interruption.
Well at least until the anonymous girl from the opening scene Jenny Schecters it off the balcony railing and dies with her head split open bleeding all over the floor!
It's a Long Way Down
Then the Bobby shows up with a fey assistant, prepared to crack down on the club-owner and DJ Tommy Thomas, who organised the party but doesn't know that dead girl or where she got the drugs or the idea that she could fly.
After the lady-cop & her assistant leave, the club owner throws Thomas a big envelope of cash – profits from that night's party – and threatens to "snap his spine" if he mentions the club's many illegal activities to the police, it's all very dicey.
---
+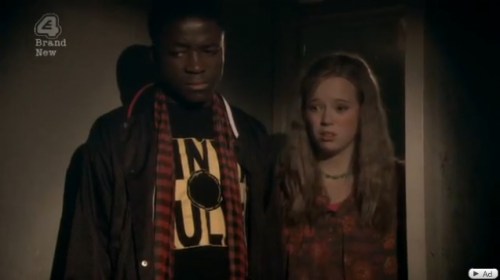 Pandora's Box
It's late and so Thomas brings his girlfriend Pandora home to his overcrowded apartment and gets busted by his mother, who does not believe in neutral colours but does have very strict beliefs regarding sleepovers.
Pandora bumbles about, promising Thomas's Mom that they won't have sex and that while they have done "stuff," that "stuff" has yet to include sexual intercourse. The mother wants to know where she can find a virgin in this country. Probs in middle school, or Lezzie Town (according to what we presume is Thomas's mother's definition of "sex.")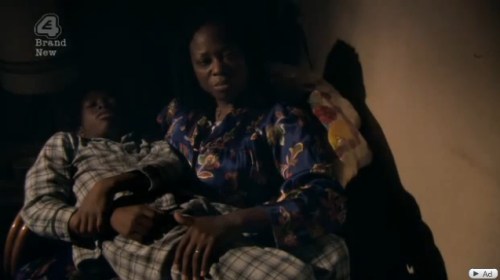 I feel like the real issue here is that mum is worried because Thomas' brother is sick. Not common-cold sick, but oddly-immobile-like-a-mannequin-except-when-imbibing-strange-liquids sick.
Thomas should have shared some of his weed with the twenty-one year olds in the Skins writer's room, so far this episode is super depressing. I'd prefer something more like the poppy fields in Wizard of Oz.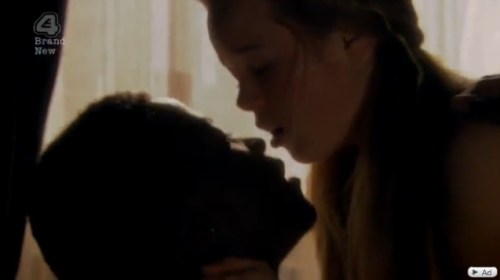 Sexual Healing
Pandora was exiled to the couch but she can't sleep, she keeps seeing the dead girl's face. And the best cure for Dead Girl Face is, obviously, sex, so she goes to her man in the night and so they do it.
---
We transition from serious actual f*cking to a giant musical number the next morning at apparently the Funnest Church of All Time. Thomas has been dragged there for some spiritual healing.
Last night's sex with Pandora becomes merely a distant memory when Thomas spots a hot girl in the choir and they make sexy eyes at each other for the entire worship session. Well, "solemn eyes" is Thomas's default facial expression, although he does smile for about three seconds in this scene, which makes me believe in God. ALMOST.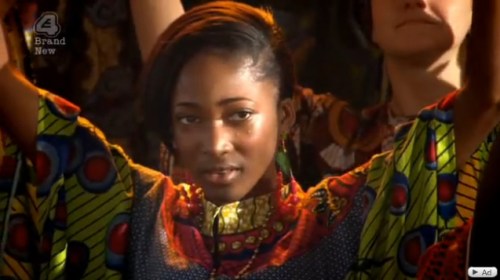 Mine Eyes Have Seen the Glory of the Coming of the Lord
Thomas' mum dobbs Thomas in to the Rev for spending too much time "fooling and fornicating" with undesirable types. This heavy episode becomes momentarily light-hearted when Thomas' sister tells the Reverend his lecture is a plagarisism of Star Wars and "Obi Wan is like God but with better weapons." [Riese sidenote: true story my Rabbi often used Star Trek The Next Generation storylines as a jumping off point for his sermons]
---
+
Next: No Sex in the Laundry Room at the hospital… OR IS THERE?
Pages: 1 2See entire article on one page