Hello, welcome to the second installment of the timeless lesbian love affair of Naomi and Emily ("Naomily"), as featured in Season 3 of the British TV show, Skins.
Did you read part one? If not you should probs catch up.
We left off just after Naomi and Emily had shared a giggly platonic sleepover and the next morning, Naomi gay-panicked and ran. Then she stated for the record – and for the 100th time this season – that just because she keeps making out with Emily, it doesn't mean that she likes her like THAT. Which brings us to where we are now, high school.


Naomi on the campaign trail
Naomi, trying to win hearts and minds in her campaign for student president, is standing on the cafeteria table with Emily dutifully by her side, promising the student body that she'll "get to know each and every one of you," which is code for "LET'S FINGERBLAST!"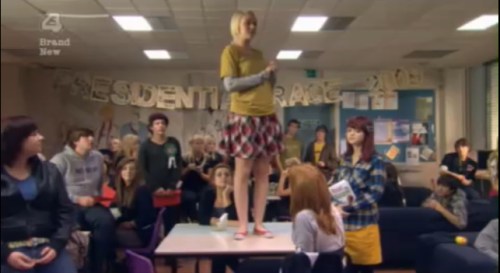 Cook, Naomi's adversary in the presidential race, feels left out and decides to interrupt her speech with his illogical demands, it's practically an American Health Care Town Hall meeting up in here:
Cook: "No one here cares! We just want to party!"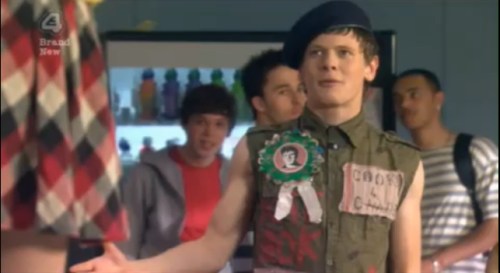 Emily cares, and she ain't about to let Cook rain on their plaid parade –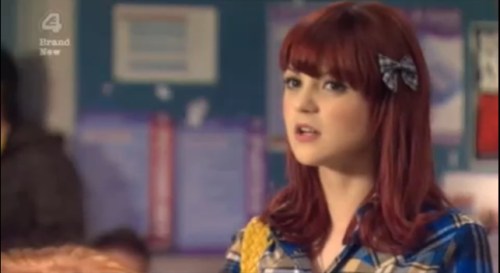 Emily: "Cook, any chance you could go and be a cunt over there?"
Cook: "Oh that's nice, getting your girlfriend to hold your hand. Moral support yeah, sweet innit?"
Naomi: "… Oh fuck."
Sad that we know this still works and this fear remains real — that you can always be embarrassed in school simply by being called a lesbian. Naomi's clearly not interested in the gay vote, 'cause she jumps down off her soap box and yells rather loudly at Emily before running from the room. Sigh.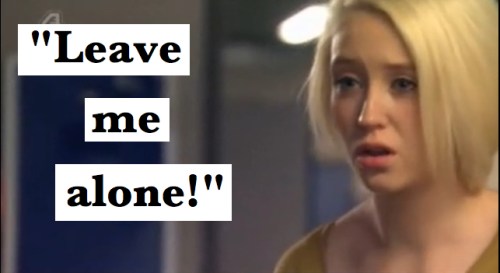 Passive Aggressive Notes
We have a brief interlude where Naomi goes to confide to a male teacher and he lays a wet one on her little lips. So Naomi's in a state, crying in her bedroom and looking vulnerable beneath her tough indifferent exterior. This is how she finds the little handwritten note that Emily left on Naomi's pillow post-sleepover –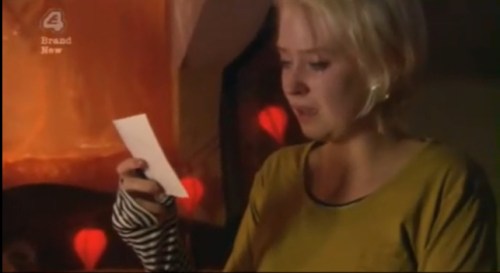 At first, Naomi stuffs the thing into a little ball. And then, she has a revelation: unlike men, Naomi realizes, women are willing to submissively pursue your desires and love you under all conditions and they are so soft! She changes her mind, unfolds the note and falls to sleep beside it, which sounds like something someone would do in a Tegan & Sara song. Also, this scene is more or less a metaphor for this season so far.

It's a brand new day and Naomi is scoping herself out in the mirror, contemplating putting on something less mustard and, per ushe, deciding against it.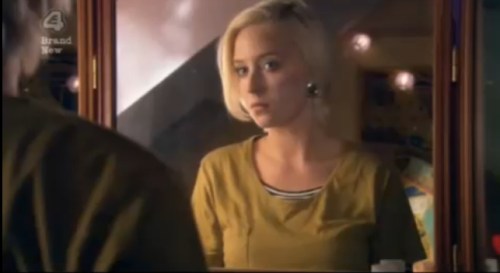 Hey! What's that? Is that Emily's name inked on her face? I guess it's sweet in a prison sort of way.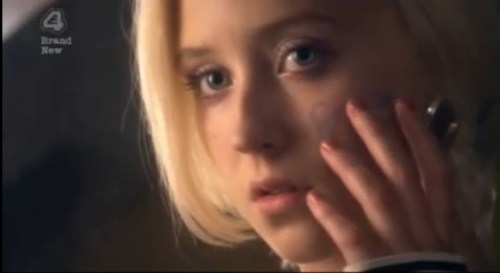 [Intern X: This show is so SUBTLE.]
Naomi probably thinks it's fate or something because she douchebag-dials Emily, pleading for her to take her somewhere, anywhere.


If You're Not Gonna Autostraddle Me,
Please Autostraddle This Bike.
Emily – who I've come to believe is the world's greatest opportunist – takes Naomi for a bicycle ride to her secret lake located on the English countryside. Light fairy music plays while they giggle and bump their bikes together.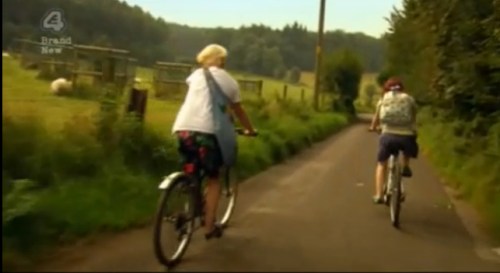 The only way this scene could be more gay is if one of them was wearing cargo shorts. Speaking of gay, Emily's choice of location just happens to be the perfect place for skinny-dipping, the whole set up makes me feel as if Emily believes that the best laid plans will, in fact, often get you laid.
Naomi: "I didn't bring a swimming costume."
Emily: "Neither did I."
[Emily makes suggestive taking-off-clothing movements]
Naomi: "Someone might be looking."
Emily: "Honey, your body ain't that special…"
Emily leads by example by stripping and now I have no idea where the girl is concealing her playbook.
Naomi warns Emily not to watch her get naked but Emily just has to sneak a peak.
So they start play-fighting and getting a bit handsy before falling in the lake like two little guppies in love!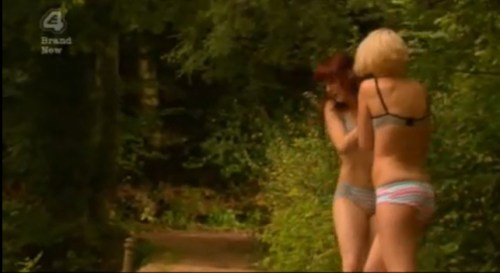 Cut to the campfire, around which the girls are singing Kumbaya and drinking vodka in the rain. DREAM DATE. Emily is staring off into the distance and Naomi wants to know if she's okay –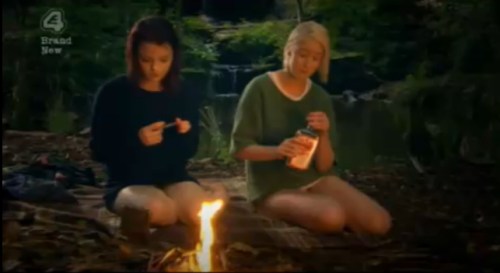 Naomi: "You alright, Em?"
Emily: "You know that's the first time you've asked me something?"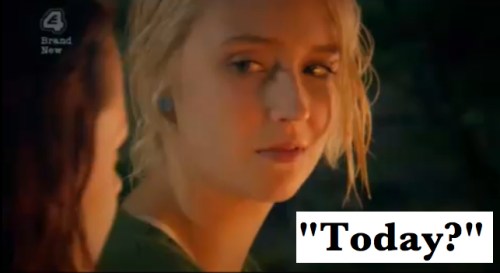 I really dig this dialogue, I'm so blinded by hope that these two kids are gonna make it that it's so easy to forget that there's a huge imbalance in their relationship, that Emily chases and chases and beyond a little bit of cuddling, Naomi rarely never gives anything back. In fact one might argue that Naomi runs from the room when Emily enters.
Maybe if Emily were a bit more like that girl chasing Marcia Brady in The Brady Bunch Movie and a little less A-FUCKING-DORABLE, we'd have less patience for these charades.
Naomi: "Well answer it then. Are you alright?"
Emily: "No. I'm having the worst time of my life. The weather's shit. The company is even worse."
She's having such a crappy time that it can only be saved by some hand-holding. Awwww.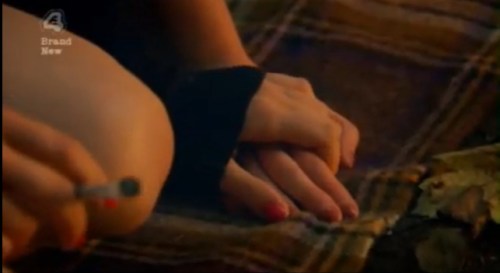 The silence gets a little awkward and so Emily consults her playbook and suggests they do blowbacks.
Naomi: "I don't understand blow backs, why can't anybody just smoke the thing straight?"
Emily: "It's fun. Have you tried it?"
Naomi: "No, but I've seen it and can tell it's shit.
Emily: "Come on, anything once."
Naomi: "Fuck it. Go ahead and disappoint me."
I'd like to point out that Emily looks her finest when smoking a joint. If you don't hear from me again then I've been arrested or at minimum, added to some federal list somewhere.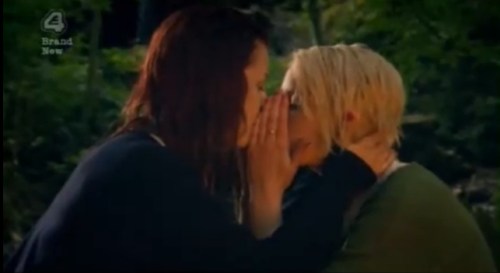 Naomi wants to try the blowback again but this time without the joint, which defeats the purpose. Or does it? I used the 'let's do blowbacks!' line the first time I made out with a girl and it worked like a charm. Emily, I tip my hat. Kids, take notes. JK don't do drugs, just make out, unless you live in California and have a prescription –
All that really matters is that Emily made the first move, and that they re-undress really quickly …
Naomi: "Say something."
Emily: "I'm all about experiments, me."
At least I think that's what Emily said. I'll be honest – at times the accent gets a little thick and I just make the dialogue up. But you know what I can't make up? HOW ADORABLE THEY LOOK –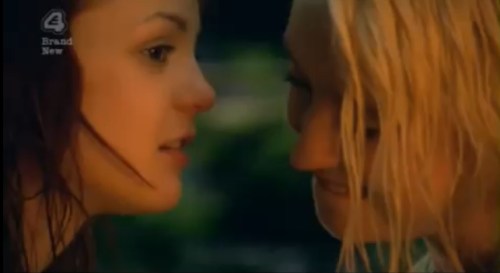 You know what else happens? They have CAMPFIRE SEX, which is a shoo-in for the Autostraddle Hot 100 next year.
I'm not going to give you a blow-by-blow because they're minors and it makes me feel weird, so you should just watch it here.


The Morning After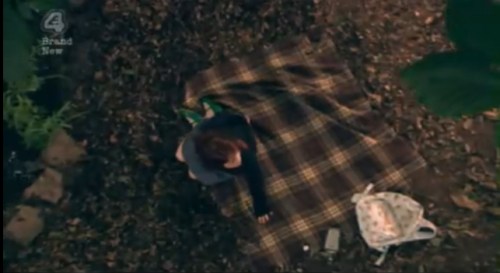 Emily wakes alone, to the sound of Naomi walking her bicycle away, which is less efficient than riding it, but doesn't take so much time. Leaving Emily in the woods is cold. If Emily got eaten by a bear, Naomi would be very upset that she hadn't spent the last five weeks scissoring.
Also, Emily's hung and loud noises are hard on the ears.
Emily: "You're going to do this to me twice? Naomi, no, you fucking stop right now. Don't you dare leave me in your bed again."
Naomi: "I've got to go."
Emily: "I know you Naomi. I know you're lonely. I think you need someone to want you. Well, I do want you, so -"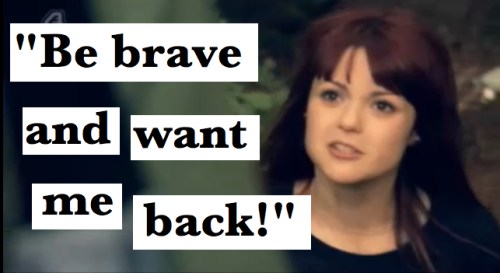 But Naomi isn't really that brave, is she, and Emily is being very lesbionically sad. So Naomi moodily walks her bike off into the distance.



Next: Love through the cat-trap door.
Pages: 1 2 3See entire article on one page