I came out as bisexual/pansexual on all of my social media at 27 years old, in June of 2020. I had quietly been out to my inner circle since I was 25. The weight that left my soul was indescribable. But it reminded me of the fresh wound that still maintains potency to this day. This full integration of my mind, body and spirit on all levels made me realize how detrimental it was living with the knowledge that I was considered "other" for all these years.
I made a pact with myself. I would tell the truth about a facet of my life that I spoke rarely about. Up until now, I had been living a double life as a church musician. This past summer, the tweet below by Jonathan Merritt went viral. Although we snicker, the heartbreaking reality and emotional abuse queer musicians endure serving God and community while dying privately is an ongoing problem we need to bring into the light.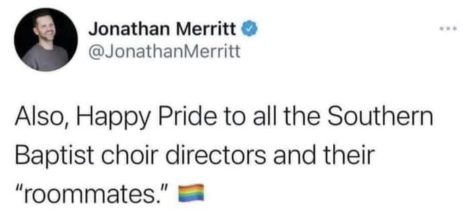 The way we know is in our bones. The way I felt when I first heard John Rutter's "Agnus Dei" at 15 in my own church sanctuary was the same way I felt the first time I kissed a girl. Around the time I heard this piece, I was struggling deeply with my faith and sexuality. I liked boys a lot. But I also liked girls a lot. I didn't know what that meant and the fear behind that was suffocating.
Sitting in my pew during an Easter rehearsal, I listened as it was explained to us that "Agnus Dei" was a choral requiem which translates to a mass for the dead. The ancient Latin text: Agnus Dei, qui tollis peccata mundi: dona eis requiem translated to: "Lamb of God, who takest away the sins of the world, grant Them rest." I loved it. It didn't use pronouns (not that I even knew what those were at the time) and was describing exactly what I had been desiring for so long: rest. This music knows what it is to want.
In college, we studied how choral church music was deeply influential to the political and socio-economic landscape. Funded and manipulated by leaders of the day, mainly straight white men, the money and gorgeous cathedral environment helped others like me hide in plain sight. Much of our sacred choral literature was penned by queer people serving the ruling religious patronages of the time period. Patronized by the rich and the royal, composers and conductors were commissioned to write music that challenged the senses towards a Higher Being and experience. Sometimes even, to prove a point or challenge the status quo. You were guaranteed housing and financial stability as well.
To me, it made perfect sense to stay until I could no longer justify its toll on my health in all areas. We stay for the love of the sacred texts and music, and our communities become our families and social circle. Some choose the career to foster their spirituality, or simply because we have in some ways more creative, financial, and professional control over our hours and environment than we do in the school system. If we can hold our duality in this way, we help influence the next generation of closeted choral kids. Leaving mine behind was one of the hardest choices I ever had to make.
We have covered the "why" of staying in the job, but we have yet to touch on the overstepping of boundaries, religious guilt, and PTSD that often accompany living a double life in the church.
Nathan Peace, an Episcopalian music director who is openly gay, spoke to his experience: "There is a certain hypocrisy in the ability of my previous church environments to celebrate my playing while simultaneously denying queer people the ability to 'minister' in the church. What is my music then, if not active ministering?"
Nathan is one of the few music directors I have met who had the opportunity to be open about his sexuality even in a non-affirming church. He still endured preparing and performing worship every week, just to have the clergy deny his identity and spirituality right from the pulpit. He decided to suffer through the position to gain musical growth and the resume boost he needed.
A professional musician named JJ Williamson identifies as a pansexual cisgender black man. He grew up surrounded by church music and God's calling to be worship leader. He attended a private Pentecostal college to pursue a music degree and travel with the school's leading Christian a cappella group. He endured racial harassment often being the only male black performer until he graduated. Still loving God and music, he accepted an offer to be the choir director at a prominent Church of God in the Birmingham area. The experience led him to walk away from the church entirely and identify as agnostic.
"I worked at a church in the Southeast as Trump was running for president. When I tell you that I've never felt so out of place and alone in my actual life, I truly mean it. I'm over here trying to bring modern and relatable sounds to the praise and worship experience (while also not forgetting about the choir) and I had old ladies rudely bursting into my office to sit down and tell me that 'Blue Lives Matter'," JJ recounted. "I began to speak out against racism and homophobia and I was met with 'sit-downs' and lunches detailing how I shouldn't be vocal or involved with either as my own agent if it doesn't align with how the church will (eventually) present their view on such matters. I was betrayed and left hanging by people I assumed wanted the best for me."
Many of my colleagues and I have left church music leadership entirely. We are rarely trusted as professionals or respected as human beings with our own choices and personal lives.
As for my own experience, I accepted a full time position in Southern Mississippi having completed my graduate degree, a few years before I decided to come out. At the same time, I embarked on my first queer relationship. The church was Methodist and I was not asked, but it was extremely clear that being genderfluid or homosexual in any way was not to be tolerated. I had already been let go from another local church for being "one of the gays." I wanted the job and I felt I could keep my lives separate while I gained some experience. I was so used to denying my identity to get by and make money that it didn't occur to me yet that this wasn't good for me. Immediately, I stuck out. Students who sensed my queerness came to me for a safe space to confide in through their voice lessons. They warned me, "People around here get beat for being gay." They begged me to be careful and not accidentally out them.
I was 25 years old, trying to grow a program, meet the requirements of the church, and have my own privacy and not live dictated by the standards of people who wanted me to model their idea of a perfect woman and meek choir director. Sexism was rampant. It was obvious the male director before me had gotten away with honesty and leadership that I could not simply because of gender. I was pulled aside and reprimanded by old ladies over my business attire on Sunday mornings, snarky mamas who wanted to find dirt on me would stalk my Facebook to find things to report.
I met some people who were life-changing to encounter and had some special moments as a musician and spiritual person, but my own identity was shrinking as well as my mental health. I couldn't please anyone and I was looking over my shoulder at all times paranoid to even go out in public with my girlfriend. The entire experience burned me out and broke my heart as someone who had grown up as one of them.
Many of my colleagues and I have left church music leadership entirely. We are rarely trusted as professionals or respected as human beings with our own choices and personal lives. Thankfully, more conversations around this topic are happening and I feel called to chronicle my experiences and those of others.
I know at this point in my life I would never direct in a church setting again. I am thankful to be singing for an Episcopalian church after a hiatus as a professional chorister. The community is peaceful and engages in taking care of others from all backgrounds and ethnicities. My choir is directed by queer clergy and is filled with fluid identities who are celebrated and affirmed. I am 29, and it is the first religious space I have ever felt safe.