This Friday night all over the nation, people of all sexual orientations settled into the dip in their home sofa, fired up their television screens and settled in for a romantic evening with the very aggressively advertised Jennifer Lopez cinema event "Marry Me." My girlfriend and I were amongst them, and we did the thing that you do when you are watching a cinema and a lesbian appears: you grip each other's limbs with fierce, alarming intensity and scream LESBIAN as if you are attempting to communicate the presence of the lesbian to the entire galaxy.
I am here today to recap for you the lesbian parts of "Marry Me" because it is my correct opinion that this movie, marketed as a heterosexual romantic comedy, was in fact the story of an unsung lesbian heroine who alas does not get her moment in the sun.
If you are unable to watch the film yourself, here are the basics you need to know to follow along here today: Charlie (Owen Wilson) is a math teacher in New York City, he has a daughter named Lou (Chloe Coleman), he's divorced and his ex-wife's new boyfriend is cool and takes Lou to do cool things. He has two friends: gay choir teacher Jonathan (Stephen Wallem) and lesbian guidance counselor Parker (Sarah Silverman). I'm not sure if it's ever confirmed that Jonathan is gay, I might just be stereotyping, but I am gay so that's my right.
Parker sets the entire plot and its central romance of this film in motion when, in traditional lesbian drama fashion, her plan to take her new girlfriend Roxy and Roxy's ex-girlfriend to the VERY MONUMENTAL Kat Valdez (Jennifer Lopez) concert — in which Kat will marry her beloved, fellow musician Bastion (Maluma), live on stage for a stadium of fans — is foiled by Parker and Roxy's unexpected breakup.
Charlie, not understanding the immediate and irrational connection often suffered by two women in search of a passionate relationship, scoffs at her relationship only lasting two weeks. "17 days, if you include the breakup," Parker corrects him, before disclosing that she's giving him a once-in-a-lifetime opportunity to show his daughter Lou that he is actually really fun by taking her to this unique concert experience. He consents.
At the concert, a pulsing room of extras sing along to my favorite Christmas Carol, "Church Church Church" while Jennifer Lopez wears a bedazzled cross/ nude bodysuit situation that offers us all what the best weddings do: the flirty suggestion of a full labia reveal.
Parker, eager to show her ex Roxy that she is really cool and doing cool things, is live-streaming the concert. In order to take this killer burn of a vid, Parker passes off the "Marry Me?" sign she made in Bette Porter's School Of Signage to Charlie.
Meanwhile, the world is discovering that Bastion recently engaged in open-mouth kissing with Kat's assistant Tyra. Kat stumbles on stage in a wedding dress that does not fit properly!!! unsure about what to do next. Therefore Kat tells the world that you cannot marry an idea, and "if you want something different you have to do something different," and so she points to the guy holding a 'Marry Me" sign and is like "okay fine, I pick you!"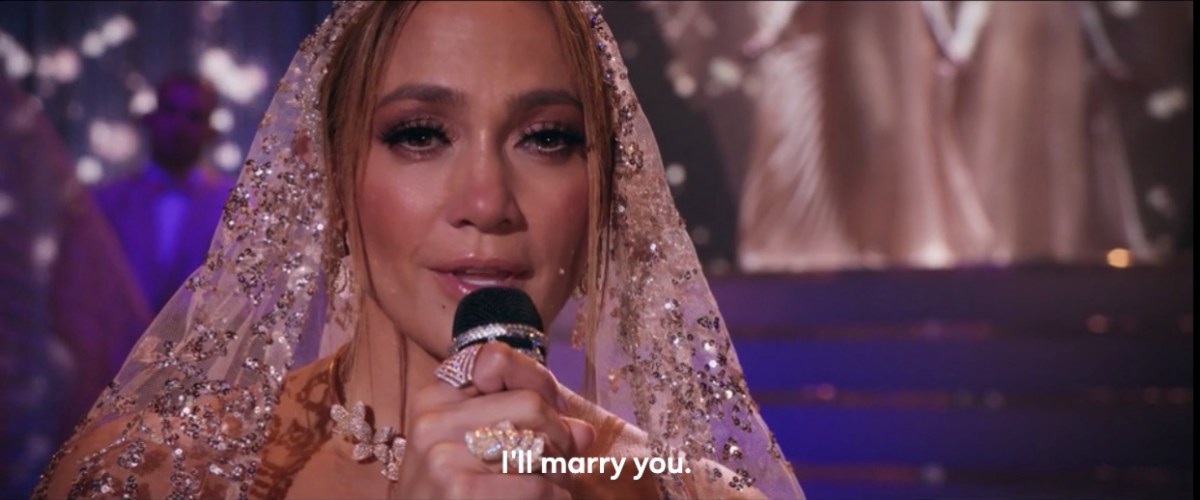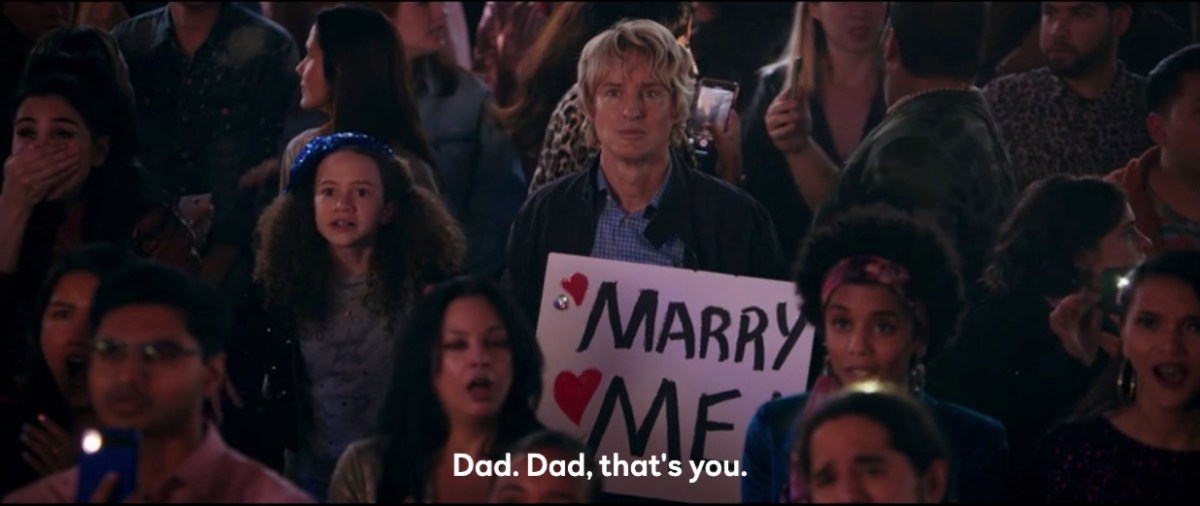 Charlie is unmoved by this declaration of affection but lucky for him, his lesbian best friend Parker is right there to physically shove him towards the stage while saying "GO GO GO" ten times. NONE OF THIS WOULD'VE HAPPENED WITHOUT PARKER.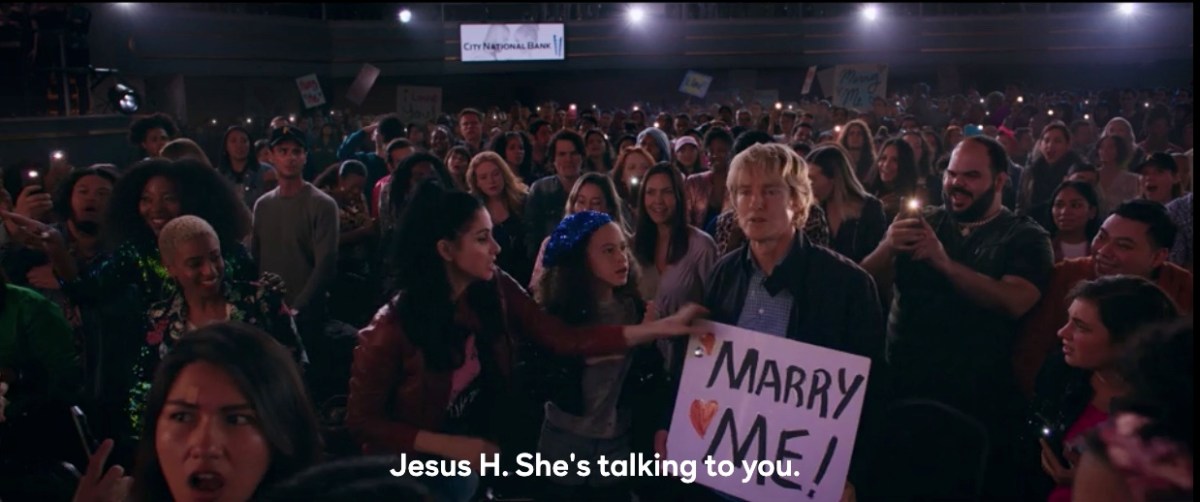 After their onstage nuptials and romantic french kiss, Charlie is shuffled out of the stadium with Kat and into a fancy vehicle that drops her off at her apartment and Charlie is along for the ride I guess? Meanwhile, it is of course Parker who, without so much as a word uttered between them regarding childcare arrangements, dutifully escorts Lou to her mother's house while Dad is traipsing about town with Kat, not answering her multiple phone calls.
Later, when Kat's manager Colin arrives at Charlie's enormous New York City loft (with exposed brick that he affords on the mere salary of a maths teacher) to make a deal regarding this little charade with Kat, it is once again PARKER — who slept on his sofa like a true pal — who saves the day. She nudges Colin towards offering Charlie a new "math wing" rather than personal wealth in exchange for Charlie's participation in this rom-com plot. 
Parker then accompanies Charlie to Kat's apartment as an emotional support lesbian in a very cute outfit. When he balks at fitting Kat into his schedule, it is Parker  who assures them she will ensure it all works out okay.
The basic machinations of this film pull from the Celebrity Dates a Normal script we have seen before a million times because we have all seen Notting Hill a million times. They begin to fall for each other but there are obstacles in their paths, etc. I'm not sure that this movie has anything original or interesting to say about anything, but I'm absolutely sure that both Parker and Charlie's daughter are lesbian fashion icons.
As the plot continues in the way you expect it would, it is Parker who keeps tabs on Charlie's mentions.
AND THEN. Rather than go to Europe to do something involving fame and money, Parker arranges for Kat to visit Charlie's little math club, even coordinating for the children to sign photo waivers prior to Kat's arrival and booting the kids whose parents failed to do so. Then Kat teaches the children how to fight stage fright with dancing for their upcoming Mathalon. We also find out that Katy Perry kissed Kat Valdez, which is gay. Parker admonishes Charlie for not introducing Kat to his daughter sooner, which is correct.
When Charlie takes Kat to the high school dance so that teenagers can learn more about how to be a great singer and pull off sideboob, it is … YOU GUESSED IT! Parker who arranges in advance to strip the children of their mobile devices to ensure Kat can enjoy the semi-formal just like I did in the 90s when cell phones didn't exist and you just had to CHERISH MEMORIES in your HEART.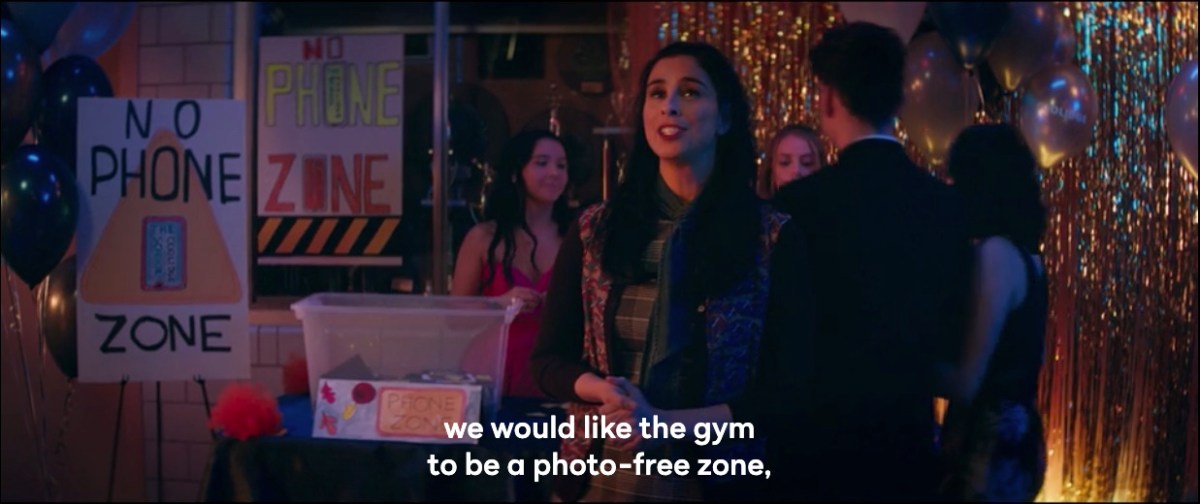 "You did all this for me?" Kat asks.
"I might have had a little help," Charlie says, FINALLY.
After engaging in sexual intercourse off-screen because this is a family film, J-Lo walks around this sunlit apartment eating a green apple wearing nothing but a men's dress shirt. This is unrelated to the plot of this recap I just wanted to tell you.
We next see our lesbian friend Parker at her laptop with Lou, watching Kat's live performance of "Marry Me" with her ex Bastion. Lou turns to Charlie and is like, "get your ass to the Garden" and Parker is impressed because she probably can see the baby gay vibes.
Fast forward through everything that you already knew was gonna happen and we are going to Peoria for the MATHALON!!! If you haven't seen the film, beware there are ENDING SPOILERS ahead.
Kat realizes that she has real true feelings for Charlie and leaves a talk show to go to Peoria, a town which you may recall from a Jenny Shecter story that ends with "that's never gonna fly in Peoria." Actually though Kat flies to Champaign (which just so happens to be where I personally was born) in a tight dress and stilettos, an outfit I would not wear anywhere without a backpack containing a Change of Attire but anyhow that's why J-Lo is famous and I am writing this recap in an oversized grey t-shirt and soccer shorts from the boy's department at Dick's Sporting Goods.
Who is there waiting for her with the phone charger she seeks and the buddy she needs to traverse this biting winter landscape in order to show her support for mathematics and also Charlie and his nervous baby gay daughter??? PARKER. Literally Kat asks the sky where she can charge her phone and a lesbian (Parker) appears like magic with a battery!
Together they hijack a bus, do Arts & Crafts, and arrive in the auditorium just in time for the BIG moment.
Charlie scurries on stage to give his daughter a pep talk in his signature talk-whisper and then looks out into the audience to see Kat in a sensible winter jacket. She opines that "not everything adds up the way it was supposed to" and "they say if you want something different you have to do something different," even though the "they" that said that was in fact Kat, 1.5 hours ago.
Now it is time for Kat to present a Marry Me poster to Charlie! And who, pray tell, is there with said poster, ready to hold it up for all the world to see? OUR LESBIAN FRIEND PARKER.
We reach this film's shining point of transformation in the way that films of this nature are wont to do — a loving embrace between Kat and Charlie that ensures many more to come. The lesbian guidance counselor snuggles the (possibly gay) choir director, and then we cut to children singing the dulcet tones of "marry me mary me say yes."
At this point I had predicted loudly that Parker would be getting together with Kat's assistant Melissa (played by the host of The Circle, Michelle Buteau)! I suspected this simply by the Law of Rom-Com Ending Montage Unlikely Match-Ups but alas, in the end Parker simply enables love for everybody but herself! Melissa hooks up with a Mathalon coach instead! Tragic.
I eagerly anticipate the spin-off/sequel, "Move in With Me," in which Parker finally gets what she deserves: a rom-com ending of her very own.