My grandma likes to tell the story of how I reacted to her visiting when I was five. I was skeptical when we picked her up at the airport; I looked at her thinking yes, she did look like the woman in the little gold photo frame in my room, and she did smell like I remembered her smelling. Her hair was the same rich blonde gold fluff. Still, I wasn't quite sure. When we got home, she began to unpack her nearly overflowing suitcase. She pulled out clothes and many carefully packed ziploc bags. If this was really Grandma, I knew she would have something sweet, something baked just for me. So I asked "Did you bring me cookies?" After explaining that wasn't a nice thing to say, she pulled a bag of tightly plastic-wrapped cookies out of her suitcase and gave me one. Eating her cookie, I felt closer to her, no longer felt suspicious but full of love.
I was already helping my mom and grandmas in the kitchen by the time I was four. For a long time, my best help was in the bowl-and-spoon-licking department – still my favorite part – but it wasn't long till I wanted to also stir, measure and shape the way my sweet creations came together. Once I was baking on my own, I often made cookies for my school lunches: peanut butter, chocolate chip, oatmeal, monster. I made muffins, brownies and quick breads for my family and friends. I latched onto the idea that baking and sharing food was how I could express my love. Part of that idea must have come from my Grandma, my mom's mom, from Tennessee who has always baked a lot. I didn't have any reason to think food and love could be separated until later, when I was old enough to see that she doesn't feel excitement about baking or sharing her treats; she isn't doing it to share love. She doesn't eat what she bakes. For my grandma, baking and cooking are wrapped up in the socialization and messaging of what "womanhood" should look like — baking is just an obligatory part of being a good Southern woman.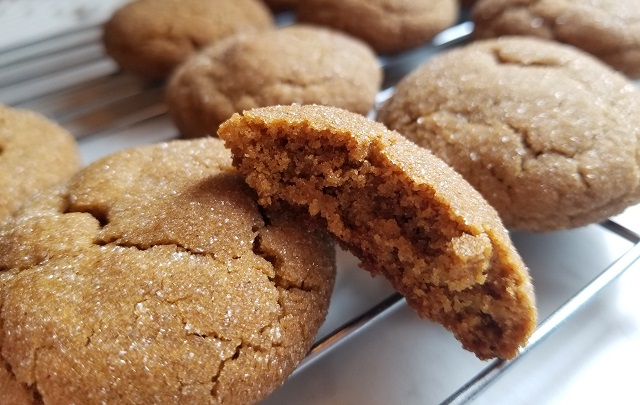 We baked a lot when I visited her during the summers in middle and high school. I learned how to pipe frosting; we made Black Bottom Pie, Lady Fingers, Devil's Food Cake, biscuits and even macarons for the first time. Although I've always been more confident making her recipes, the summer I was 14 I wanted to try the "challenging" macaron recipe she had found online. I'd never had one, but liked knowing that at the end, perfect or not, the cookie and smooth, rich chocolate ganache would be something sweet to eat. Grandma measured the blanched almonds into the food processor to make a fine almond meal, and after a minute of screeching and knocking around the blade, they crumbled easily. I rubbed the small clumps between my fingers before adding the sugar, noticing how soft they had become. The night before had been the third time this visit she had asked me to "just try the spinach" and "well, what DO you eat? Where do you get your protein? Your vitamins?"
I leaned into the counter trying to reduce the space I consumed, smelled the sweet, airy, floweriness of the cocoa and sugar blending with the almonds. She buzzed around the island counter to get the electric mixer, then came close to lean her head against my forearm and watch me stir the mixture. "You're doing great, I learn so much watching you." The eggs cracked perfectly and the snotty whites ran through my fingers into the bowl; I whisked until they became fluffy and stiff. Holding the mixer, I felt where I had to prick my finger that morning to test my blood sugar. I couldn't have breakfast until I tested it for her. I sprinkled part of the almond mixture over the meringue and softly folded it in. We watched as the creamy fluff slowly became fudgy and sticky. I eased it into a piping bag as gently as I could. Curious, I tasted the mixture as I piped the little rounds that would become the macaron shells. The texture was so light but I tasted the almond, chocolate and sugar all as distinct, strong flavors. I offered her a taste and she said "No, you go ahead." While the shells rested and baked, we got the ganache ready. I watched for the soft boil in the heavy cream. It needed to be just warm enough to melt the butter and chocolate.
Grandma watched me stir it in and the speckled cream turn into a smooth, silky chocolate color throughout. She turned away to gather the dishes. "Oh, we're being so BAD." I tasted the perfect chocolate mixture. "Hmm, I guess I could steal one tiny taste. When you're around, I forget I'm supposed to be on a diet." I assembled the macarons, eager for the next day when they'd be ready for me. When she finally tried them, Grandma remarked that they turned out so well for being a challenging recipe and that she couldn't eat "too many." I wanted to eat every last morsel of the smooth and crunchy chocolate goodness that I created. She made me give many of them to my uncle to take home.
She has boxes of recipe cards; mostly I know their stories and not their flavors. She needs to know what I cook for dinner regularly; she eats a dinner of nibbles and stolen bites. She tells me that sugar is toxic and will cause irreparable harm to my body; she sends me a box of Christmas cookies. Scrumptious little crystals that can tear at my blood vessels from the inside.
My mom grew up with the same conflicting messages. Occasionally, she'll show me how much it hurts. She often tells the story of stopping at a seafood restaurant during their New England family road trip where the blueberry pie was the only non-seafood thing for her to eat for dinner. Every time she talks about it, I can hear the pain of not having her needs considered, and the mischievous joy of being allowed to have pie for dinner. Road trips with Grandma mean long days without having breakfast; pie must have been a welcome treat among the unappetizing creatures from the ocean.
Since I was young, my mom has tried again and again to start eating breakfast and always falls back into skipping it. Despite her own experiences, I can't count the number of times we've gone to restaurants and I had to pretend to be satisfied with a dinner of plain undressed salad and a bit of bread because no one checked the menu for me beforehand. Before I was in my teens she made sure I knew how to read nutritional facts panels; I always knew it to focus on a food's numbers before asking if I wanted it or not, if it would satisfy and sustain me during my day.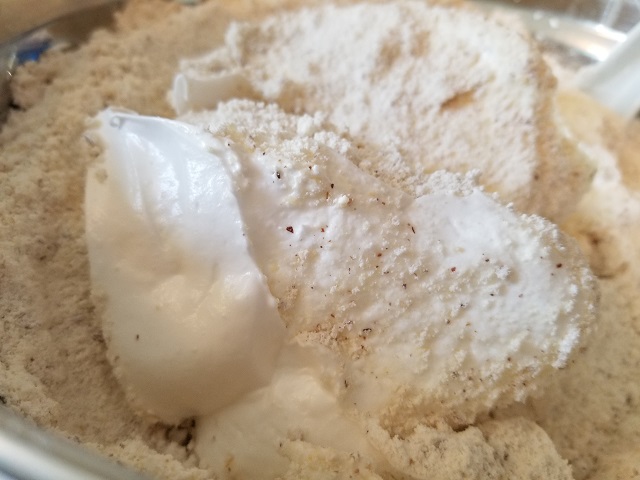 My girlhood didn't involve much socialization that strictly stuck to gender binary norms and I was generally my tomboy self. I approached most gendered things in whatever ways felt right to me, and eventually came out as trans and nonbinary. But my girlhood was obviously gendered by my family's messaging around food, messaging I wouldn't have gotten if I hadn't been a raised as a girl. In my family, only girls have to worry about the dangers of carbs. Girls remember everyone's favorite dishes. They cook and bake often. By nine, they're coerced into testing their blood sugar level. Girls learn to hide food or have special treats that you don't talk about, like the orange slices from the bulk section that we eat before getting home from the grocery store. They sneak bites.
Being either teased or lectured about sticking to the foods that felt safe made me love them more. Obviously, bread and cheese make a great pair, but they truly taste their best after being told how many minutes of exercise their calories are equal to, or the number of times I'd eaten something similar in the last week. I still find the crackle of a crust, tear of soft bread and crumble of a piece of romano most satisfying after pretending I'm not hungry in front of friends because I wouldn't like what they had to offer me and was too embarrassed to tell them.
Women in my family may not have healthy, mindful and loving relationships with food, but they do know how to create delicious meals and treats. I'm thankful for the recipes and skills I've inherited. My baking couldn't save me from the food shaming, but I protected my baking from being devoured by shame. I don't remember actively deciding to protect it, but the process of baking and my creations have always felt distanced from the snarky remarks and questions meant to make me second guess my food choices. Even while grappling with toxic food messages, I've held tightly to baking and cooking as a way for me to express my love. With the first bites of my food, I feel a sense of safe comfort, a buzz of transformative energy and my own capacity to create and satisfy for myself. I am confident that I can love people through my food because I know the respite I can bake for myself.
I watch the yeast begin to bubble as it feasts on sugar and warm water. I measure out the special flour that Mom and I drive to Seattle to get 55 pounds of. This flour makes our crust crunch right, the perfect amount of bubbles, the proper crumb structure and the most tantalizing fermenty taste after resting for three days. This flour has created THE crust; the crust my mom and I developed through almost a decade of pizza making. When we finally got it, the next five years were devoted to fine-tuning the overall flavors and perfecting a sauce. Once the yeast has bubbled up, I mix everything till it starts to come together. I check the clock before I begin kneading, even though I use roughly five Supremes songs to gauge the time. My palms push all the crumbly bits down into the soft ball of dough, pulling it onto itself, pushing it away. I find the rhythm and get lost enjoying the music and the familiar motions of kneading. I think of the pizzas that have come before this dough. My last batch of dough was for my "feminist circle" before I moved away. I almost always made them macarons, but for our last time together I wanted to share my best food, the one thing that holds most of my love and devotion. They had given me so much love and support, grounding me after years of hurtful friendships. Baking for them was my way of reciprocating and giving them each pieces of the joy that I find in baking and in my relationships with them. The fifth song ends and I leave the dough to rise. This dough will become pizza for my first trip back, for my old roommate, because in our wonderful year of living together I'd somehow forgotten to share it with her.


In the last five years, I've met other queer and trans folks who have shown me what it feels like to share love and community without shame. They are open and direct about their desires and pleasures. They regularly make decisions based on what feels best, and what will be the most beneficial for themselves and the people they love. They are generous to each other out of love rather than obligation. They love and eat as they want to. The individuals who make up my "queer chosen family" shift and change over time because I am still working towards finding a consistent and present chosen family. I believe that folks are in my life when they are supposed to be: some for decades, some come and go periodically, others around for only brief moments. I try to share my baking with all of them. Sharing my baking with queer friends is how I share my love with them, how I adapt to their presence in my life (yes hello, my vegan or gluten free pals, I got you), how I create memories with them and combine our stories.
Queer love continues to heal me. With the love of my friends, I grow and find new possibilities and dreams I never would have imagined on my own. I want to nourish and sustain the love in the folks who share it with me. I want sticks of butter and cups of sugar to fuel the creation of bonds that will eventually celebrate twenty-year friendship anniversaries. When I'm stirring chocolate on my stove, I think of the smiles that I can make and the stories people will tell between bites. As I choose the perfect berries at the farmer's market, I'm already thinking of who I want to share my jam-filled biscuits with, who I want to feel full with. I dream that my excessive, elaborate macarons will be soothing for a friend who has had a hard month, and hope that maybe they can fuel her through the next week. Each treat I slide onto the cooling rack has love destined for my queer chosen family.
Folding meringues and stirring berry jam into cream makes me feel strong and unbreakable. I love biting into my chocolate macaron with chocolate ganache and marionberry whipped cream while surrounded by queer people who love me and love eating with me.