Not Gay, Stupid.
That night at the family dinner, Emily's mum asks Emily if she was 'roughed up' by a boy. Emily she says no, she's just looking messy because she's just come from doing a chick.
Emily: "Her name's Naomi. She's rather beautiful…"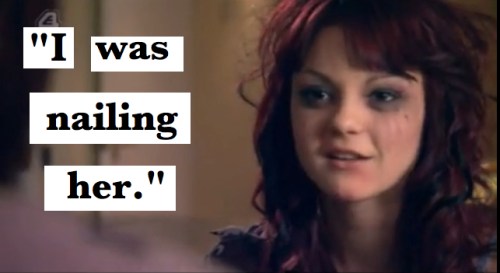 Katie calls her a liar and passes it off as a joke. She accuses Emily of conjuring up the Naomi relationship because she's jealous of all the suburban magazine trappings of success she's been socialized to desire but obviously does not because she prefers poonany –
Katie: "I get more boys than you. I look better in clothes than you. I'm more popular than you."
This argument goes on and on, all you need to know is that nobody wins or asks why she has such rough sex with this allegedly "rather beautiful" girl. Meanwhile Dad is forcing their fattie son to do pull-ups, but that's another story.
"Gordon McPhearson says you call them dykes because you have to stick their fingers in them," says Emily and Katie's little brother. Just a little fun fact for ya.


Meet the Parents.

Naomi eventually shows up at Emily's house, likely to get back together because that's what she does, it's her thing. Very indecisive. Emily's mother, however, is not ready to have a dyke as a daughter-in-law.
Emily's mum: "I want you to stop putting ideas in her head. She is not gay."
Naomi: "I'm not gay."
Emily's mum: "Good, then there's nothing to worry about then, is there? … I want you to disappear now, Naomi…"
Asking her to disappear sounds very mob-ish, and gets me worried about the vortex. No problem anyhow because Naomi stands her ground, fighting for her right to date Emily. JK, she just runs out the door, as per ush.


I can't explain Emily's dress.
Emily and Katie have made up and are buying dresses for the Love Ball. Katie's in high spirits, partially because she thinks she's saved her sister from the dark side and partially because said sister looks like a cupcake ticker tape parade.
Katie decides that JJ is going to be the perfect heterosexual Love Ball date for Emily. She also finds out that Emily gave him that sympathy lay and thinks this reaffirms her 'Not Gay, Stupid' theory.
Katie really wants to run this theory by Naomi, and so when Naomi calls Emily later that day –
Katie pretends to be Emily and asks Naomi to meet her for coffee. At said meeting, Naomi argues for Katie to just let Emily be who Emily is –
Naomi: "She can't help who she is, Katie."
Katie: "Oh yeah? Seems like she could help it when she was fucking JJ."
Naomi is a little stunned, and she doesn't argue much when Katie warns her to stay away from the college Love Ball. Katie says it's out of love, but I have a sneaking suspicion that it's also out of douchebaggery.


The Love Ball.
This is what a Love Ball looks like, in case you were wondering. There are no ladies for sale here, however. Just cardboard and Christmas lights.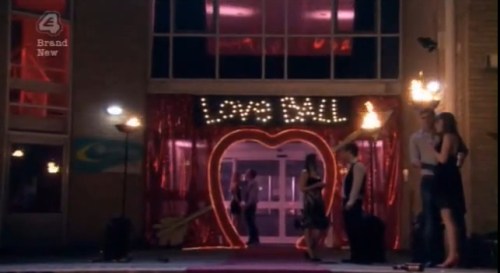 This is what individuality looks like, different hair accessories.
The girls' dates are JJ and Freddie, whose egos visibly shatter when Naomi defies Katie by rocking up to the ball, dashing all hopes the boys had of getting laid –
Naomi: "How sweet, out on a foursome. It should be fun. Emily's great in the sack, isn't she JJ?"
Emily: "Naomi, I wanted to tell you."
Naomi: "Yeah? But you didn't, did you."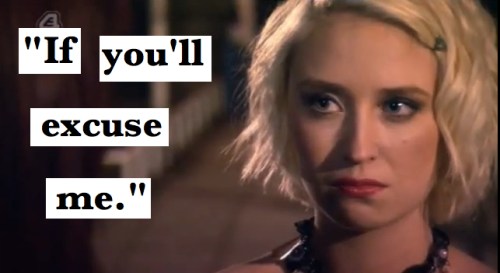 Naomi is well pissed off. She brushes past them and runs into the Ball, conveniently forgetting to tell Emily about that time she jumped Cook. Katie chases after Naomi and they get into a scrag fight  –
Naomi: "I didn't need to know about JJ, but you loved telling me, didn't you."
Katie: "She deserved it!"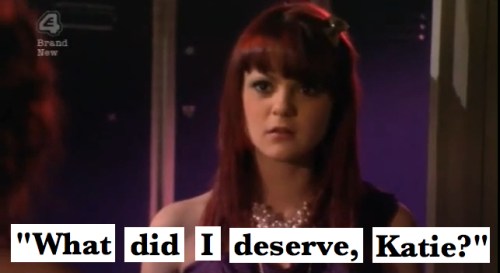 I'm skimming through this scene intentionally because I don't like girl fights. Emily seems to though, because she starts getting into fisticuffs with Katie and it's a fuschia fest…
Not one to really put herself out there, Naomi sits in an empty classroom thinking about what she's done while Bono croons sadly in the distance.
Emily, who is now only one second shy of giving Katie a true beat down, has a change of heart  –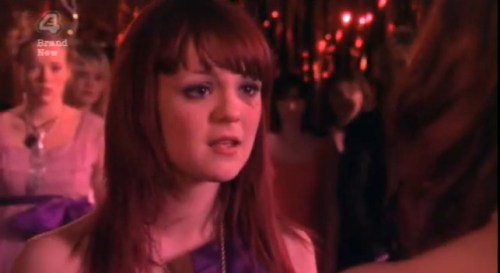 Emily: "Katie, I can't stand this. I'm a person. I'm not you."
Katie: "I know."
Emily takes off her purple dress Clark Kent-style, revealing a little black dress underneath. GET IT!? SHE'S NOT KATIE ANYMORE.
Emily: "You have to understand – I love you, and I'll never really leave you. But I can't fix this. I like girls. No – I like a girl. No – I love her…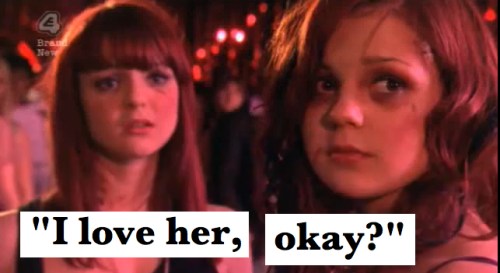 As Emily confesses her love for Naomi, Naomi's in the background holding out her hand with a little bit of jazz in the fingertips and as far as high school prom endings go, this scene wins.
Naomi: "Some party."
Emily: "Eventful."
Naomi: "Yeah. … I love you too."
Emily: "I know."
Whee! It's over! So what did y'all think? Are you still reading?
We'll find out what happens to Naomily when season 4 airs in the UK next year – however if this season preview is anything to go by, this relationship will return to your TV screen at full force:
Pages: 1 2 3See entire article on one page