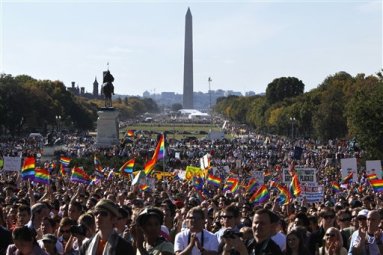 NATIONAL EQUALITY MARCH: I don't know if you heard, but there was this Equality March thingie that happened this weekend in Washington D.C.; the crowd was huge, diverse, inspiring and quite creatively dressed. Intrepid Intern Katrina Casino was our on-the-scene reporter, we took a lot of video and we'll have the full scoop for you unrolling this week. In the meantime, check out our awesome gallery of photos from the event.
At TIME, will a new generation of activists be heard? At The Independent, what's stopping Obama from striking down DADT?
Just how many people showed up? Depends on who you ask, anywhere from 20,000 to 200,000. Over at inlookingout's youtube channel, you can all the speakers including Staceyann Chinn, Kate Clinton, Dustin Lance Black, Cleve Jones, Julian Bond, Judy Shepard, Lt. Dan Choi, and a special performance from the cast of HAIR.
Was it worth it? We say: HELL YES. It provided an opportunity for gays to get together and exist in a context besides the more strictly-fun-oriented Pride Marches so often criticized for their shirtless speedo-wearing muscle dudes and we made the front page of a lot of news sources yesterday, which remains very rare these days.
LADY GAGA: Lady Gaga Speaks on the National Mall:


MIRANDA: Cynthia Nixon speaks on the National Mall:
DAN CHOI: Hundreds of LGBT activists and allies gathered at the Tomb of the Unknown Soldier on a rainy Saturday afternoon at Arlington National Cemetery to watch DADT-discharge and Arabic linguist Lt. Dan Choi dedicate a wreath to gay and lesbian soldiers who have fallen in the line of duty.
LEFT OUT: Black gay & lesbian couples had higher poverty rates than their black straight counterparts and three times higher than white gay couples, but black working class gays are left out of national gay rights agenda.
THIS SUCKS BAD: One of the four buses transporting Join the Impact marchers from Chicago to New York City for the march broke down in Toledo, Ohio and eventually was able to transport everyone on it … back to Chicago, stranding many of the group's organizers, signs, and Intern Elizabeth!
POLL: 57% of Americans support Civil Unions for Gay & Lesbian couples. That's it? WHERE THE FUCK ARE YOU THE OTHER 43%??!!! I DON'T KNOW YOU, AND YOU CONFUSE ME.
HATERS: Oh! Here you are. Over at WORLDMag's "Obama's Pledge to Redefine Marriage," we can see in the comments that an announcement considered to be "not enough" by many gay activists is pretty apocalyptic according to the other side. We're reminded by commenters that:
"What gets me is how so many want to corrupt the definition of marriage. I watched some of their speakers in DC yesterday and felt such pity for them. Bisexuals, transexuals, homosexual men, lesbians – all proudly defiant in playing their roles victims. Heartbreaking."
"As a married heterosexual soldier, I'm entitled to on base quarters for my family in the housing area. If a gay man and his constant companion get "married" in a state recognizing it and the Federal govt RECOGNIZES that marriage, all of you–whether you approve it or not– will be providing [gays] on-base subsidized house in a neighborhood overflowing with young children. No wife would accept as normal her husband's grabbing tail on the side. Male homosexuals from my review of the literature fully expect as a given that there will be occasional flings outside the marriage … Lesbians in contrast tend to be loyal to their partner even if not "married".

LADY GAGA: Lady Gaga Performs John Lennon's "Imagine" at the HRC Dinner: