Yes We Can.
After an uncomfortable run-in with her pervy male teacher and her mother, Naomi is hiding out in a classroom, toying with the idea of calling Emily, hopefully to apologise and not to colour-coordinate their plaid although that might be a good idea also.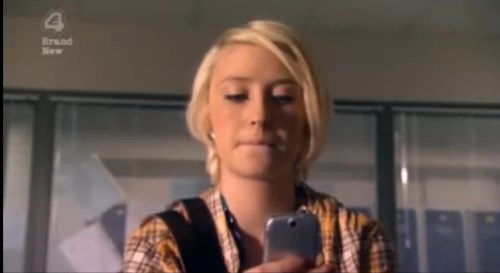 She doesn't call, it's election day and if Zac Efron has taught her anything then the girl needs to keep her head in the game.
Naomi is announced President, howevs she learned while hiding beneath the teacher's desk that the teachers have rigged the vote. Instead of accepting the title, she reveals Cook as the true winner and gives him a really big  congratulations –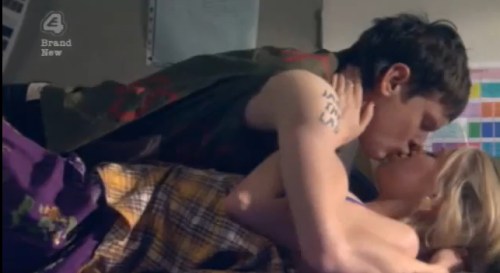 Sigh. This is where Skins nearly lost me, where I almost switched off because I'm just so tired of this particular hetereosexuality-check scenario. Thankfully, Naomi changes her mind midway –
Naomi: "This isn't right. I'm sorry, it's not a goer."
Cook: "Fair enough."
Naomi: "You're not going to try to convince me? Most guys would."
Cook: "I'm not most guys babe. There's obviously a good reason why you won't fuck me because, you know.. you're clever."


The cat flap
Naomi's mother picks up some gay vibes and has a D&M with Naomi, telling her that love comes from the person you'd least expect, and so she should be a bit more open-minded, by way of revealing she wished she'd aborted dear Naomi. It's a little inspiring, so Naomi visits Emily and I change my search preferences on eHarmony.
Emily won't let Naomi inside the house because she doesn't want Naomi to see that she's been crying. So rather than reschedule, they sit on opposite sides of the door and have 'the talk' through the cat flap –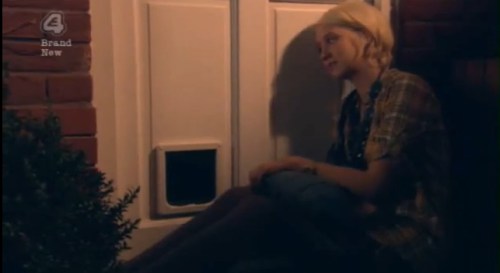 Naomi: "I do need someone. Want someone. You're it."
Emily: "And?"
Naomi: "And… When I'm with you, I feel like a better person. I feel happier. Less alone."
Emily reaches out through the cat flap and they hold hands. Every lesbian in Bristol goes "Aww."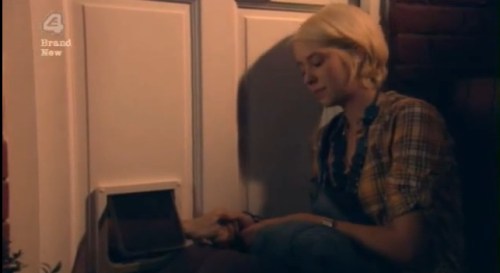 Naomi: "It's not as simple as that, is it. Being with someone."
Emily: "Isn't it?"
Naomi: "No. I mean, I don't know. I don't think so. I mean. Can't we just sit like this for a bit?"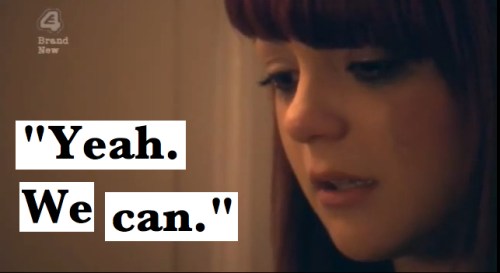 As sweet as this scene is – at this point I can't decide whether or not it's a step forward or a life sentence to the Friends Zone. I'm also worried about all that intimate contact in an area usually frequented by a cat. Oh, lesbians.


This is JJ.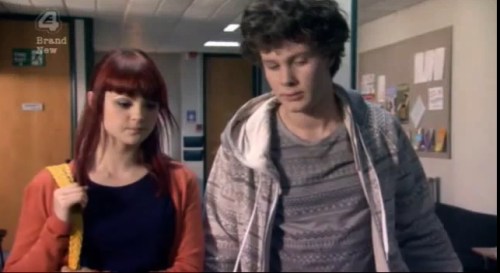 Emily runs into her highly anxious school friend JJ at the shrink's office and catches him up on her emotional issues.
Emily: "I want to have sex with girls."
JJ: "Right."
Emily: "Yeah. I like girls. I like sex with girls. I like their rosy lips, their hard nipples, bums, soft eyes. I like tits and fanny, you know? There, I said it. And now…"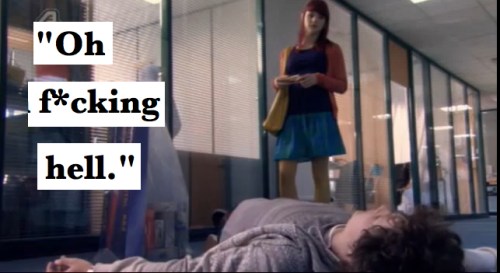 JJ faints, and Emily makes a pledge to teach him how to be a little more normal.
The lesson gets off to a rocky start, when they head to their friend Freddie's house and bust in on Katie and Freddie getting busy. What happened to Katie's skeasy football-playing boyfriend? Who knows! Who cares! This is how the Skins girls roll.
Katie suggests that rather than interrupt them, JJ finds his own action  –
Katie: "Maybe my weirdo sister is up for it."
JJ: "No that's ridiculous, Emily is gay."
I guess that whole making-out-on-the-bounce-house thing didn't make Emily's orientation clear enough to Katie, who is silent for the first time this episode and it's wonderful. Emily runs out the door, she's been learning from the master.


At the Discothèque
Naomi bumps into Effy, who is waiting in line at a dance club. Effy, a keen Naomily supporter from the beginning, wants the 411  –
Effy: "Is it true?"
Naomi: "Is it that obvious?"
Effy: "You don't have to be a genius to work it out. So?"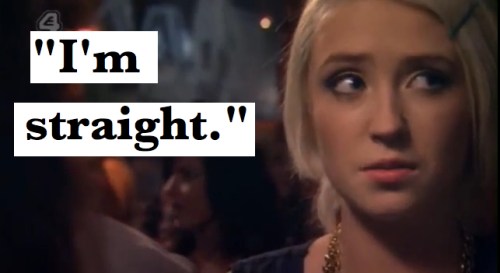 Naomi: "If I said no, would I regret it?"
Effy: "Probably. But not because of me."
They agree that love sucks, and Effy suggests they go into the club and get so "monumentally fucked up" that they make out forget everything.
Inside said club, Emily is tripping and getting groped by Cook, who seems to be very popular with the ladies of Bristol what with his ability to inspire anarchy and get kids out of school —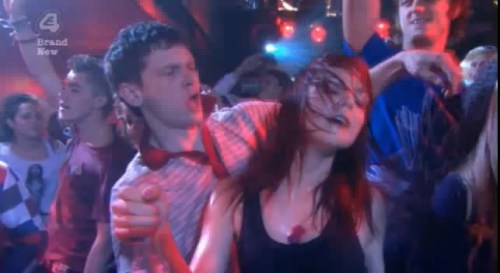 Katie realises that Emily isn't capable of making good decisions and drags her away, which is surprising given that Cook is a dude and Katie is usually all about dudes and their bad decisions.


Sympathy sex
Outside, Emily is sitting in a gutter with JJ and her regrets. She doesn't want to go home and face Katie, so JJ mentions a) he's a virgin and b) he has a bed that she is welcome to share.
Emily: "This is a once only charity event, you understand."
JJ: "Got you. Because you're gay."
Emily: "Yes. Because I'm gay."
I feel like I should be disappointed by this gay-girl-sleeps-with-guy scenario, but I'm not.  These kids are so willing to sleep with anyone that giving someone a sympathy screw is within character. To be honest, I even think it's kinda sweet. Don't judge.
The next morning they have breakfast and it's too cute for words, these kids are gonna be BFs Forevs now that they've seen one another's private parts.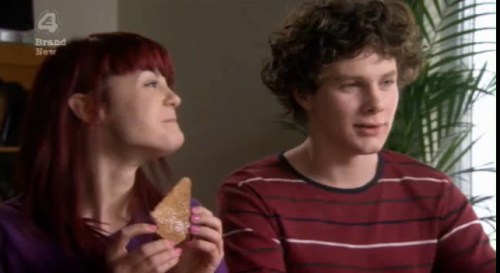 When you go down to the woods today
… uou'll probably find some magic mushrooms, Effy has. The gang are relieved it's not weed and MDMA, 'cause a change is as good as a holiday.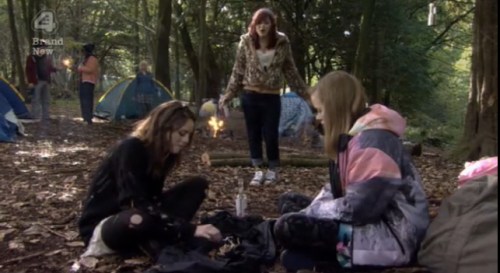 Katie, an unexpected voice of reason, brings the party down by telling everyone that eating mushrooms is not an awesome idea. I'm confused about why Katie seems kinda normal now – first she's being nice to Naomi, then pulling Emily off Cook, and now this, I don't get it. Did I mention everyone was shrooming?
A whole lot of action goes down during the night, i.e. Effy nearly kills Katie and then fucks her boyfriend, but I don't want to talk about it because it screws up my whole idea of good and evil and God.
On the bright side, it seems as if Emily and Naomi got to know each other a little better overnight, which is lovely.
JJ: "Bit cramped in there. Me, two girls and one tent. Nightmare. You ladies like to wriggle, don't you?"


Back at school
Emily is passing herself off as the injured Katie so that she can audition for The Lion King sit Katie's exams for her.
Naomi, who is now intimately aware of Emily's physique, sees right through the disguise and stops by to compliment her on her cleave impersonation and also to break her heart.
Naomi: "I think I'm going away for the summer."
Emily: "Oh."
Naomi: "Cyprus perhaps. By myself. Spend some time by myself, you know? Do some thinking. By myself."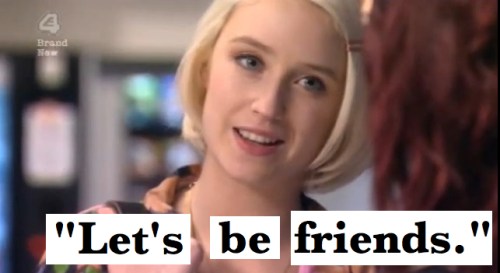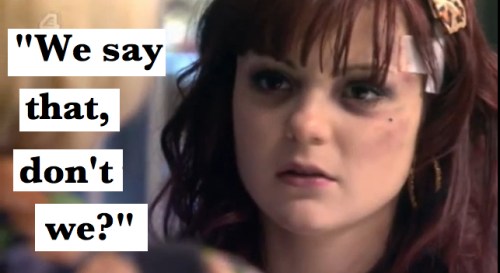 Naomi tells Emily to have a good summer and yep, she walks away. Emily calls out "I'll miss you" and that's enough for Naomi to 180, run back and slam her against the locker like this –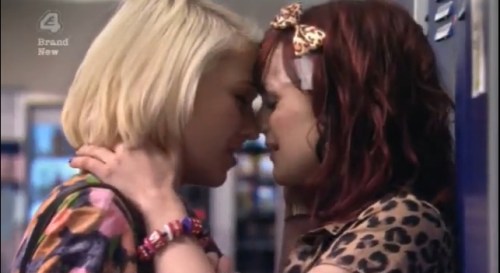 Naomi: "I can't stand it. I can't."
Emily: "It's okay."
The hallway fills up with kids and Naomi says "let's get out of here" and that's what they do.

Emily wants to go steady.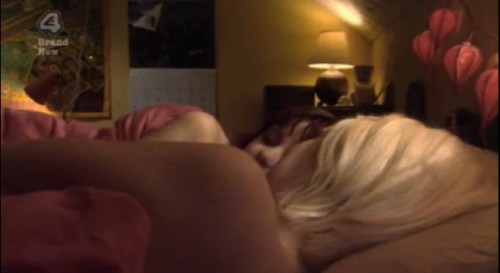 In bed, they're stroking each other's backs and arms and hair and talking about their problems and feelings with nice gauzy close-ups. Emily wants to tell people about Naomi, but she does that thing they always do in these plot-lines, which's say, "I'm not like you," which means I DON'T HAVE THE GAY DISEASE. Em suggests bisexuality. Then she suggests the LOVE BALL. They have different ideas about that.
Emily: "I want to tell people about us. Come to the college Love Ball (prom) with me. Like we're together."
Naomi: "I don't want to do that."
Emily: "Why not?"
Naomi: "Em, it's nobody's business.
Emily: "Why? Who cares what other people -"
Naomi: "Emily. I'm not like you. I'm not sure like you are." …
Emily: "Fine. You like boys too.
Naomi: "Maybe. Maybe I only like boys, apart from you."
Emily: "Well that's fucking great, you're so in touch with yourself, aren't you."
Speaking of touching, Emily assures that there will be no more of that any time soon by jumping out of bed and shouting a lot, more lines from the lesbian storyline plotbook.
Naomi asks her to not to leave, but she's too busy cursing fucking this and fucking that to pay much attention and she can't find her shoes and is still ranting and raving, and Naomi's sitting their speechless thinking  –

JK! I'm going to give her the benefit of the doubt and think it's more like this –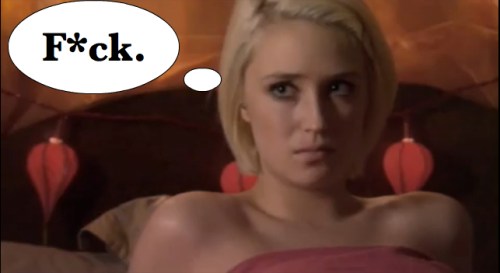 What's that? Oh it's Emily, still yelling –
Emily: "I'm tired. I'm so fucking sick and tired of it."
Naomi: …
Emily: We're still holding hands through a cat flap, aren't we.
Naomi: …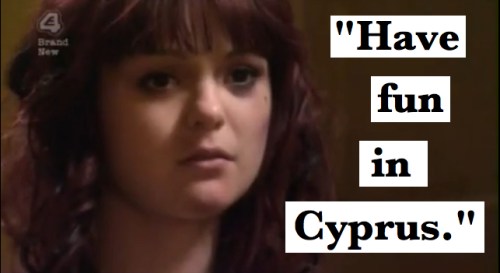 ZOMG AGAIN? All of this going back and forth is exhausting. On. Off. Yes. No. On. Gay. Off. Straight. Not. No. But it's hard to complain, we all ask for realistic lesbian storylines on the television and by god, here it is, this is it. How do I know it's real? It. Is. Draining. Me. JUST LIKE IN REAL LIFE.


Next: The theme of the Love Ball is "extra-drama"

Pages: 1 2 3See entire article on one page