Welcome to Drawn to Comics! From diary comics to superheroes, from webcomics to graphic novels – this is where we'll be taking a look at comics by, featuring and for queer ladies. So whether you love to look at detailed personal accounts of other people's lives, explore new and creative worlds, or you just love to see hot ladies in spandex, we've got something for you.
Header by Rory Midhani
For this week's Drawn to Comics, I'm focusing on a woman who does some of the most creative, innovative and just flat out amazing comics I've seen online in a long time. Em Carroll is a writer and illustrator from Canada who uses bold color contrasts, pointed illustrations and creepy writing to create an impenetrable fog of beauty and dread. While she has a wide variety of fantastic and imaginative comics, her horror and folklorish comics are the ones that have really caught my eye. Carroll's comics often tell old world style fairytales and legends, but rather than the uplifting and cute stories that we usually see (or even the "gritty" reboots that have become so popular), Carroll tells stories that seem primeval and deeply rooted in the earth. These stories have a cold, harsh beauty to them that is reminiscent of a predator's bared teeth in the moonlight.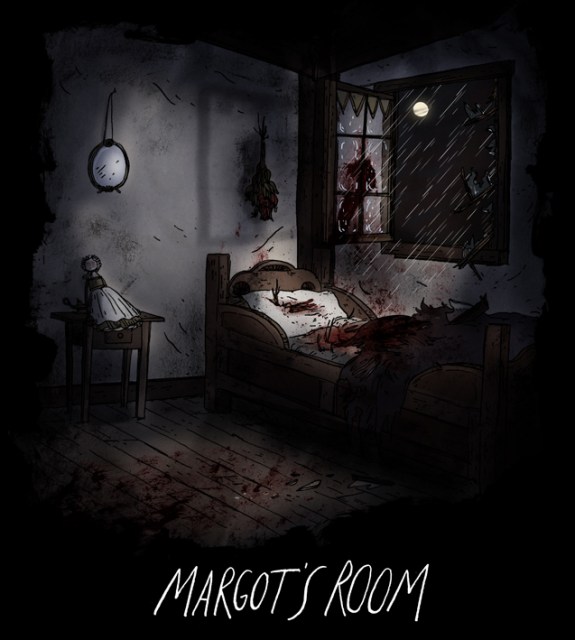 Perhaps Carroll's most famous comic is the eminently ingenious Margot's Room. It starts with a lone disturbing image and a single stanza of a poem. This poem on the first page gives you clues on where to look to read the different parts of the story, and then the comic continues to show Carroll's vast creativity by taking you on a journey in a way that I've never seen a comic work before. Margot's Room also highlights another skill of Carroll's: not only is it a tale of darkness and monsters, it also shows that sometimes people are the ones you should be most afraid of.
Another one of her most famous (and best) comics is His Face All Red. This tells the tale of two brothers, betrayal and the unknown that lies beyond death. As with several other of her comics, His Face All Red calls upon the classic human fear of the forest in order to create much of it's terror. Or, if fear of the water is more your thing, her mermaid tale The Prince and the Sea might be for you. While we've been seeing more and more tales that go back to the classic tales of mermaids luring unwary sailors into the deep, Carroll's art is really what sells it and gives it a truly eerie feeling.
Her latest comic, which was released in time for Halloween this year, is called Out of Skin and this one really takes the next step into terror. While there had been some gore in her other comics (and definitely some intensely disturbing images), Out of Skin focuses on scaring you with massive amounts of body horror. This comic tells the story of a woman who lives all alone in the forest and how her life changes after she makes a horrifying discovery. The premise and setting alone are terrifying enough, but then when the horror starts, it doesn't just rain, it pours. I really don't want to spoil this comic, because the monstrosity of this story is so original that you really should experience it for yourself. If you are looking for a scary story to read in the dark, you really couldn't do much better than Out of Skin or any of her other horror comics.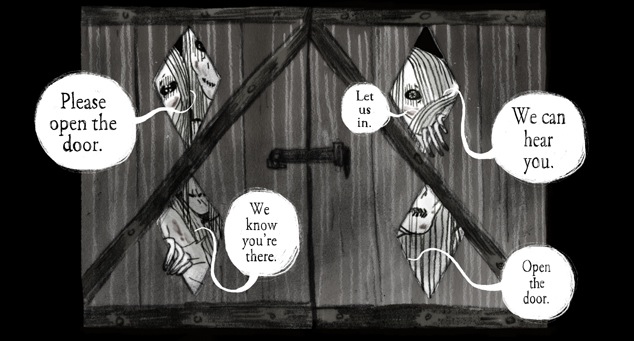 Even when she's writing about murder, monsters and morbidity, she's able to keep an extremely literary air to her stories. The sometimes seem more like illuminated manuscripts than comics. Using grays and reds along with shadows created out of negative space and heavy, heavy blacks, Carroll is able to create a perfectly foreboding world. It's also amazing the amount of fear and atmosphere she's able to create using such scratchy linework, simple panels and pale figures. Even the way she writes her words on the page add to it all. When she uses red, it looks like blood, when she uses white, it looks like moonlight, surely this is what horror art should be. To make it even worse (or better), sometimes there will be flashes of animation in seemingly normal panels that will cause you to think you are seeing things and make you feel even more on edge as you're reading.
Other than her solo comics, Carroll also co-created the computer game The Yawhg, a "one- to four-player choose-your-own-adventure game that randomizes a unique story every time you play." She also runs the fashion illustration blog Draw This Dress with Vera Brosgol where the two find classic dresses and other women's fashion and, well, draw them. She is also illustrating a graphic novel adaptation of Laurie Halse Anderson's National Book Award Finalist young adult novel Speak. When she's not making comics (and probably a lot of the time when she is), she lives in British Columbia with her wife, fellow artist Kate Craig and cat Tuco.