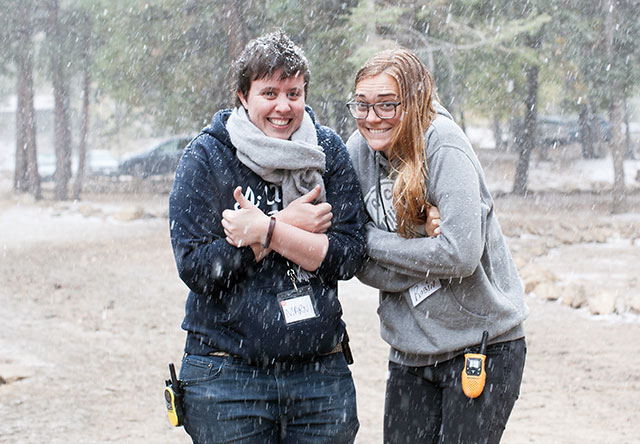 It's another lovely holigay season on the internet, but this one is especially special for us: our hotly anticipated redesign will be debuting the first week of December! We have so much shit in store for our first month out and we're really excited. To celebrate this fantastic and promising time, we're having a holiday contest to expand and enhance our vibrant community.
Here's how you enter:
If you haven't already, register for an account on Autostraddle.
Comment on this post — THIS ONE RIGHT HERE — and tell us what your favorite thing to read on Autostraddle is (this actually does help us plan for the future!) — before December 1st.
Then… keep on commenting! Comment on an Autostraddle post at least every other day between now and December 12th (if you miss a day or two, we'll forgive you).
A trusty A-Team member will then compile a list of everybody who entered themselves here, check comment logs to make sure you've stuck around with your thoughts and feelings, and toss all those names into a magical hat.
On December 15th, the winners will be announced, most likely in video form, plucked out of a vessel by somebody undoubtedly adorable.
WHAT CAN YOU WIN?
Grand Prize:
$100 Gift Card to The Autostraddle Store OR $100 off tuition to our A-Camp event 
What will you buy with your gift card? The possibilities are endless! There's lots of new stuff for the holidays, like a new style of hoodie that'll pop up in the store next week, You Do You flasks, and the 2014 Calendar. We're also re-stocking the classic apparel: our You Do You t-shirt, A-Camp hoodies, Straddle This boxer-briefs and "Straddle This" t-shirts. Or you can accessorize with You Do You pins, stickers or totes, or record all your feelings in a "So Many Feelings" notebook.
If you choose the A-Camp discount, we'll give you a code that you can use when you register for camp (registration for our May 2014 A-Camp opens January 17th, but we'll let you register on the 16th to ensure you get a spot). If you change your mind or can't make it, you can swap out that prize for the gift card down the road.
First Prize: $50 Gift Card to the Autostraddle Store
Two Second Prize Winners: $25 Gift Card to Autostraddle Store
---
Alright Weirdos, GET COMMENTING!