Hello, puffins. This week I saw Kanye West live and I was so close that I could make out the details on his face and then I started crying in Madison Square Garden. It was pretty cool. White Jesus was there.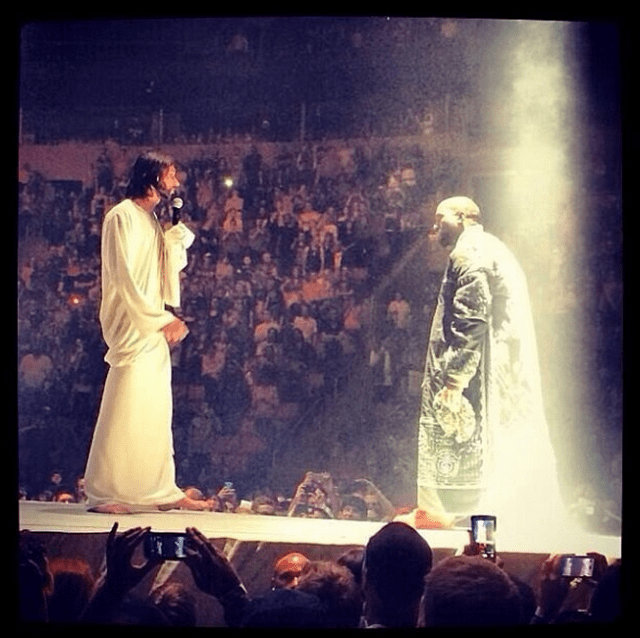 Justice, Served Both Cold and Lukewarm
+ In Arkansas, living with someone you're not married to no longer fucks with your custody rights. In other news, living with someone you're not married to used to fuck with your custody rights in Arkansas.
+ Oklahoma's state-owned National Guard facilities will no longer accept applications for benefits from any military spouse ever just to spite gay people, making everyone's life awful.
+ A teacher in San Bernardino County, California claims she was fired for being gay.
+ Sexual assault is (surprise!) underreported – and when it's not, the cops f*ck it all up anyway.
Femmes: A Tragedy
The two-hour YouTube video of your dreams.
When the perhaps overly selfless curator of a burlesque show—Marigold—is unceremoniously dumped by her polyamorous butch girlfriend for a hot bartender named Callie, her friends– an activist, an academic and a party promoter– are thrown into girl/girl competition despite their best feminist intentions.

Eight femmes are ultimately forced to parse the ways butch/femme relationships do or don't replicate heterosexual stereotypes, as the show reaches a stunning multiple climax with breathtaking burlesque performances by Kristelle Monterrosa, Olivia Bellafontaine and Sara Ann Buccolo, and great laughs from Christine Treibel, Sarah Dryden, Devri Richmond, Janai Dionne and Arielle Marie McFadden.
The Society Page
+ The men of Lima are dreaming up "Imaginary Couples" for equality.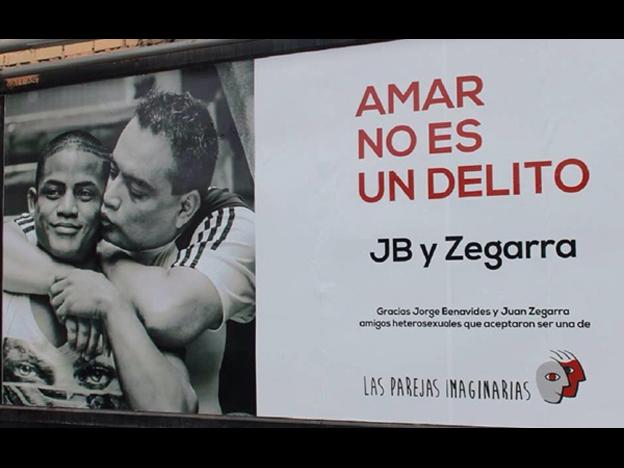 + In Russia, the IKEA catalogs are more boring.
Ikea has been accused of cowardice after removing a British lesbian couple from the Russian edition of its monthly magazine.

The December issue of the magazine, which will be distributed in most countries in which Ikea operates, contains a long feature about the lives of Clara and Kirsty, a Dorset-based lesbian couple and their Ikea-filled interiors. "We're two mums bringing up our baby boy in Clara's loft," says Kirsty in the story. "We're not your average family in your average home, but if my nan can raise two sons in a tiny caravan, we can make it work in our little loft."

Russian Ikea shoppers, however, will be shielded from information about the lives of the two British lesbians, in case it is deemed to fall foul of the country's controversial new law banning "homosexual propaganda."
+ Gender roles are the reason for the gender pay gap because our preconceived notions of gender are societally poisonous. But you already knew that.
+ This week, the world discovered that women are lettin' it grow down there nowadays. And thus, War of the Most Provocative Stock Photos for This National Story About Pubic Hair began.
+ Tons of British chicks are kissing girls and debatably liking it.
Every 10 years, researchers in the United Kingdom publish the National Survey of Sexual Attitudes and Lifestyles, known as Natsal. The first survey, Natsal-1, was conducted from 1990 to 1991. The second, Natsal-2, took place from 1999 to 2001. The third, taken from 2010 to 2012, was published todayin the Lancet. It shows significant increases in the reported prevalence of anal sex, lesbian activity, and female intercourse before age 16. Let's look at the numbers.Follow
Lesbian sex. In Natsal-1, less than 4 percent of British women aged 16–44 said they'd had any sexual experience or contact with a partner of the same sex. In Natsal-2, that number rose to nearly 10 percent. Now it's 16 percent. By any measure, that's an enormous increase, more than doubling the reported rate among men.

The (Pop) Culture
Y'all. Raven got an ALH.
What if we're all wrong about Kanye West? What if we'll never understand him. What if he and I share a soul.
Bound 2 is littered with a variety of the most stereotypical motifs of white American pop culture.

We are first shown the easily recognisable landscapes of North America, with mountains, canyons and deserts. Next come the beautiful white stallions, the lone male figure riding off into the sunset and finally the beautiful woman.

We even get subjected to soft porn when West and Kardashian feign intercourse atop of his dirt bike.

All of these motifs are represented so shoddily, that it simply must be intentional; Kanye isn't short on money folks and Knight is a more than accomplished director.

Simply put, Bound 2 is an obvious parody disguised as a pastiche; however, there is one exception.

The only aspect of West's video not associated, as being stereotypically American is the rapper's presence itself. West may be the lone male rider, whom accompanied by his beautiful lover is slowly riding off into the sunset. But his race doesn't fit with the conventional stereotype, this is yet another appropriation and a remarkably clever one at that.

The fact that Kanye chose to premiere his video on Ellen, a TV show with an overwhelmingly white demographic isn't a coincidence either. West is actively striving to break down white American stereotypes by making the average white American confront his integrated versions of them.
+ Sara Quin has feelings about the movement for LGBT equality around the world:
At some point I sensed a change. We had figured out a way to share the complex and inspiring experience of being gay without it feeling reductive or isolating. Our success as musicians changed the spin of the story. There was relief during the press cycle for "The Conwp_postswhen writers suddenly wanted to talk about our songwriting, the process of recording, and the dynamics and depths of our collaborative relationship. Of course our being gay (and the audience who embraced that) was still of interest but it did feel that we had entered a new era of our career. It was fun to talk to the press! Even enjoyable!

I'm grateful that there has been so much progress made internationally in the fight for LGBTQ equality and being in this band has allowed us to experience that change personally all over the world. Our fan base is one of the most kind and understanding and their acceptance has allowed for a deeper love of ourselves. The correspondence we receive from them each night is often heart-wrenching and brave.  I wake up daily to op-ed pieces and blogs written by impassioned and influential women (both straight and gay) that make me feel less alone. There is a vibrant community of queer friends and artists who share the experience of being proudly out and accepted widely but not negatively impacted or marginalized commercially.

Today, when a journalist from any country starts a questions with;

"I'm sorry to ask you this…"

"I know you don't like to talk about it, but…"

"I don't think its important to your music that you're gay but I was wondering…"

I feel proud to speak about our identity and how that has positively shaped our music and our career.
You Should Go / Give / Care
+ What happens when 140 lesbian artists, a roomful of wealthy benefactors, and a fool like you end up in the same place? Probably boozing, let's be real.
To inaugurate the Lesbian Herstory Archives' year-long 40th anniversary celebration, we are holding an Art Benefit hosted by Johannes Vogt Gallery in New York, NY, co-sponsored by Alexander Gray Associates. We invite you to be part of celebrating the Archives' 40th year of gathering and preserving lesbian lives and culture for future generations.

Johannes Vogt Gallery, 508 West 26th Street #205, New York, NY 10001-5518 (Map)
Friday, December 6, 2013
Preview & Public Viewing Hours: 4.00pm – 6.00pm
Raffle & Reception: 6.30pm – 10.30pm
+ Good Men, Bad Men, and a Few Rowdy Ladies needs your help:
"Good Men, Bad Men, and a Few Rowdy Ladieswp_poststells the story of Florence, Arizona, a small town with 9 prisons in the middle of the historic Wild West – and the very colorful characters who live there. Hearkening back to the early works of Errol Morris ("Gates of Heaven") and the Coen Bros. ("Raising Arizona"), the film artfully explores the prison industrial complex in a humorous and humanizing manner, through the lens of deep, rich Americana. Like an intricately crafted cinematic tapestry of vérité, interviews, and music, the film steeps viewers inside the lives of several key residents of Florence, exposing the good, the bad, and the rowdy – and the permeable razor wire that separates all three.
Missive Journal, a new publication of original transfeminist thought, is calling for submissions for it's first issue! We're looking for essays, poetry, short fiction, visual art, and memoir written by trans women.

Most of the discourse surrounding trans women has almost nothing to do with our lived experiences, or is perpetually stuck in a state of Trans 101. The transfeminist writings which have most inspired us are ephemeral and scattered, situated as they are in various internet communities. And far too often, these conversations are derailed by an interloper almost as soon as they begin.

Our aim in starting Missive is to foster a different type of conversation about our bodies and our lives. It is a place to move beyond the politics of apologism; it is a place to collect and record transfeminist works.
+ Tell the SCOTUS to stop f*cking around.
+ Cheryl Clarke is getting a much-deserved Kessler award! And you can go!
On December 6, Cheryl Clarke will receive the Kessler Award 2013 for her substantive body of work within and significant influence on the field of GLBTQ Studies. The ceremony will begin with testimonials by distinguished guest speakers, Steven G. Fullwood and Elizabeth Lorde-Rollins, and Clarke will deliver the Kessler Award lecture, "Queer Black Trouble: In Life, Literature, and the Age of Obama."

The prestigious Kessler Award is an annual lectureship given to a scholar who has produced a substantive body of work and has had a significant influence on the field of GLBTQ Studies. The 2013 awardee is prominent poet, essayist, and educator Cheryl Clarke, long time Dean of Students at Rutgers University and founding director of the Office of Diverse Community Affairs and Lesbian/Gay Concerns (renamed Office of Social Justice Education and LGBT Communities).