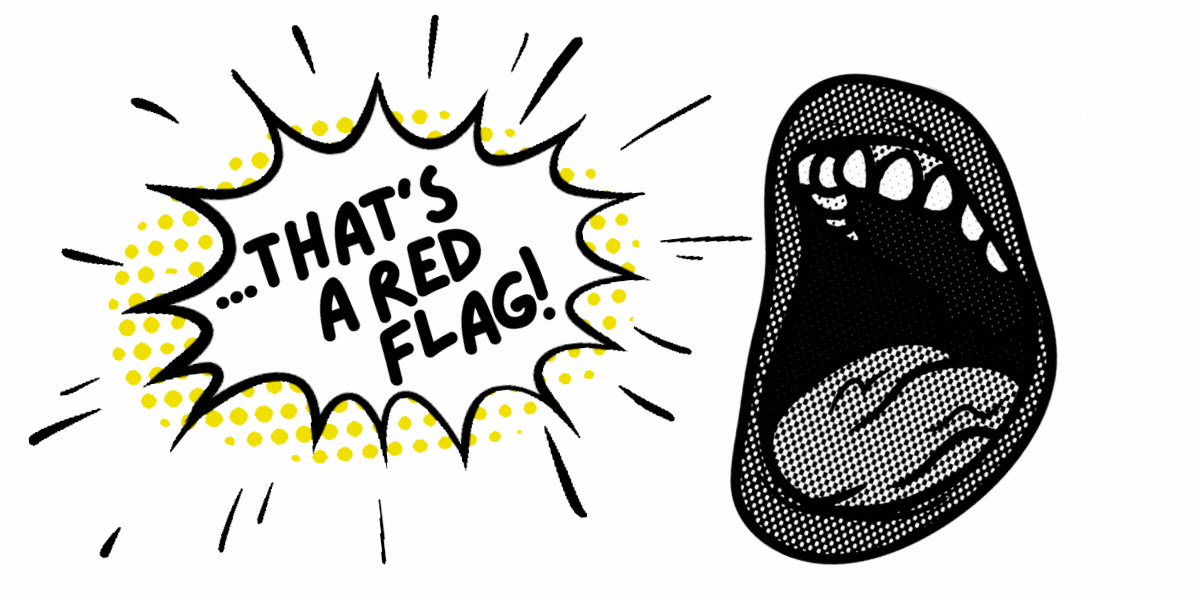 That's a Red Flag! is a miniseries about the warning signs we look for in queer dating & relationships.
---
I'm not someone who spends a lot of time thinking about "red flags" because typically, I ignore them (which in itself is definitely a red flag, but I'm just being honest). Almost everyone I've dated has talked excessively about their ex on a first date, and many of them still lived with said ex. It might not be normal or healthy, but it is gay, and therefore a cross I'm not only happy, but nearly required to bear. I relish the particular messiness gay people find themselves in, and often I mirror it.
Tipping well is an imperative so obvious it almost doesn't warrant musing. We should all be generous. We should all splash out. If someone has to serve you while you flirt relentlessly or converse stiffly, then they should be paid extra for that labor. For those of you who have never worked in a restaurant, I can assure you that it is painfully obvious who is on a first date, who is going to fuck later and who will stop by the bodega alone to buy a consolation burrito with at least one strange ingredient (banana peppers).
I'm a dyke, and part of what that means to me is that I'm obsessed with buying things for beautiful women. When I get the check for our meal, I'm going to tip no less than 20% and usually 25%, because to do otherwise not only seems cheap — it also goes against my self-narrative and against my definition of queerness entirely, which requires me to give just a little more than I'm comfortable with, to abandon ideas of transaction and interpersonal debt and to have as much fun and frivolity as I can fit into a life. I value generosity and excess above most things — emotional, social, sexual, fiscal — and I absolutely hate withholding. Whether I'm fucking them or marrying them, I need a partner to share these qualities.
I went on a date a few years ago with a girl I met on an app. I was recently single and spending all of my money taking girls out. We had many drinks at a dive bar. The banter was great. We touched knees under the filthy table. I liked the way she tucked her hair behind her ear when she was excited to tell a story and the edge in her voice that made everything she said feel like a challenge. She told me about her exes, her family drama, her wealthy upbringing and her job at a local housing justice nonprofit. She tried to teach me to tie a cherry stem with my tongue, but I couldn't.
"Well, I guess you should take me home," I said, at the first sign of conversation lulling. When the check came, we both struggled for it, almost erotically so, until I gave in and let her pay. We stood at the bar. I peeked at her middle name printed on her platinum card, watched her make her large, looping signature. I watched her write the tip. The drinks, four tequila sodas each, came to $96. How, then, did the total come to only $108.48? At this point, she paused, tilted her head to the side and tapped her pen on the bar counter. Here was the moment in which she would realize her mistake, I thought, and revise the number on the receipt. Instead, she pushed the receipt tray across the bar and turned to me and murmured, "Let's go." I dug into pockets looking for the cash I never carry.
I went home with her, but only once (and then one more time a few weeks and another bad tip later), because while the sex was fine, it just wasn't that generous. I suppose I could have expected this. A transactional nature tends to show up everywhere — I've learned the hard way. I lay awake long after she drifted away. Visions of small math — of her figuring the 13% tip, carrying the one, scribbling on the back of the receipt paper — played over and over in my brain like an intrusive thought.
In truth, I've never thought I'd find myself on a date with a bad tipper because I did not consider that gay people would be bad tippers, just as I often forget there are gay republicans, gay cops or gay Enron executives. One of my best friends, a dyke, has a crush on a bartender and has been routinely tipping her 100% for the better part of a year. Maybe they'll fuck, likely they won't, but at least she'll have the knowledge that she gave freely. But it's true, of course it is, that gay people are often unethical, boring, annoying, etc. And besides, why was I so annoyed by my date's frugal tip when I'd happily ignored so many other dating red flags? I'm often guilty of making broad generalizations about "my community," assuming all queer people are more or less like me. I expect queer people to adopt shelter pets, to have pro-union values, to tip strongly, and when they don't, I'm always a little surprised. Frankly, it's embarrassing, like a parent sending an entree back to the kitchen or beadily watching to make sure a cashier applies their coupons correctly at checkout.
Politically, it is bad not to tip well — we already know this — but where does my generosity come into play if I am not willing to see her again, to give her the benefit of the doubt? To playfully call her attention to her horrendous tip, to give her a chance to reform? Beyond this, though, if someone is going to figure their tip to the exact cent, then they are likely also the kind of person to keep long lists of petty grievances and outstanding debts in the recesses of their mind. These are the sorts of people who think only about what they are "owed" and not what they can give. A bad tipper can change, of course, but this is only the behavior that stems from the real malignancy: a selfishness and lack of revelry that will always attempt to bridle passion. The sort of person who will stiff a bartender on a first date will also Venmo request you for $7 on the fifth date, will always comment when they wash a mug you leave in the sink, will never understand why you brim with feeling, won't stay up late if they have work in the morning and more often than not, will choke down vulnerability in favor of control.
Ethical arguments aside, it's just deeply unsexy not to tip well. I live to buy things for beautiful women. I don't see the point in working at all if I can't do this. I want looseness and grandeur in all things and absolutely no long division.
---
Feel free to share your own red flags in the comments!