The holidays can be a tough time for many queers, but what if it didn't have to be?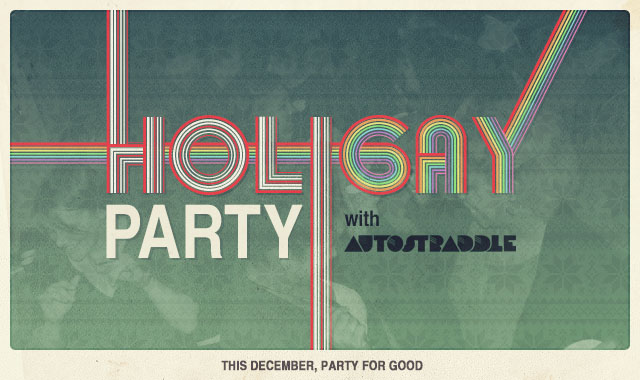 This year, we're approaching the holidays with a plan. You deserve a happy holiday – we all do. So consider this a formal invitation. Plan to celebrate the holidays this December at a HoliGAY Party with Autostraddle and your chosen family! I like to talk about what an incredible community we are, and now it's time to prove it. We started to exist for you, and honestly the only reason we continue to exist is because of you. That's why we want to celebrate together. It's going to be the greatest holigay we've ever had!
I know how busy this time of year is, so I'm not gonna waste your time talking your ear off about how excited I am. (I AM SO EXCITED.) No but seriously, let's just dive right in and talk about how the heck we're gonna get these parties started.
WHAT: HoliGAY Parties! These are just like regular meet-ups, but HoliGAY themed! We think it would be really nice to give back to our local communities while celebrating our Auto-communities, so we strongly encourage each host to pick a local charity to support at your meet-up party and decide together if you'd like to bring canned goods, gently used clothes, etc. You could also plan to make a craft at your party that can be donated to a local charity – the possibilities are limitless! Your hosts will be accepting donations for Autostraddle at the parties! Yay! As an independent queer-owned business, we do rely on your financial gifts to keep on truckin', but it's also important to us that connections in real life don't come with a price tag, so don't worry, everybody is welcome to attend or host whether you're able to donate or not!
WHERE: Wherever you want them to happen! If you don't see a party near you, volunteer to host one! If you're uncomfortable opening up your home feel free to host at a local venue.
WHO: All of you! Our incredible community!
WHEN: All through the month of December!
WHY: Duh.
We're premiering a brand new Autostraddle Events Website that will hopefully streamline the process and make everyone's life much easier for this meet-up season and for every meet-up that ever occurs from now until forever, and we are ready to go.
It really is the most magical time of year, queers!
So what are you doing this holigay season? Celebrating with us, I hope. Go to Autostraddle Events to find parties in your area, volunteer to host a party, find crafts and activities to do at your party, find suggestions for local charities you can collect donations for so you can give back to your local communities as well as the Autostraddle community, and find a space where you can check out photos from previous meet-ups and upload photos from all the meet-ups to come in the future! The holigays just got a whole lot happier, and we're excited to share the joy with you.
---
*We would like to formally thank loyal Straddlers Monique Danser and Erin Wildman for the work and initiative they have put into this project. The whole idea came from Monique's smart brain, and Erin conceived, designed, and created the events website all by herself. We love you so much!