SEXY LESBIANS: We started this post at midnight last night which is usually when we aim to finish this post. So, in lieu of any other brilliant ideas we decided to go super general and just whip out you know — stuff that's sexy! Easy, right?
So we did a survey of lesbians accessible via email, texting, g-chat, twitter, and the living room and come up with the following Things That Are Sexy. We weren't able to visually represent everything this week, so you know what that means… TWO PARTER!
Here's the gallery!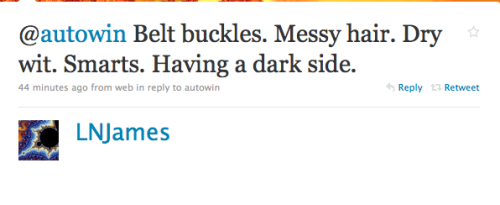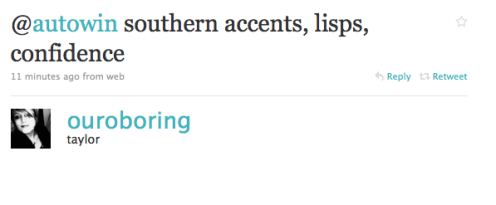 g-chat editor's meeting:
laneia: BOIS
riese: bois bois bois
laneia: RAIN
sarah: kissing in the rain. addendum.
riese: aw, sarah
laneia: KISSING BOIS IN THE RAIN
riese: oh that's a triple threat
Have anything to add? We could use something edgy. Y'all are so f*cking vanilla sometimes, I swear.
VADGE: Six weirdest things women do to their vaginas. This seems to be a tren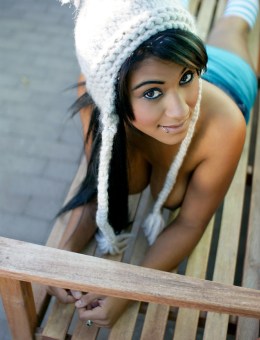 d lately; every week someone's got something to say about the vadge! (@alternet)
V-DAY: Valentine's Day Gift Guide for couples from Babeland. (@babeland)
IN THE ARMY: Lesbian Army Drill – "There's something (unintentionally?) hilarious about the Lesbian Army porn site. The room is cheap, the girls are Slavic pretty, the gear is Red Army surplus, and the plot lines are a novel mix of boot camp, military hazing, and cartoony "here's your rubber dick, congrats you're lesbian!" lesbianism:"
ASS: American Apparel is searching for the best ass in the world for a new ad campaign. So there will be lots of pictures of asses on their website for you to vote on is what we're telling you.
PORN: Queer porn star Jiz Lee gives movie reviewing a shot: I've got to hand it to porn reviewers, this is hard work and not for everyone! When HotMoviesForHer.com asked me if I'd be interested in reviewing a film or two on their site I thought I'd give it a go. So I tried to sit down with a double-whammy, comparing "Hole" to "The Hole." (@jizless)
REVIEW: Review – Under-the-Bed Restraints: Don't let your girlfriends lack-of-a-headboard get in the way of a little bondage! (@sugarbutch)
IPAD: Super porn producers Digital Playground just announced their compatibility with the newly announced Apple iPad for watching all things porn. (@digital playground)