Sandra Bernhard had been performing stand-up and doing guest spots on talk shows when she got her first "big break" in 1983, cast as stalker and kidnapper Marsha in Martin Scorcese's The King of Comedy. But she is perhaps best known by the mainstream for her role on Roseanne; when between 1991-1997 (far before WeHo Glamazons roamed the open plains & gays had their very own sketch show), Sandra Bernhard played one of the first openly lesbian recurring characters on American television.
But Sandra was really just getting started — she's written & performed several off-Broadway shows, recorded a dozen musical/comedy albums, made iconic appearances on David Letterman and Howard Stern, and guest-starred on tons of TV shows including Will & Grace and The L Word.
Sandra is f*cking BOLD. She's been stirring shit up consistently over the past two decades, from her 1992 Playboy pictorial to her infamous appearance on David Letterman with gal-pal Madonna where the duo dressed identically and dropped sexual references like they were hot, to her highly publicized/disputed feud with Sarah Palin in 2008, during which she awesomely referred to Palin's religion as "new goyish crappy shiksa funky bullshit!"
She's unafraid to be brassy and gay and loud and opinionated and that's what makes her such a fascinating person and enigmatic stage performer. It's a rare quality. Her live shows are a mix of stand-up comedy, musings on pop culture and musical performances.  She is performing 8 (!) shows at Joe's Pub in New York City, December 26 – 31, and you don't wanna miss that shit.
Jess: How has being out in Hollywood changed since you first started on Roseanne in the early 90s?
Sandra: I think that through all the portrayals of gay characters on TV and film, and through the AIDS crisis, that people are starting to be more and more comfortable in their own skin. And with the younger generation, it's a non-issue, it's a non-starter. People are just who they are and that's how it should be for everybody. Nobody should give a shit about what anyone else is doing and mind their own business. That goes for gay marriage as well… nobody's forcing you to get married to someone of the same sex so don't worry about it. Let it be, live and let live.
Jess: Why do you think there are still so many closeted actors and actresses in Hollywood?
Sandra: Well, I think it depends on the kinds of roles, especially the guys for leading roles. A lot of people aren't comfortable with themselves in any circumstances, so it's part of the whole way of looking at themselves in their lives. I think it takes balance and work to be happy in your own skin and in your life.
Jess: I know you knew Ilene Chaiken 20 years ago. What was it like working on The L Word (during the 2nd season)?
Sandra: We haven't really hung out in years… I was friends with her in 1984 actually. She's, ya know…a very interesting person, a little intense. She was a different person back then, obviously. She wasn't writing yet. It was fun doing the show. It was a good show to be on. I wished my character was a little more interesting, but the sexuality of the show was a little over the top so that didn't really speak to me. I didn't wanna be  a character who was having an affair with someone, but she kinda was….
Jess: Did you keep up with it to the end?
Sandra: No, I kinda peeked in on it now and again, but it got really stupid.  I mean, it was totally unbelievable and wasn't fun anymore.
Jess: What current comedians out there really make you laugh?
Sandra: Paul Mooney who discovered me, Lea DeLaria is super funny, Justin Bond, Lady Bunny. Of course, Roseanne is really funny and insane. And Suzanne Westenhoefer.
Jess: Yes! We saw her on the Sweet cruise in November and she was hilarious. What are you listening to right now?
Sandra: I like Lady Gaga, I think she's really talented. I think she's a good songwriter and her whole kind of weird styling and hiding behind other characters makes an interesting statement. I'm really enjoying Carla Bruni's album, I just got turned on to The Black Keys. My daughter is really into Regina Spektor and I've been enjoying listening to that as well. I like a couple things on Rihanna's new album… I'll probably download that song that Mary J. Blige sang from the movie Precious.
Jess: Of course, Pink.
"People are kinda numb. I think they're on the internet all day long, following celebrities and reality TV, and when it comes time to really roll up their sleeves and try to affect change, they get lazy."
Sandra: Pink, yea, of course!  I love Pink. Everything she does. She's so committed to it and she's got such a great voice and she has such ease at what she does and I think it's fantastic.
Jess: Her live show is amazing. She does all these live acrobatics. The physicality of the show is impressive in & of itself.
Sandra: I know! I missed her when she was in New York, I didn't even know she was here, it was so stupid…I've gotta track her down. Her show is supposed to be unbelievable.
Jess: You do a lot of covers in your live show. I remember you performed Circus by Britney Spears last Christmas and re-wrote the lyrics to Dolly Parton's Jolene to revolve around Angelina Jolie. Those were hilarious. Do you have any favorites that you perform?
Sandra: I'm actually reprising those for this run at Joe's Pub.  I only did it here and in San Francisco and was like "what, I can never do it again?"  I got it down even more than last year so I'm excited to do it again. I'm also doing a song from my new album that came out this year, Whatever it Takes. I always love doing hair-metal ballads and stuff. I've been doing them for so long that I think I've run out of them…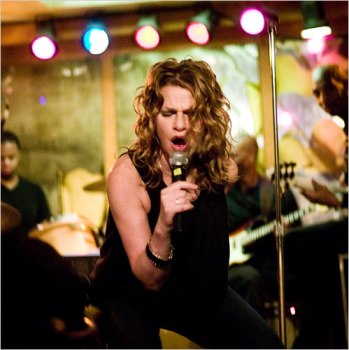 Jess: You're obviously a very prominent New Yorker [Summer in New York; HuffPo]. How did you feel about the recent gay marriage fail in the New York Senate?
Sandra: Well, I think people are scared to let go of stuff right now. I think because of the health care and the financial state of things, people just want to control everything they can control and I think gay marriage is very threatening to a lot of people, I don't know why. People are kind of inherently selfish so if they can hold on to things that belong to them then they're gonna do that.  It's really weird, but it'll change.
Jess: Are you disappointed in Obama so far?
Sandra: I'm disappointed in the American government and in the lack of enthusiasm for what we could do. People are kinda numb. I think they're on the internet all day long, following celebrities and reality TV, and when it comes time to really roll up their sleeves and try to affect change, they get lazy. And that to me is a terrible bummer. He's doing the best he can, I mean, look at the legacy he was left with… I mean it was a pile of shit! We were in deep, deep shit and was he just supposed to come in and transform it overnight? People still think the same way even though he won. He's battling all sorts of stupidity and ignorance and fear within our own government. I'm holding out good, positive thoughts for him. Is he 100% the way I think, no, but nobody would be unless ya know, you and I were running the government.
Jess: Why do you think there's so much separatism between gay men and lesbians?
Sandra: I think we're two different animals. Why's there so much separation between men and women? The only difference is that straight men marry women, but they do everything they can to get away from their wives. They don't really like their wives. They love them, they need them, they depend on them, they have children with them, but do they really wanna hang out with them? Most of them don't. We're just two different beasts…we don't think alike.  Then you add in the whole sexuality and the fact that gay men don't need women at all. It's like…not that big of a surprise. I think gay men and women get along better now than they did 20 or 30 years ago, I think we have more in common than we did then, but…. I think it's just nature.
"Why's there so much separation between men and women? The only difference is that straight men marry women, but they do everything they can to get away from their wives."
Jess: I get really upset when gay men sometimes make fun of lesbians or lesbians will complain that gay men are just superficial and flighty. Shouldn't we all be together now more than ever, rather than picking on one another?
Sandra: Yea, see it's the human condition. People are selfish, gay, straight or otherwise. It's not a happy thing, but it's a real thing.
Jess: You're big into Twitter. Who is your favorite celeb or celeb trainwreck to follow?
Sandra: I was following Courtney Love but I couldn't take it anymore.
Jess: So funny you say that, our friend Stef who works with Autostraddle is @CLTranslated and she translates all of Courtney Love's tweets into coherent English.
Sandra: That's so funny… I couldn't take it…
Jess: Do you have any advice for Lindsay & Samantha?
Sandra: I think Lindsay is a really wonderful actress, she should really try to pull it together and get back to her acting and just stay out of relationships for five years, just to grow up and have peace of mind. And Samantha… I guess keep doing what she does.
Jess: What would be your dream job?
Sandra: Being on a really great TV series that's fun and smart for like five years.
Jess: What are you reading right now?
Sandra: A couple of books.  The new Philip Roth called The Humbling and I'm reading a book a friend of mine wrote her experiences with surrogacy called Standing in Two Places. Her name is Ashley Dyson.  I'm reading another book called Eating Animals by Jonathan Safran Foer.
Jess: What do you have planned for 2010?
Sandra: Well, my next round of appearances are in Chicago at the Lake Shore Theater, February 11-14.
Jess: Any final thoughts for the Autostraddle readers?
Sandra: Just that this is an important time for the gay community just to be intelligent and be thoughtful and keep moving forward and not get caught up in feeling victimized. I think that's always to me the biggest problem in the gay community – we always feel like we'll be beaten – but we've made strides quicker than a lot of other marginalized communities. Just work hard, roll up your sleeves, and be creative and cool… If you really want something bad enough, like gay marriage, you gotta work for it. Nothing's been handed to anybody throughout history. Just be smart about it.

Visit Joe's Pub to purchase tickets for Sandra's holiday shows in NYC,  December 26 – 31. Buy her albums (her latest, Whatever it Takes).

Follow @SandraBernhard on Twitter & sandrabernhard.com for upcoming shows in 2010.