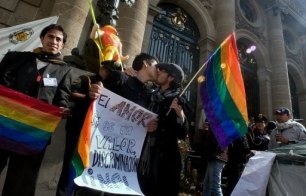 MEXICO CITY: Mexico City passed a bill to allow gay marriage yesterday. While some areas allow civil unions, the city is the first spot in Latin America to legalize marriage. City legislators passed the bill 39-20, with five abstentions. The city's mayor is now widely expected to sign the bill into law. (@bbcnews) So now when you say you are going to run away to Mexico, people are going to take you seriously.
DC: As expected, the mayor of Washington D.C. signed the same-sex marriage bill on Friday. Congress can still repeal the bill before it becomes law, but that seems unlikely at this point. (@chelseanow)
OBAMA: The Obama 'product' after promises = moral vaporware? (@phb)
SAVINO: "Her impassioned floor speech in support of same-sex marriage generated hundreds of thousands of YouTube hits and made her gay icon of sorts, but it wasn't that long ago that state Sen. Diane Savino (D-North Shore/Brooklyn) had to deny that she was a lesbian": in 2004, a letter where she identified herself as a "lesbian american" was distributed and made to look like it was from Savino.
"People know what they're getting when they vote for me," she said. "You don't have to wonder where I stand on an issue." (@silive)
AFRICA: For a couple weeks now, we've been talking about the ties between western evangelical groups and anti-gay propaganda in Africa. The press has been paying more and more attention to the issue, and now it turns out there's a whole book about it: The Family by Jeff Sharlet (want it?) which came out in June. Sharlet analyzes the African ties of a group of conservative lawmakers and religious leaders. He accuses them of treating some of the countries they deal with as social and political experiments. "It has become sort of a Frankenstein's monster and is the family going to take responsibility for the empowerment they have given to some of these politicians?," asked Jeff Sharlet. (@voanews)

GAY PAPERS: Good news for south Floridians: you're getting another gay newspaper! Norm Kent will launch SouthFloridaNews.com in January. This is the guy behind the publication that eventually turned into the South Florida Blade. Kent's new site and publication will join The Florida Agenda in covering gay news in the area. The Agenda was formed by the remnants of the Florida Blade, which closed in November, along with a bunch of other gay publications. The fact that the Blade's closing has led to two new publications is heartwarming, and we hope they can keep it going in the long run! (@miamiherald)
IMMIGRATION: A U.S. House bill revising immigration laws did not include provisions for gay couples. Under current U.S. law, married couples are spared from separation by deportation, but unmarried gay couples aren't. There might still be room for gay rights in the final, all-inclusive version of an immigration reform bill. (@advocate)